All Coupons
[$50 Credit] DigitalOcean Coupon for New Users in 2020
DigitalOcean is one of the most popular cloud hosting provider that allows you to deploy and scale applications in minutes. It can handle unlimited traffic and your site will have almost 100% uptime.
It also supports WordPress application i.e. you can run your blogs on a super fast cloud and enjoy a blazing fast website.
But why DigitalOcean?
Website speed is one of the most important SEO factor in 2019 and it will continue to have more importance overtime. Based on research – "if a page takes more than 3 seconds to load, visitors will abandon it and will visit other website"
It affects your site in 2 primary ways –
1. Higher Bounce Rate: If a visitor leaves your website within seconds, your bounce rate will be very high. A high bounce rate means the audience isn't engaged much with your content = lower rankings.
2. Lower Dwell Time: It is calculated as the actual time a user spends on your website before returning back to the SERPs. If you're ranking on first page for some query and a visitors click on your site, but since it takes forever to load, he'll immediately hit the back button and go back to SERPs. Which lowers your overall Dwell Time and decreases your rankings. Read more about Dwell Time and how it affects SEO here.
Other than these 2 SEO reasons, a lower website will get less social share, low return-rate, and low traffic.
If you're using a shared hosting, there are very less chances that all of your website pages load in less than 3 seconds. Without knowing, you've been struggling with all these issues and losing customers.
With DigitalOcean's cloud services, your website will load very fast and you'll see that overall SEO rankings have increased.
DigitalOcean Features
Let's have a look at some of the most important features.
1. Launch A Virtual Private Server in Minutes
With DigitalOcean, you can launch your own virtual private server and manage it with few clicks. You can choose what operating system to install, how much data you want, and other essential things. It gives you a complete control over the server and can be scaled seamlessly.
As per their website, you can launch a server in less than 55 seconds.
2. Start A Pre-Configured VPS
Don't want to start with bare minimum? You don't have to. DigitalOcean has many popular apps and services ready to be install with 1-click installer. The One-Click Application Marketplace consists of WordPress, CPanel, Docker, Lamp, and other amazing applications.
You just need to choose the application to be installed and everything will be pre-configured.
3. Pay-as-you-go Pricing
Another important feature of DigitalOcean is their pricing structure. Unlike shared hosts or other cloud hosts, you don't have to commit to a plan with fixed storage or performance. You can start with their cheapest plan and scale or add more storage as you need.
Also the pricing is straightforward and clear so you won't be overcharged, ever.
4. Advanced Monitoring
So, how do you know that you need more power or your servers are running at their peak performance? With monitoring.
DigitalOcean's Seamless Infrastructure Monitoring makes it easier to keep a track on the performance of your servers and see if any important change is needed. You can either set alerts to get notified when anything goes south or use Real-Time summary dashboard to analyze.
5. Get Your Team On-Board
Not the tech guy of your company but still want to keep an eye on servers? You can easily invite your team and create a unified collaboration platform. As a team owner, you can also keep check of who has turned on two factor authentication for security purposes.
Other than these, there are tons of other features that make DigitalOcean one of the best cloud service provider. Use our exclusive DigitalOcean Coupon to get $50 free credits.
DigitalOcean Pricing
DigitalOcean provides an affordable pricing structure and you can get started for as low as $5/month. Here's the complete pricing plan of DigitalOcean's droplets.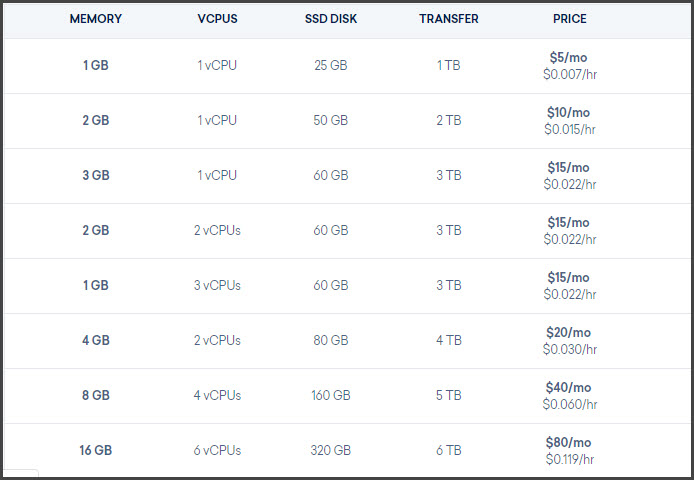 The pricing increases in a similar fashion as your configuration increases. As of today, DigitalOcean accepts Visa, Mastercard, American Express, Discover, and PayPal as payment methods.
How To Use DigitalOcean's Free $100 Credits
Interested in giving DigitalOcean a try? Here's how to use free $100 credit and launch your cloud server.
1. Click on "Activate Deal" button or use this link which will take you to DigitalOcean's referral page.
2. Sign up with your email and verify the same.
3. Go to your profile > billing and add your payment method to avail the $100 free credits.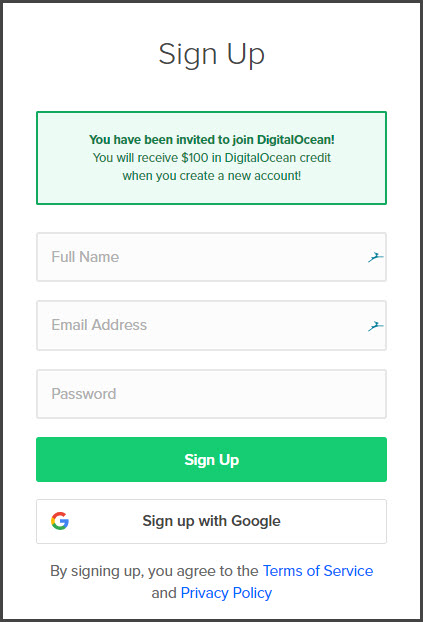 Other Working DigitalOcean Coupon to Use for Extra Credits:
Alongside the $50 free credits, you can also get extra credits by applying promo codes. Apply this DigitalOcean promo codes to get extra $10 credits.
ACTIVATE10

It will make the total free credit amount to $60 which can be used over a period of 60-days.
If this coupon helped you, please consider sharing this page with others who might be interested in buying DigitalOcean. As they say, "Great satisfaction comes from sharing with others."
I'll keep updating this coupon code if there are any promotions and a better discount code is available. So, make sure to bookmark it and visit often.
Cash in on you free $50 hosting credit by clicking HERE.
Thanks