All Coupons
[50% OFF and 30 Days Free] LastPass Coupon, Promo Code For 2020
Today, on an average, an internet user has at least 20 accounts with different online services. These can be Facebook, Google account, Reddit, Quora, forums, and other services.
Internet freaks like me have over 50.
One common thing amongst these online services is – passwords. Yup! You need to add password to each one of them and not just any kind of password. It must be secured, at least 8 characters long, must use a uppercase and lowercase alphabet, number, special characters, and all those basic security stuff.
So, how do you remember all these 20 unique passwords? Simple, you don't (anyway, it's humanly impossible to remember so many passwords.)
LastPass is the awesomest tool that makes remembering passwords and logging in super easier. It remembers all the passwords on your desktop, mobile, or any other device and keeps them safe and synced on a cloud storage.
LastPass Features
Let's have a look at few reasons why I love LastPass and recommend it to my visitors.
1. Free Plan Available
Experts say, "good things are available for free" and it stands true in the case of LastPass. It comes with a no-limit free plan that you can use on all of your devices. Other than online cloud sync and backup option, it has all the basic essentials to get you started.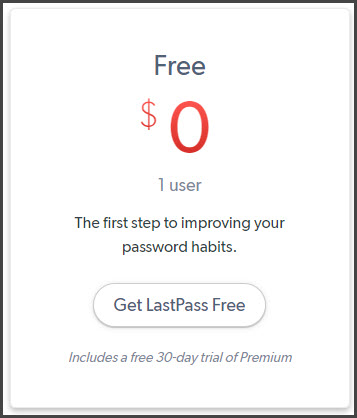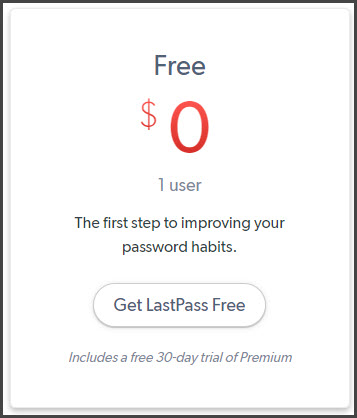 It's a great way for you to test the LastPass and get familiar with the features before opting for the premium plan with our exclusive LastPass coupon.
2. Strong Password Generator
Stop using the same password on every other site – it can be very risky and if one of the sites gets hacked, all your accounts will be on a risk. With LastPass' built-in password generator, you can create random, long, and highly secured passwords in one-click.
The passwords are automatically saved as generated, so you don't need to write 'em down or remember – EVER.
3. Store Digital Records
Want digital records to be available any time you want? Or finding it hard to securely save digital records online? LastPass has got you covered. You can store Insurance cards, memberships, Wi-Fi passwords, personal notes, and everything else in between.
4. Automatic Form Filling
I'm not sure about you, but I'm not a huge fan of completing online forms over and over again whenever I'm purchasing something online or registering. It gets tiresome to enter all those details. Thankfully, LastPass has also simplified this process.
It automatically detects the online form fields and fills it with one-click. All your personal details, shipping address, or even payment details can be completed in a single click.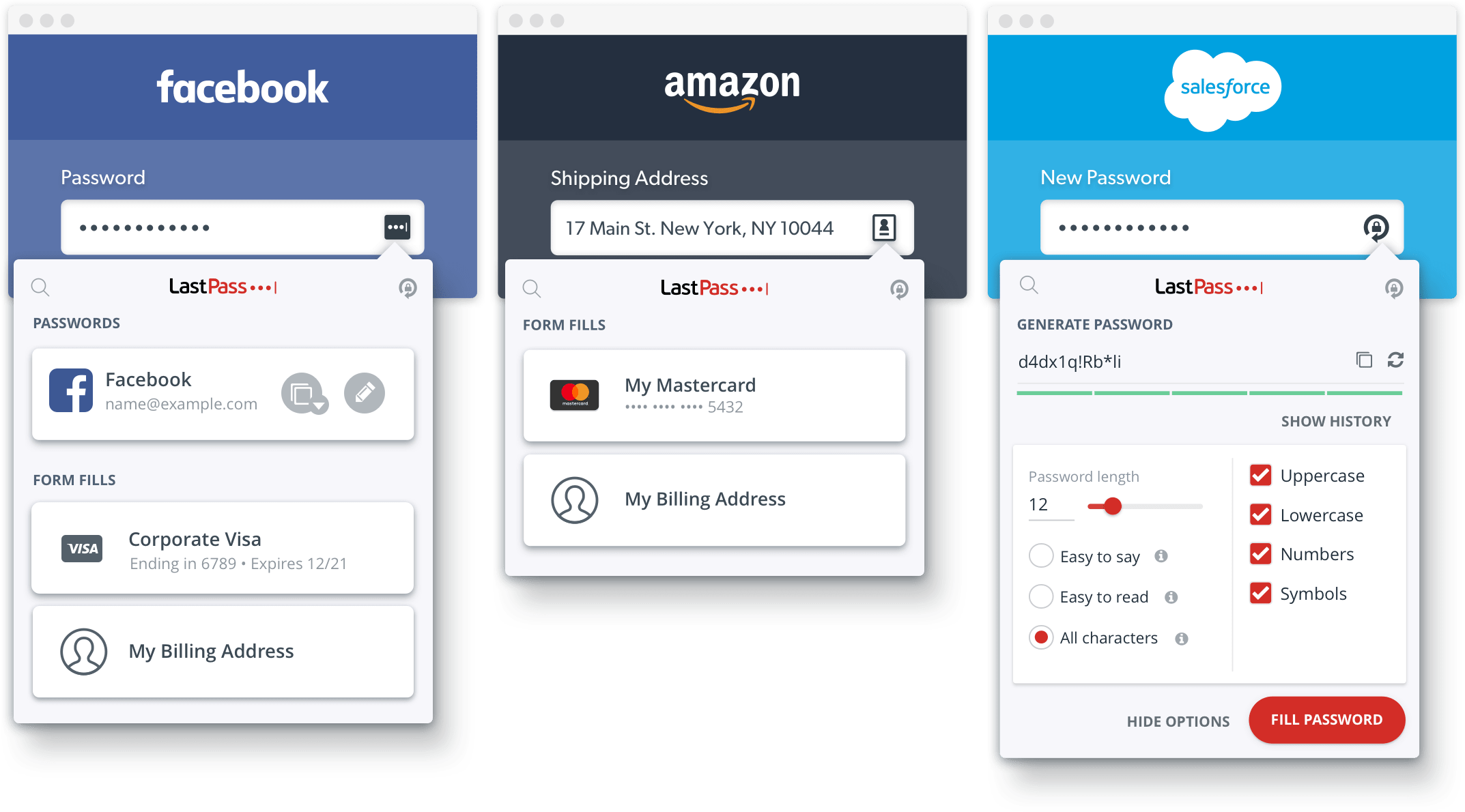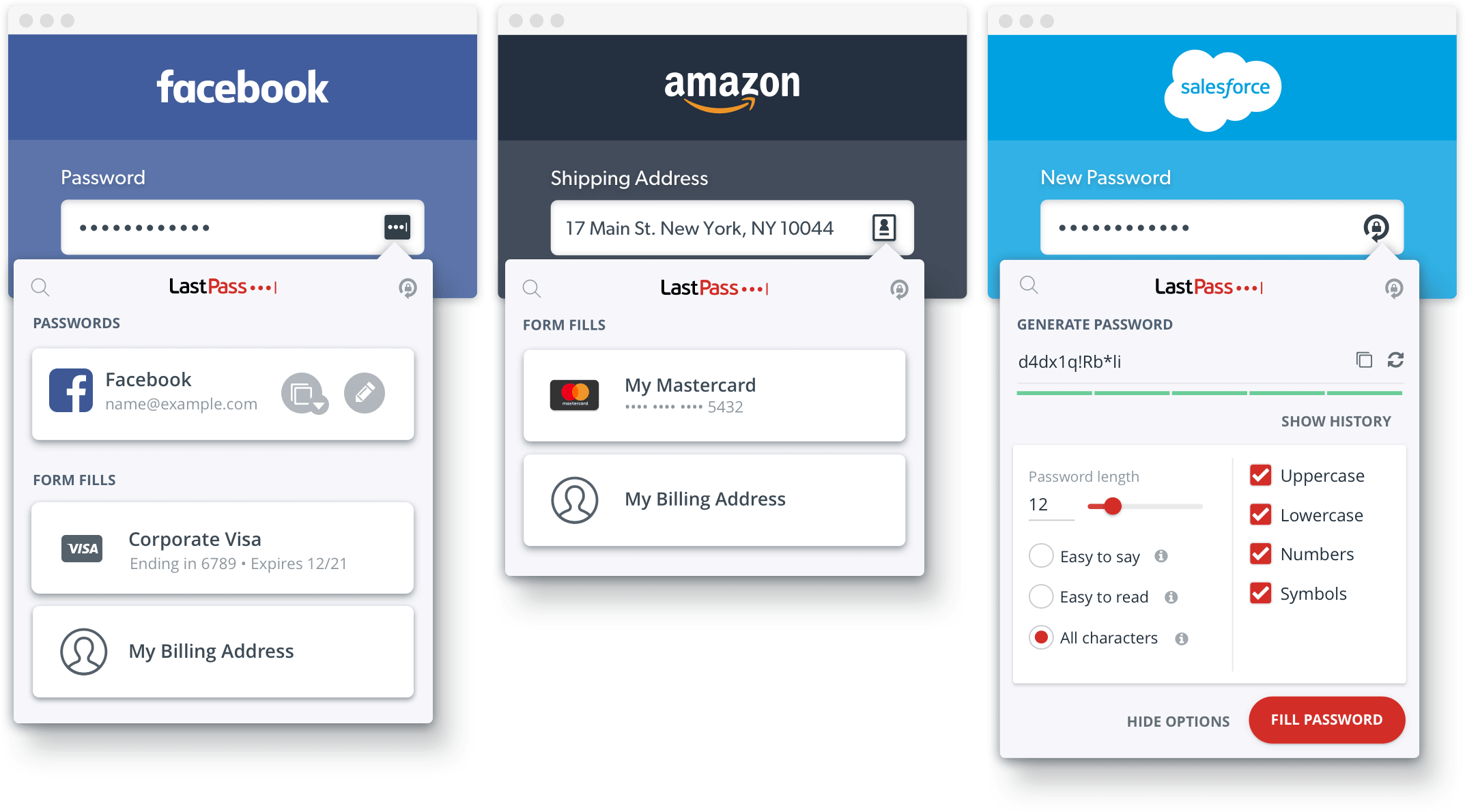 5. Stay Prepared for Emergency Situations
I wish it doesn't happen, but in case of emergency or crisis, you can let your trusted family members or friends access your LastPass account without a hiccup. Additionally, you can share passwords and notes with anyone in a secured manner.
LastPass Pricing
If you're serious about your security and want a one-off solution for everything, you should go with LastPass premium. At a starting price of just $3/month, it's well worth every penny.
There are two paid plans available – 1. Premium and 2. Families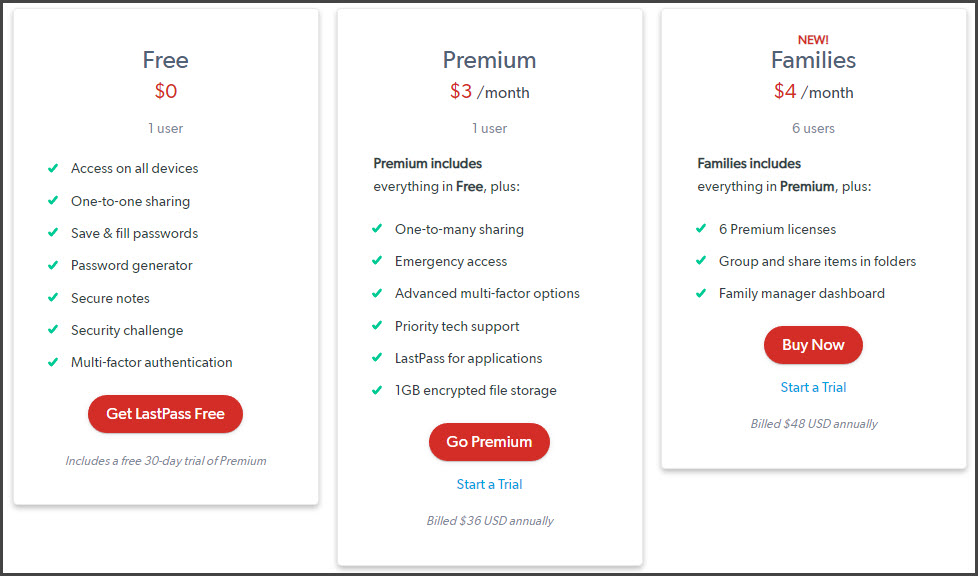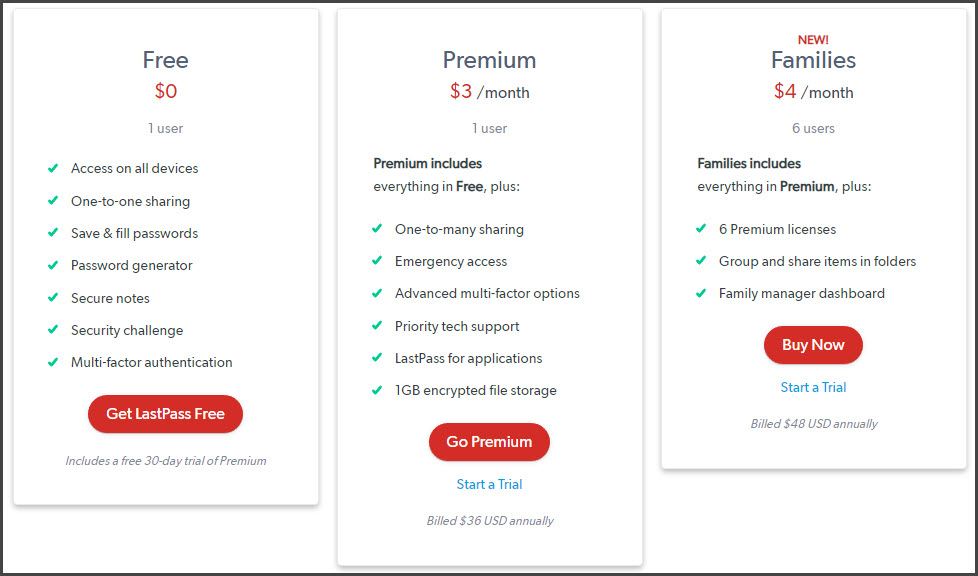 As the name suggests, premium plan is good for individual users where only 1 users gets access to all the pro features. Whereas, recently introduces, Families plan lets 6 users avail the benefits.
There are also plans available for small to large scale businesses which starts at $4/user/month and offer few additional business-oriented features. Check more details.
If this coupon helped you, please consider sharing this page with others who might be interested in buying LastPass. As they say, "Great satisfaction comes from sharing with others."
I'll keep updating this coupon code if there are any promotions or a better discount code is available. So, make sure to bookmark our Coupons page.
Get Laspass at a discoun HERE.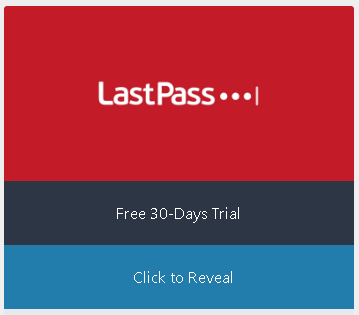 Thanks 🙂