Online marketing is a potential tool in today's market. Gone are those when traditional marketing through television and newspaper. Today most people spend time on the internet. Leveraging such a wide audience will come in handy to establish your business.
Especially if you have recently launched a start-up, you need to be more careful. Marketing through the online portal can help you reach a large market and grow brand awareness. In this article, we will discuss 10 potential online marketing tools for small businesses. 
But before delving more profound, we will discuss the benefits of online marketing tools so that you can understand the importance of using these tools and help your business grow.
Benefits of Online Marketing Tools for Small Businesses
1. Enhance online visibility and presence – online marketing tools will help to reach a wide audience and grow your online presence. 
2. Grow brand awareness – by increasing online visibility; more people will get to know about your business. Therefore you can increase brand awareness among the people. 
3. Boost your business – with a wider audience; online marketing tools can help to drive more traffic to your website, drive more leads and ultimately boost your business.  
4. Drive higher ROI – As your business is promoted, naturally, you can gain more ROI (return on investment). 
Now that you have learned about the benefits of using online marketing tools, you should know about the top 10 online marketing tools. There are so many online marketing tools available in the market, so it's not unusual to get confused about which one to pick.
That's why we want to help you and let you know a few online marketing tools that can effectively help to extract all the benefits we already mentioned above. Some of these tools are well known and famous, while others are less known but equally potential.
Go through the article and start using them to gain the benefits of online marketing tools for small businesses. 
1. HubSpot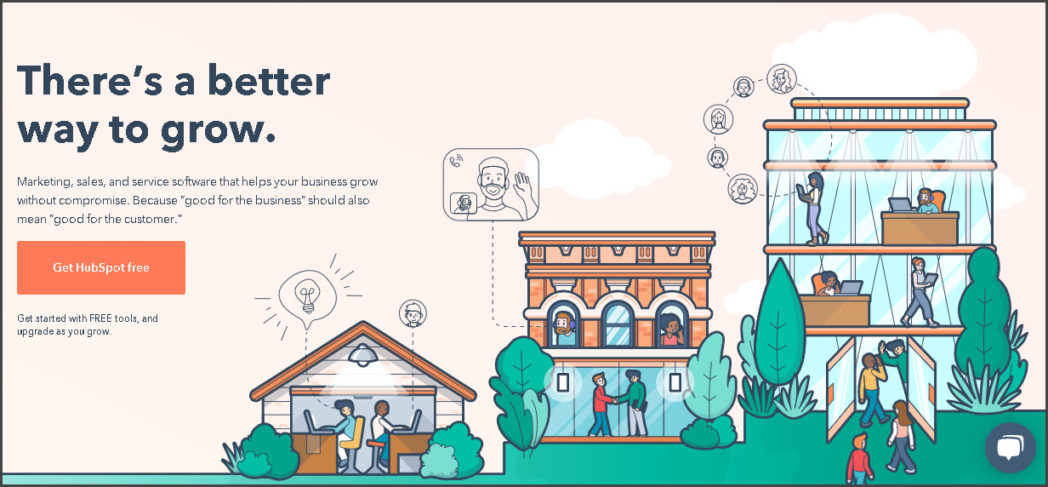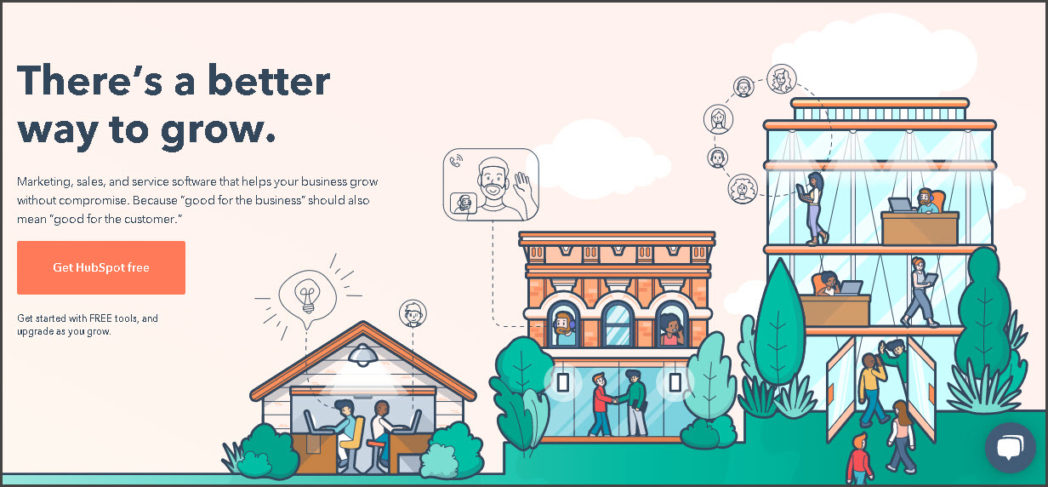 This is a growth software that includes sales, marketing, and other customer service tools that seek to improve every aspect of your business. HubSpot will allow you to do everything inside the tool to increase conversion and grow your business. 
There are various products by HubSpot, including the following. You can start by setting up lead capture forms, you can also send kickback emails, and you can also access necessary analytics reports.
Other than these, you can also schedule sales meetings, track emails, and chat with your visitors on live medium. Also, you can channel a help desk and allow a ticket system on the premium (and it's free!) plan. Finally, get into the CRM to get a full view of the customers.
This is the basic plan. After this, you can set your profile as per your level and requirement: starter, professional or enterprise. HubSpot also allows you to integrate other marketing technological products within its profile. 
The best part? It's free! However, if you seek to have an enterprise profile, you have to pay up to $3200 every month. 
2. Survey Anyplace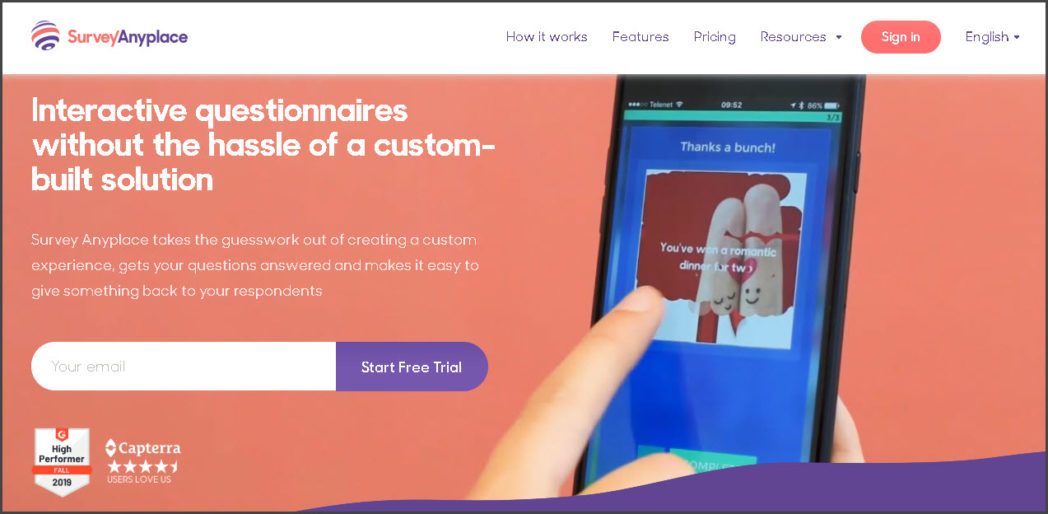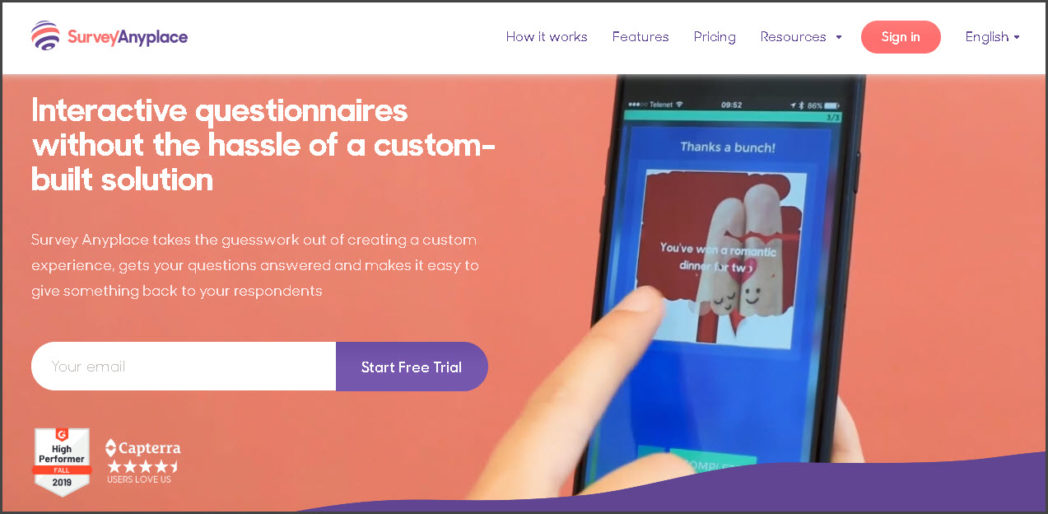 This has made survey creation easy by tailoring them to address your needs. Here, you can set your survey plan as per your business needs. The tool also offers visual optimization quickly and. It can also be streamlined for mobile. Therefore it is distinct from the primary survey creator. 
Surveys are a piece of fantastic equipment to help you improve your business because it allows you to learn what people are expecting from your service. Therefore you can quickly increase the conversion rate by catering to the requirements of your consumers. 
Survey Anyplace allows you to access accurate data and thereby grow a better insight and modify your business objective and plan accordingly.
It starts with a free basic plan but can also get to $42+ each month for enterprise plans. 
3. Proof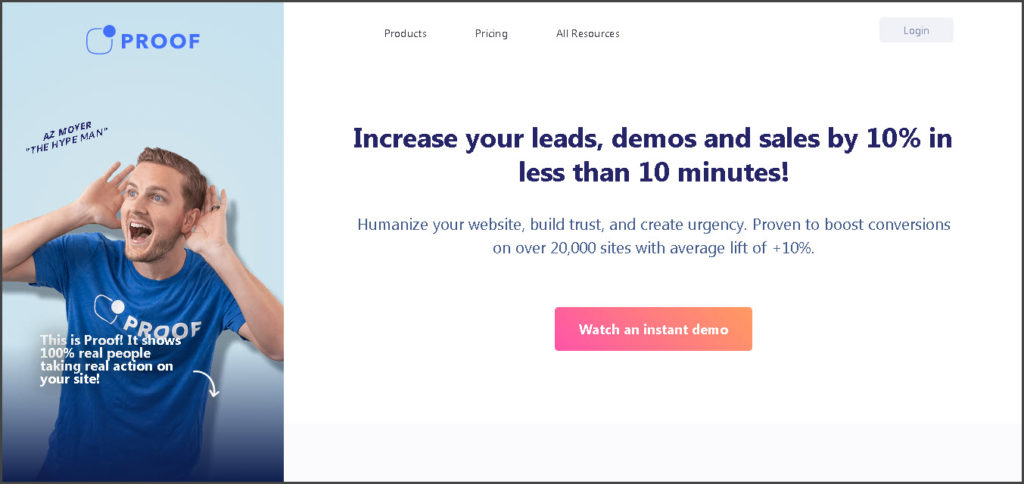 Proof tries to help you showcase your social proof on the website most convincingly and effectively ever possible. It has an easy user interface. All you need is to download, copy and then paste the pixel on the respective site page. 
After pasting the pixel, it will automatically merge with the CRM, or your site and your target customers will be able to view it.
Do you want to know what they are about to see? Check out the list: social media post, video testimonial, live visitor counts, reviews, hot streak notifications and what not!
The tool is not only useful to help you show your activities and business statistics to the viewers but also helps you to get an insider's view on the customer's demography by checking the visitor ID information. This comes in handy to know people from which locality is checking your service so you can tailor your business plan to reach out to them and grow conversion. 
Its pricing depends on the volume of the website traffic, and it starts from $24 each month.
4. MailChimp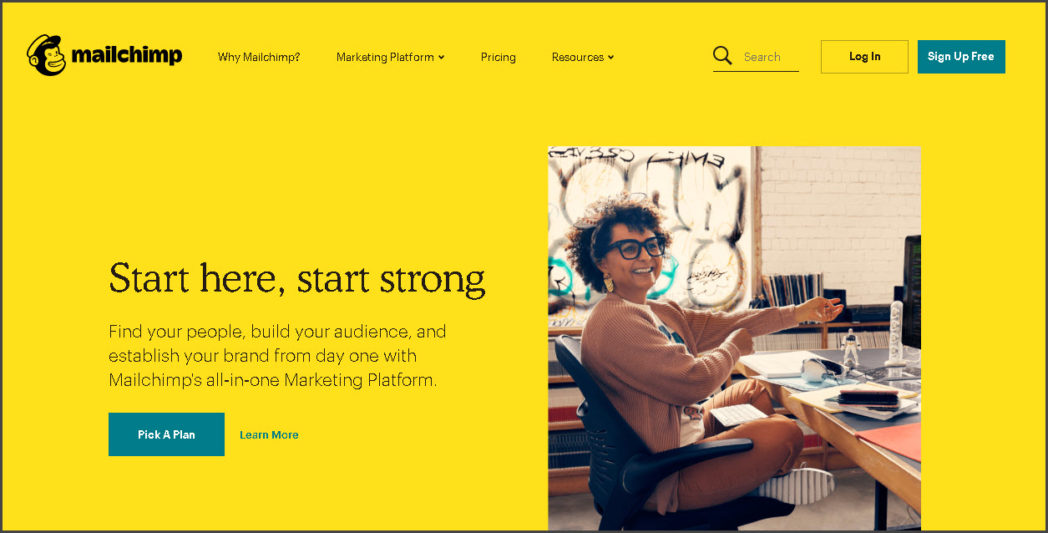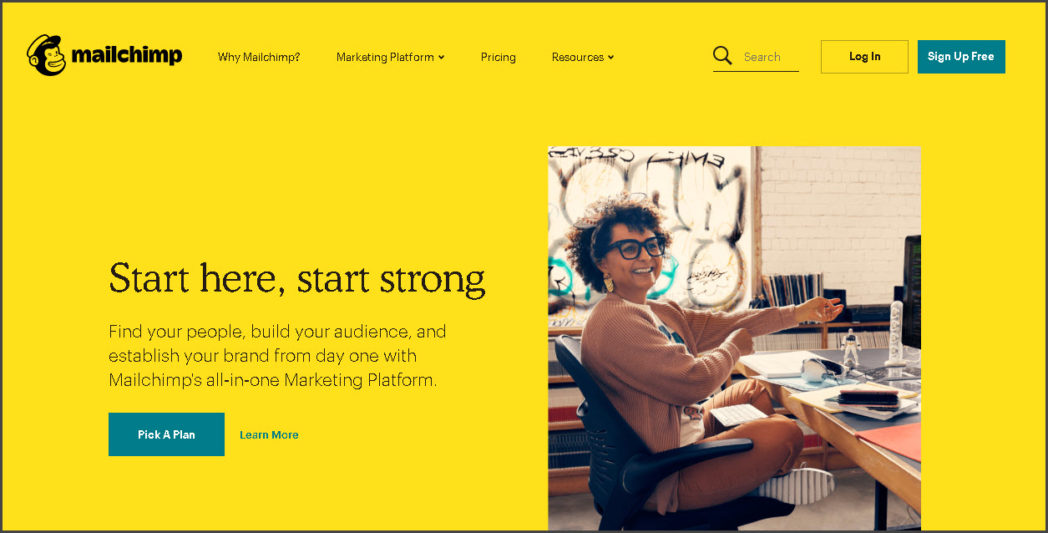 This is a famous and renowned email marketing tool that offers several features, including the following: email templates, website traffic tracker, drip campaign designs, software integrations, etc. And what is the best part? It's free for the small businesses so in the initial days you can try it out. 
MailChimp easily automates the mail and makes it more professional. Therefore the campaign design doesn't need to be a rigorous task as you can easily make one through MailChimp.
If you plan to get something more dynamic and robust, you better try Autopilot. But if you are new to the field, MailChimp is the ideal one. 
It has a necessary work scope that comes at free of cost, but the more level you upgrade, you may have to pay up to $199.
5. Google Analytics
Google Analytics is an entirely free tool offered by Google to allow you to analyze the customer data and track them. It is instrumental yet its user interface is simple to use. It is also highly customizable and powerful.
The initial phase starts with a JavaScript snippet. Here you can analyze the traffic report and understand the demography of the potential customers. This has two-way benefits. Firstly, you can guess which campaigns are working the best, and you should bid on which keywords.
You can modify, add or delete the keyword or change the marketing agency if your campaign is not working correctly. Further, you can also check the demography of the potential customers and quickly understand which should be your target audience. Therefore, you can modify your campaign accordingly. 
The standard version is free for use. However, Google Analytics 360 costs you $150,000. 
6. Trello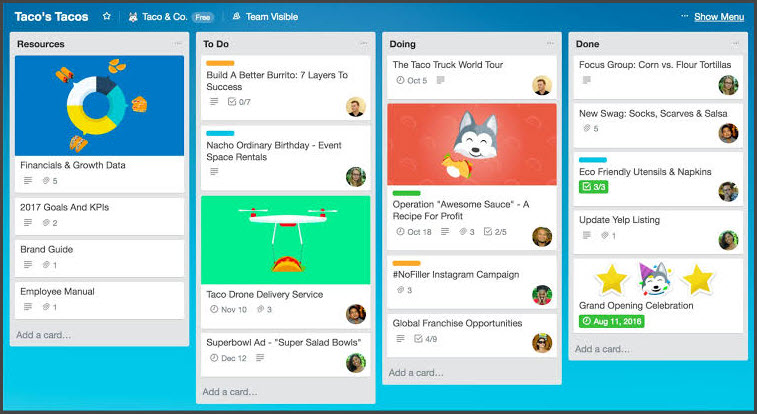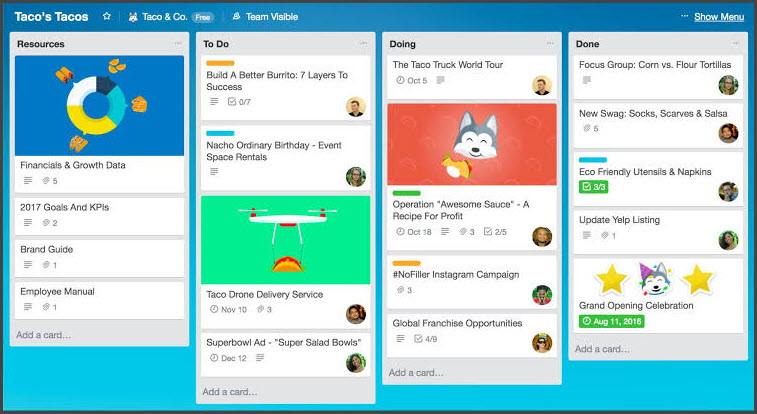 This is a calendar and content brainstorming service that offers you to create unique ideas individually or collaboratively work in a team. You can also share ideas with other teams and create a decent one.
Its work scope is more than a content scheduler and works as a content planner. Here you can make note cards for the marketing campaign, article topic or any other subject of your choice.
These cards can be used by multiple teams, and the users can recreate, edit, modify the notes, update project status, record instructs, assign a project to their choicest people and so on. 
Therefore Trello is a wholesome tool that helps the content strategists to plan their editorial calendar.
It starts at a zero budget, and as your enterprise grows, it can go up to $42 per month.
7. CrazyEgg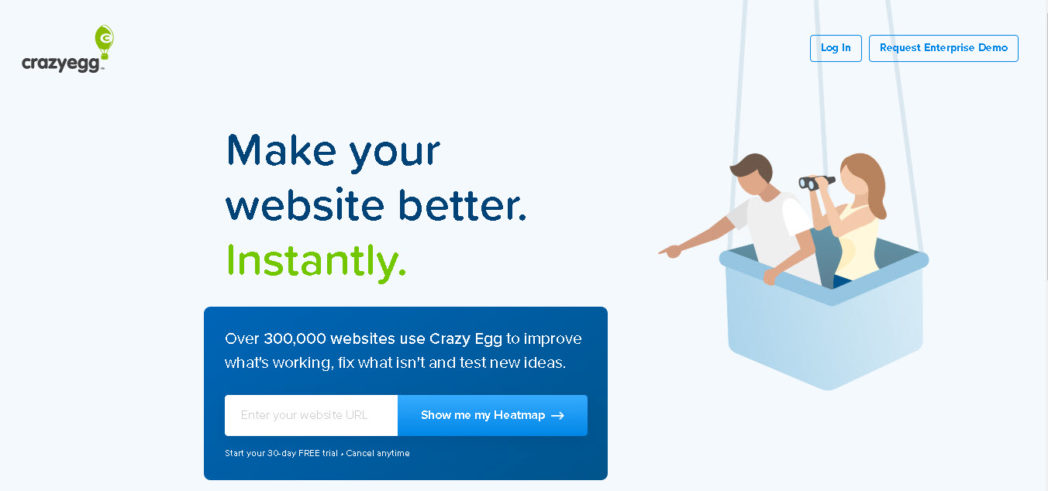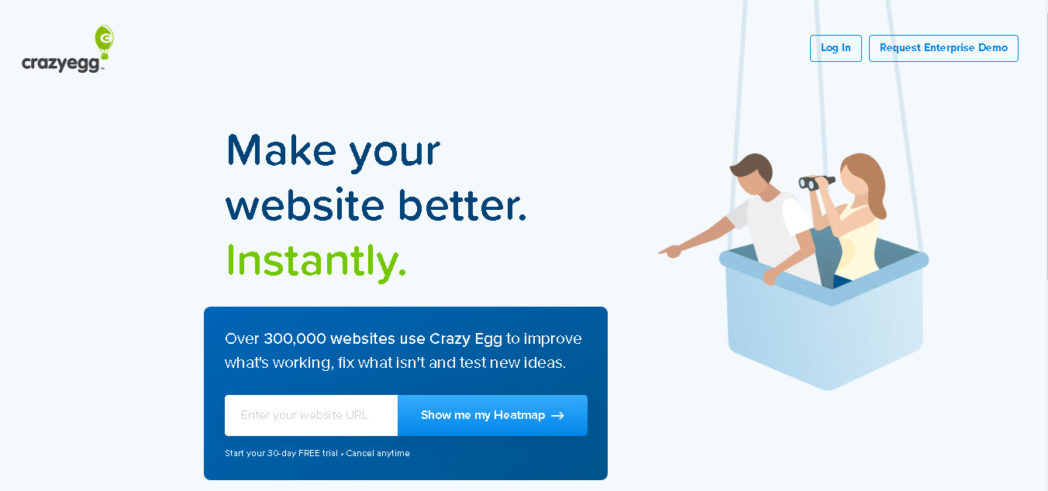 This is a data collection marketing tool that allows you to get a wholesome insight into the customers through tests and surveys. The tool further offers a range of products, including heat maps, user session recordings, click reports, scroll maps, A/B testing tools.
These products will allow you to understand how the users are using your site, what are they expecting, what are their preferences, what are the aspects to inhibit conversion. Only with a wholesome knowledge can you increase the leads and drive more conversion. 
Data collection and A/B testing have further importance on small businesses. A/B testing allows you to offer two distinct campaigns to the users and understand which one is driving higher traffic. This helps you to invest in the right campaign and thereby boost your sales. 
The pricing of CrazyEgg varies from $24 each month to $249 every month. You can select the plan and products according to your business objective.
8. BuzzSumo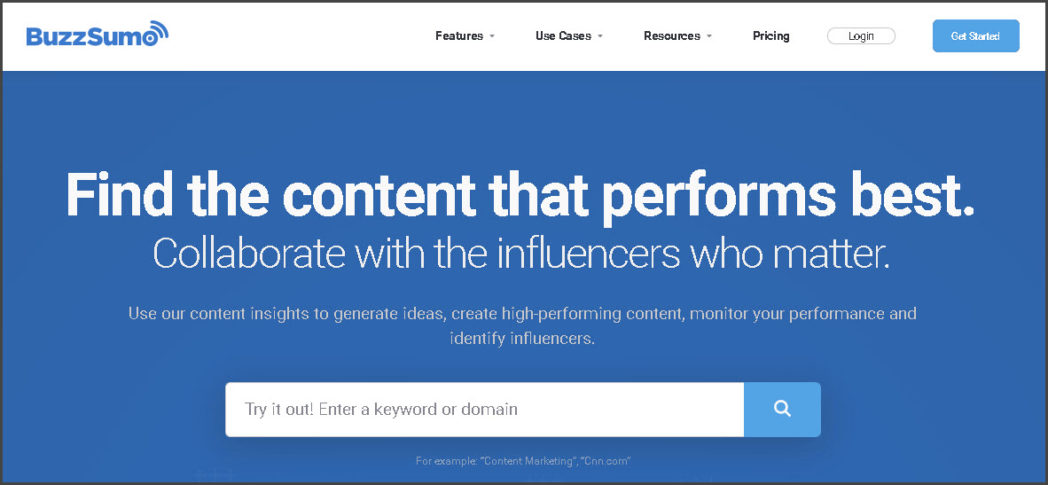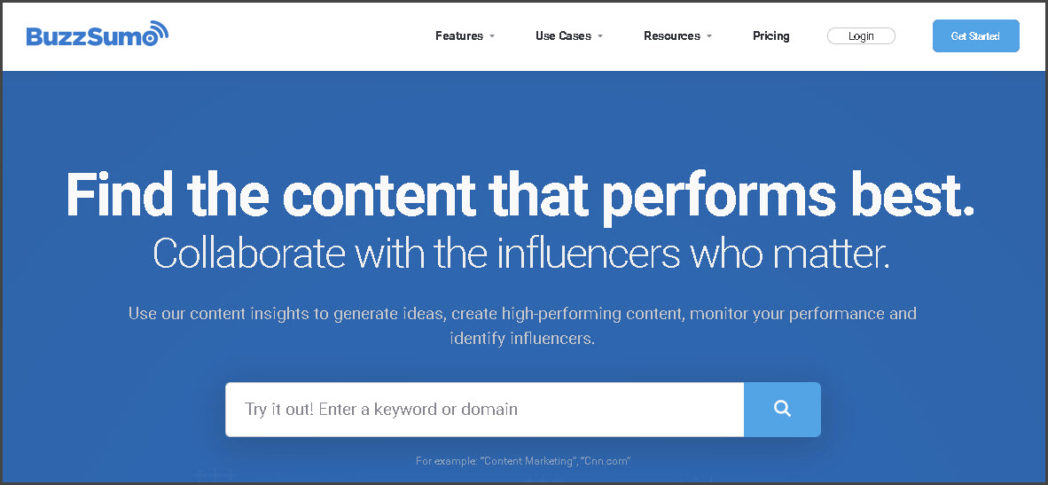 This tool helps to connect the influencers with various companies that are looking to partner with them. The tool is also great for businesses that are not sure how to reach the target audience.
Further, the user can also search the database of all the top influencers that are operating in the field and have expertise and knowledge of their field. Thereby the tools help to advance the affiliations. 
BuzzSumo helps you to check the past trendy topics and other mentions; Thereby, the analytics can offer you a sneak peek at what you should monitor and understand the areas and aspects you should improve.
You can also use this tool to check which content is mostly shared and analyzed and referenced. You can understand how to get on the customers' radar and drive more sales.
The paid plans of BuzzSumo start at $79 each month.
9. Screaming Frog


This tool is a website crawler that helps you to identify any SEO related problems in the web page and the URL. It can flag several issues including the following: broken links, redirects, page titles, duplicate content, and metadata.
This robust SEO tool helps to analyze the technical aspects of your website to ensure that the site is well optimized for any search engine crawler program. Screaming Frog can effectively find broken links and other related website architecture.
Problems like duplicate content or broken links can cause severe trouble. Google Algorithm has advanced, and it can crawl the website and any such above mentioned issues can lead the algorithm to block the site. Therefore, it's better to use such a tool and identify the problem. 
Here two plans are available. One strategy is free, and another plan is $194.33. 
10. Hootsuite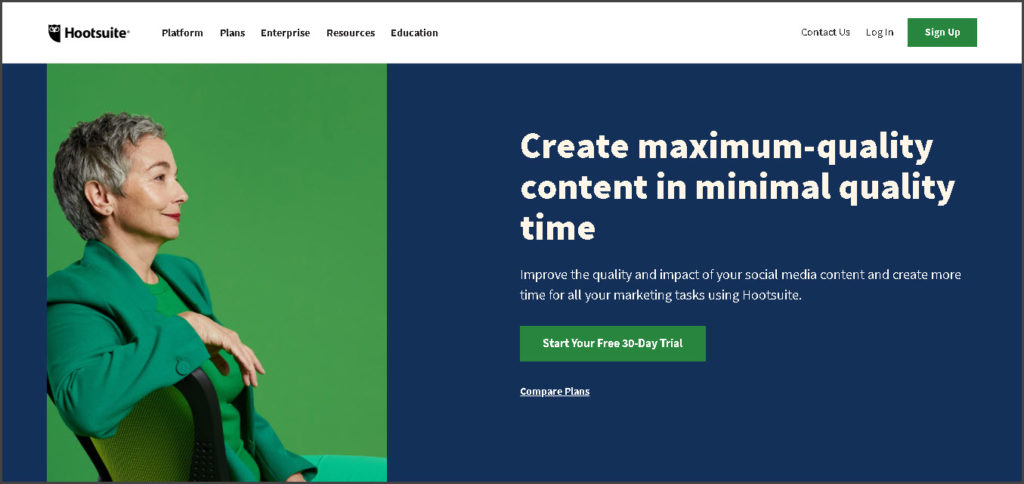 Hootsuite is one of the best online marketing tools for small businesses. It is a tool to schedule social media akin to Buffer and MeetEdgar.
It allows you to pre-plan and schedule social media posts. Further, it also allows you to post on social media and reach online audiences 24/7 without fail.
The system dashboard helps to track the social engagement feature. Therefore you don't have to use any other tool for tracking and posting. This all in one tool offers a comprehensive guide and service.
Here you can also contact critical influencers of social media. Also, you can get your hands on the popular hashtags or unique hashtags that allow you to set the trend and reach the target audience. Hashtags are incredibly useful in popularising a product, service or brand.
This also adds to the inexorability factor that is extremely important for small online businesses. 
The price range of this tool starts at $29 each month and goes up to $599 every month.
Conclusion
Therefore, you can see there are several marketing tools. While some help to make your survey reports, some lets you design your campaign more professionally. All these tools help to boost your business while reducing the workload. No more do you have to spend a long time establishing your business.
Further, a marketing agency can be more costly if you seek to get so many services under one company. On the other hand, contacting multiple companies for distinct services may not be the right decision.
These tools allow you to customize your business as you want and these are cost-effective as well. Initially, the essential phase is free of cost in most of the tools.
As you upgrade the level of service, they pay you nominal fees. Hence, you better check them out if you seek to find out the best online marketing tools for small businesses.