In the age of technology, digital marketing has gained tremendous momentum. It has become an essential prerequisite for every company for increasing its sales and attracting a wider audience towards its products or websites. Digital marketing encompasses various techniques such as SEO, SEM, social media marketing, videography and many more to choose from.
A large number of companies implement the different techniques included in digital marketing for upscaling the sales of their products or services. Every organization or business has a systematic digital marketing campaign based on the type of services that they provide as well as the kind of audience that they want to target.
Sales funnel is an essential aspect of digital marketing. This concept is considered to be the backbone of any digital marketing campaign, providing it with a specific structure and form. Sales funnel the phenomenon lasting from driving traffic towards your landing page to the time when you finish the purchase of the product.
Sales funnel is an essential and critical process in your digital marketing campaign. At times, it can be exhausting and overwhelming to create a landing page since the sales funnel incorporates various essential elements.
This article aims to shed light on sales funnel, its various aspects as well as teach you how to create a sales funnel – the right way.
What Is a Sales Funnel?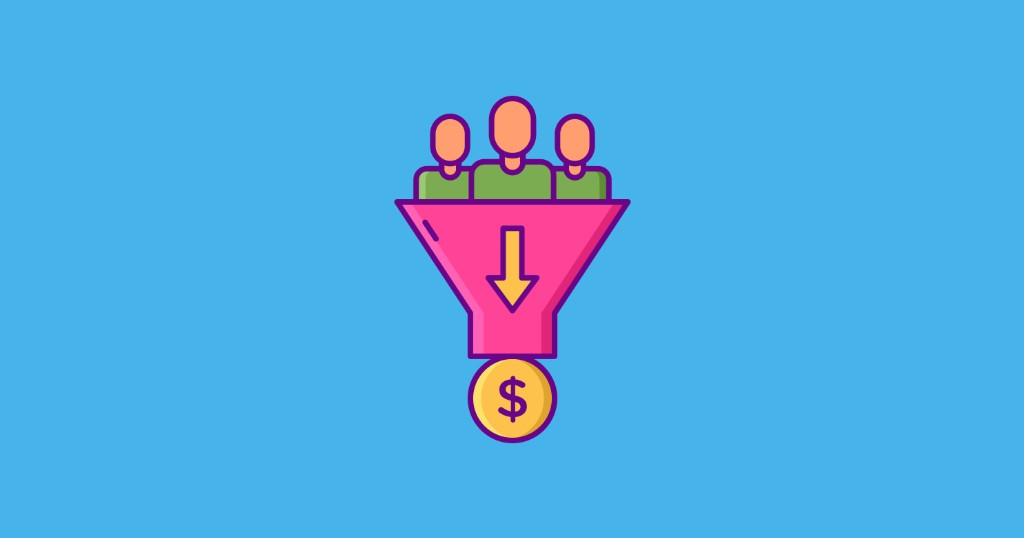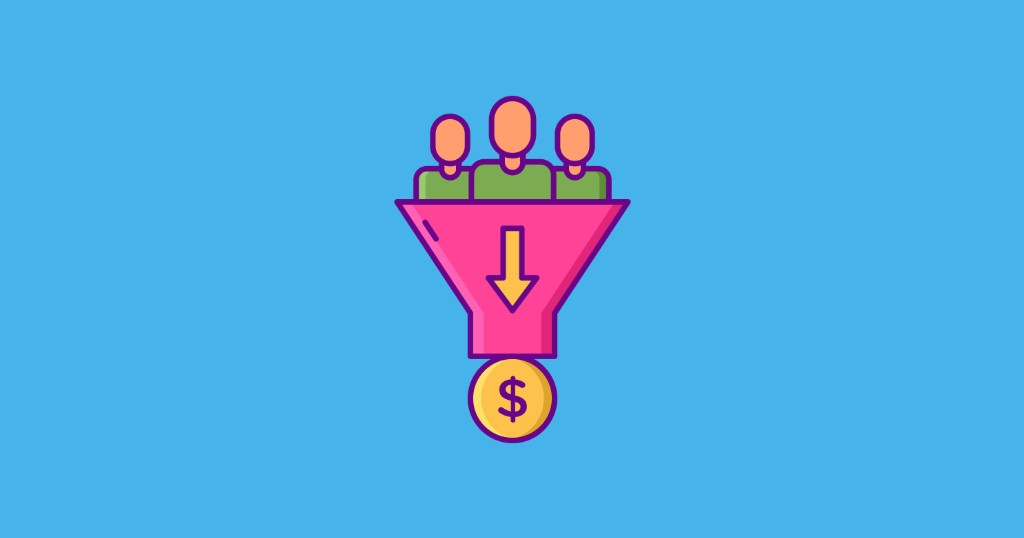 As mentioned above, sales funnel is an essential step in a company's digital marketing campaign. A separate landing page does not have the potential to attract a wider audience, create satisfactory sales, engaging new customers, especially when it comes to selling an expensive product.
In the process of selling a product, the first step is to drive an audience towards the landing page. For sustaining the targeted audience, it is essential to establish active engagement and communication. And the third and final step is to complete the sales of the product. This entire process is collectively termed as a "sales funnel".
In simple words, a sales funnel is a journey that begins with creating and attracting traffic towards your landing page and ends at finishing the sale of a product.
From the definition itself, one can quickly determine the three essential elements of a "sales funnel" – traffic, leads and sales. For leading prospective clients towards your landing page, it is crucial to create a well-designed, and well-executed sales funnel or a revenue funnel of the company.
Importance of a Sales Funnel
Sales funnel, or revenue funnel acts like the business map for a company to upscale the marketing of their products or services. It is essential to create a well-planned, and systematic sales funnel since it facilitates the working of a business or company.
There are various reasons why every company should have a sales funnel. These reasons cited as advantages are given below-
A sales funnel provides strategies to companies for creating awareness about their brand, products or services. This helps in generating traffic and attracting a wider audience towards themselves.
Besides attracting a wider audience, the sales funnel also instills interest and fascination among the audience regarding the product. So, the funnel not only drives traffic towards your landing page but also establishes engagement with the audience.
It is crucial to persuade prospective clients to purchase your product by creating a desire in their minds. This desire for buying the product can only be established by educating the people about the product.
These leads created should also have a certain amount of guidance for making the desirable action. This can be done by creating a robust sales funnel.
A sales funnel plays a significant role in almost all the activities that are involved in creating successful sales of a product. This is considered the most important reason for adopting an efficient and systematic sales funnel.
The Basic Structure of a Sales Funnel
A sales funnel, or a revenue funnel consists of three critical elements. These elements are as follows-
The structure of a sales funnel is showcased in the form of a pyramid of the funnel which includes the top of the funnel, middle of the funnel and the bottom of the funnel.
Each phase of the funnel has different vital points to keep in mind and requires different tactics to achieve an important target.  Let's understand the three varying parts of this sales funnel-
1. Top of the Funnel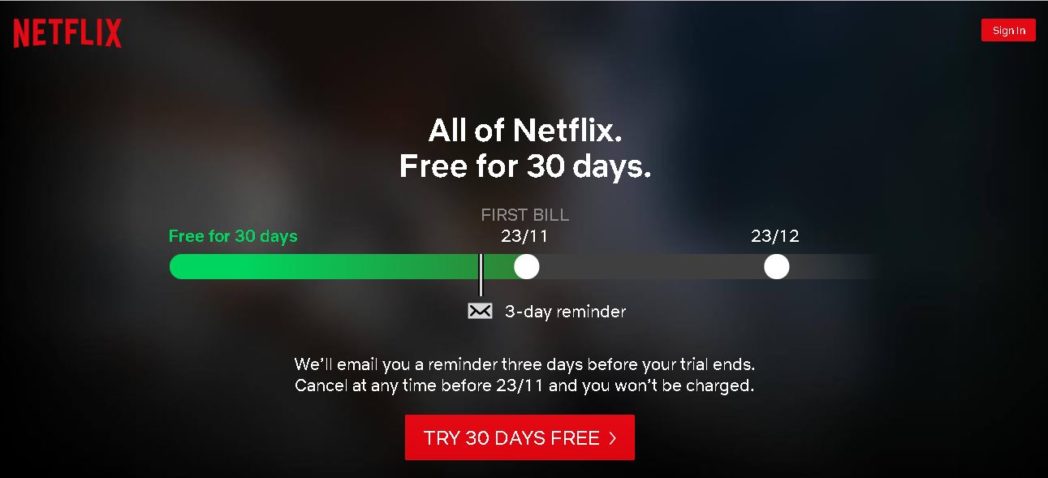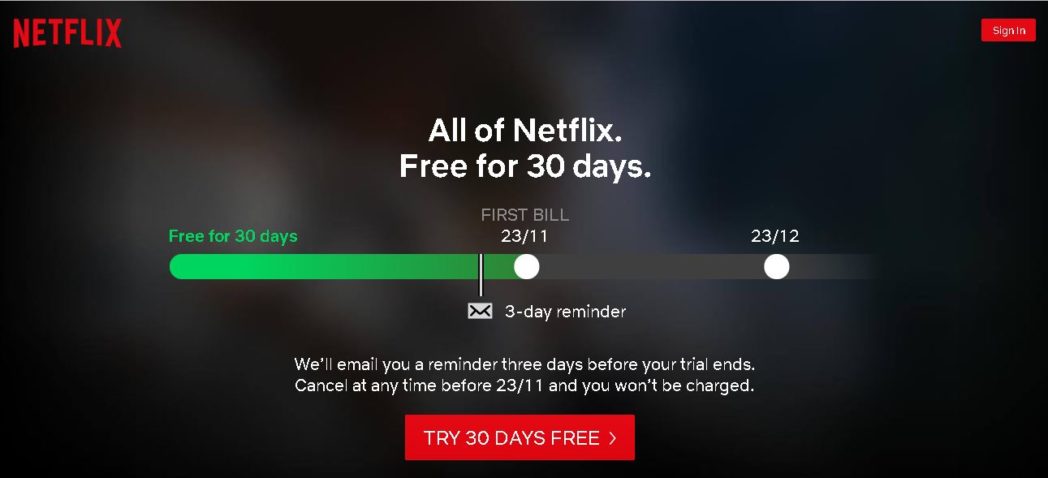 The head of the funnel mainly consists of potential clients or customers. The most crucial step is to make your product noticeable and make the customers understand the product and its importance. Hence, this stage of the funnel can be called as the "exploratory page".
The top of the funnel or the client stage is vital to create brand awareness rather than directly creating sales of the product. Exposing the audience towards the service or product, influencing the audience and establishing effective communication with the clients are the key activities of this stage.
2. Middle of the Funnel


The center of the funnel is identified by the process of converting visitors into leads. After creating awareness about your brand, you need to instill interest in them reading the company's products and services. Turning visitors into leads is the step that comes before "customers".
Not only do the visitors understand whether or not the company is useful for them, but also the company is getting essential information regarding potential clients.
This process can be accomplished by creating quality content that is authentic, informative and creative. The primary goal in the middle of the funnel is to establish fruitful company-client relationships.
3. Bottom of the Funnel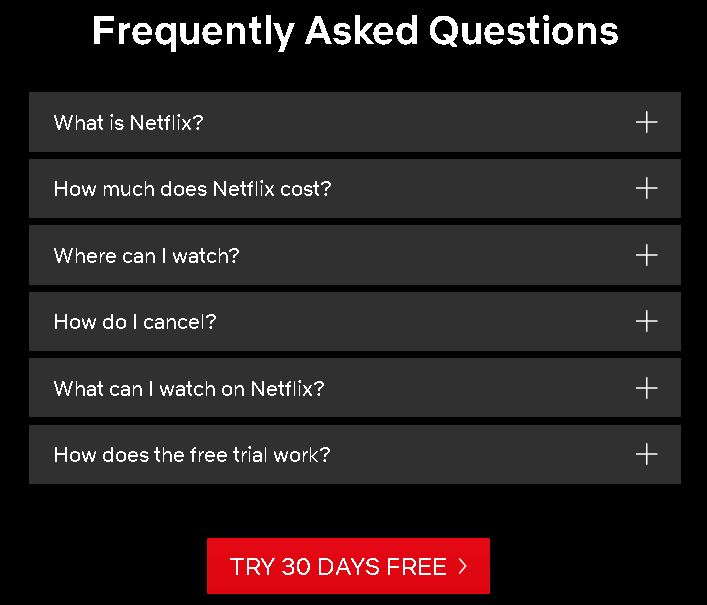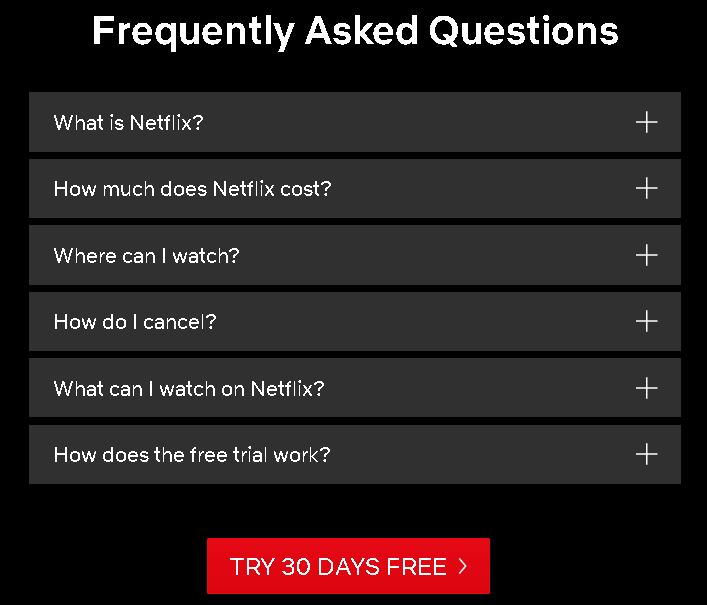 This step involves both hard as well as soft selling tactics depending on the strategies and methodologies that the company has implemented in the first two stages of the funnel. This stage includes the clients researching your product, its various benefits, and whether or not the product will be useful to them.
This stage is essentially the convincing stage to convert the visitors or leads to product purchasers. Providing clients with reminders and offers can prove to be extremely helpful.
How To Create A Sales Funnel from Scratch (5 Steps)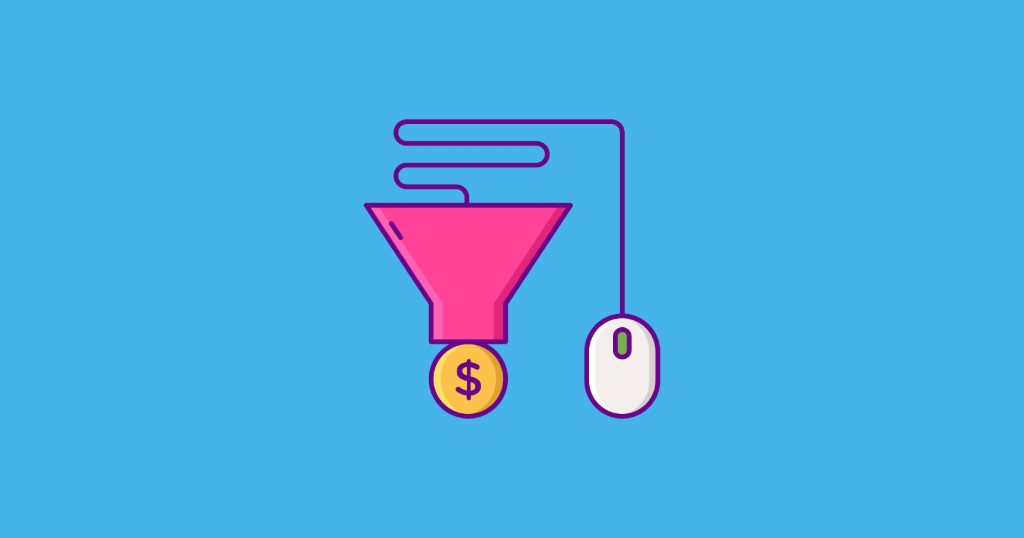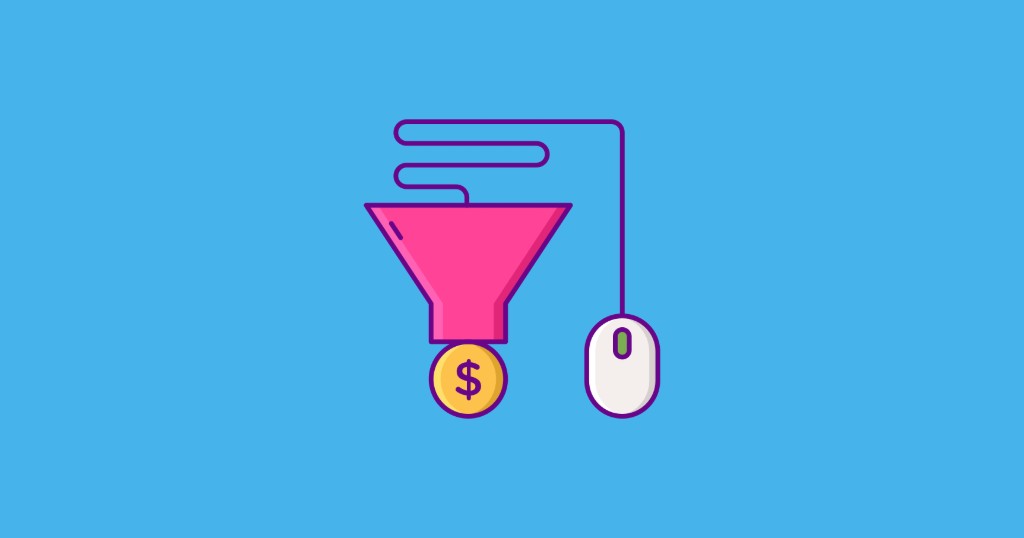 Sales funnel is an essential aspect of a digital marketing campaign. It provides a reliable roadmap and a backbone to a company's marketing policy. At times, it can be extremely exhausting, tricky and extensive to create a compelling and convincing sales funnel.
Here are specific necessary steps to follow by every company to create a successful sales funnel –
1. Determining Your Target Audience
An essential step in formulating a sales funnel for your company is to determine the target audience. A company or a business must always know what kind of audience are they looking to target. One can easily understand the type of audience that they are targeting by asking these questions-
What kind of problems are the potential clients looking to find solutions for?
Are there any social media platforms they are using?
What kind of interests and inclinations does the audience have?
Does the audience share any criticism about online shopping?
All these questions can help you know your targeted audience better and establish quality communication with them.
2. Building Diverse Personas
A buyer persona is a false representation of the client that a company is targeting. This persona is usually created after carrying out thorough research on the customer's interests, demographics, goals and various other factors.
Building multiple buyer personas can help you target a diverse and versatile audience. One can easily derive relevant and accurate buyer personas by taking the following points into account-
The primary purpose of the target audience behind purchasing the product. This essential is related to the problems that they are facing and how the product will provide them with a solution.
The various factors which influence the clients into purchasing the products. People can have several different reasons for buying the product.
The method of using the product or tackle any of their issues.
3. Generating Relevant Leads and Traffic
The most important aspect of digital marketing is to be aware of the potential clients about the products and services that your company provides. Unless and until you don't establish client engagement and communication, the target audience would not know about the products that you are trying to market.
Due to advancements in the field of technology, various lead generating methodologies have been developed. Some of these lead producing tactics are mentioned below-
1. PPC Advertisement
PPC or Pay per click advertisement is an important tactic used by marketers to attract a wider audience. The primary reason for this technique's popularity is its ability to reach people on a variety of channels and platforms.
You can upload adds on popular social media platforms like Facebook and Twitter or solely target search engines to attract authentic search traffic.
2. Social Media Promotion
One of the most essential marketing methods is through social media. The growing influence of social media in various domains has made it one of the most important and accessible means of gaining traffic.
Social media outreach can significantly help in gaining traffic because these platforms already receive a tremendous amount of traffic, and it is widely influential. It also helps in establishing excellent client communication and engagement. Just by answering a simple client query on any of the social media platforms, it prompts a massive amount of audience to buy the product.
3. Content Marketing
Apart from social media, content marketing has gained tremendous importance as a marketing tool. These days, it is all about the content that you put out. Hence, the content needs to be informative, authentic and attractive.
Blogs, case studies, and emails are an essential way of attracting an audience towards the product that your company sells. Content marketing is at par with social media, if not more. Content marketing also proves to be fruitful as a tool in the middle part of the funnel by educating and informing the clients of your products and why they need them.
4. Engaging Your Audience
Using various lead generation tactics will not be fruitful and beneficial if a company is unsuccessful in engaging the audience. Engaging an audience means establishing effective communication with them, educating them about your company's products and services and making them understand the importance of buying these products. This can be achieved by keeping specific essential points in mind-
Creating blogs with quality, informative and attractive content
Creating authentic and interesting videos
Promoting your content on social media platforms and applications.
You are asking influencers and bloggers to review your products and offer tutorials to use them.
Updating your blogs regularly and informing the audience about these updates through strategies such as newsletters and emails.
5. Converting Your Leads into Successful Sales
The final step in establishing a sales funnel is to turn your leads generated into paying customers and upscaling the sales of your products and services.
The primary purpose of this entire fiasco was to increase the sales of your product. Here are specific steps to convert leads into successful sales without making the purchase a long-drawn process-
Reducing the number of form elements.
Formulating a lesser number of steps for making the purchase
Creating one-step sign-in and sign-up options to ease the process of product purchase. 
3-Part Micro Funnel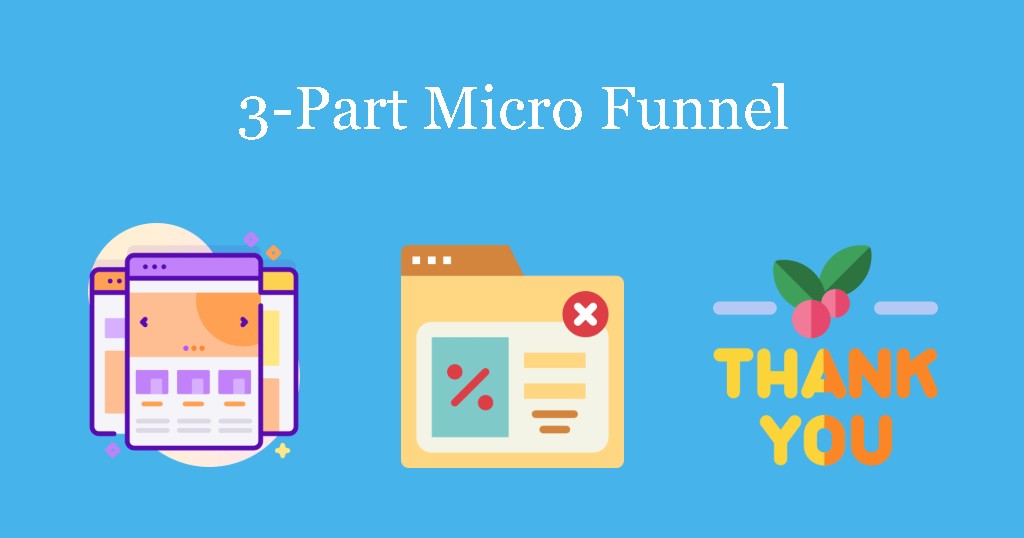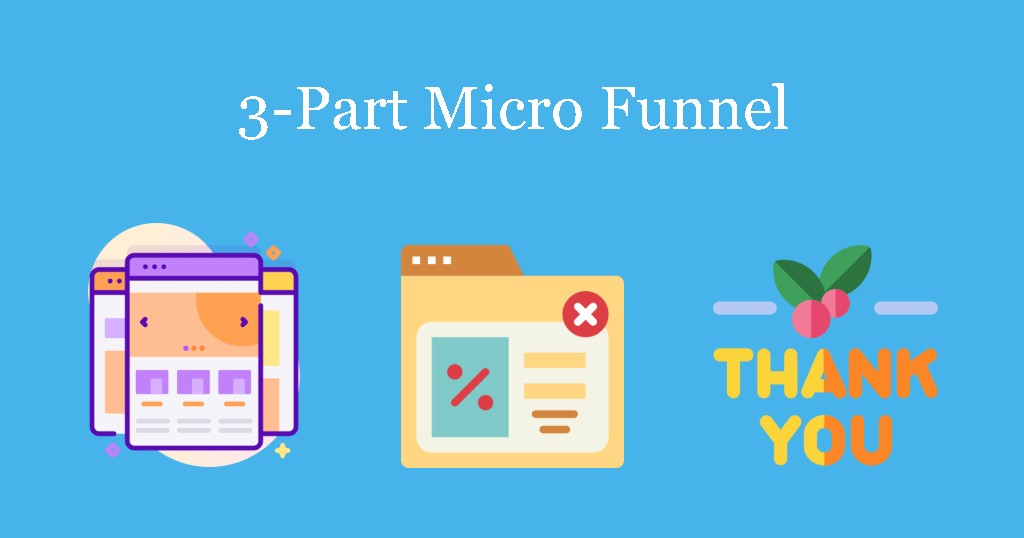 There are various revenue funnel systems employed by companies and high-end businesses to systematize their digital marketing scheme. One of these systems is the "micro-funnel" that is used by companies like Leadpages.
The fundamental purpose behind using this system is to breakdown the sales into small-sized chunks to make them easier to work with.
The three-part micro funnel system, as the name suggests, consists of three elements in its structure. These elements are as follows-
Landing page- After using various lead generation techniques like social media, videography, PPC, etc., the traffic generated shows initial interest by entering the landing page.
Leadbox or pop-up – The lead box is the phase or the element of the micro funnel that is characterized by the targeted audience deciding whether to purchase the product or opt-out of the deals that the company suggests.
Thank You Page – A thankyou page is the last phase of the sales funnel, which showcases appreciation towards a company's customers and facilitates a deeper relationship and effective communication with them.
Types of Micro Funnels
As mentioned above, a micro funnel is a type of sales funnels usually employed by companies to provide a backbone to the digital marketing policy. It is also useful in breaking down the sales generated to make the data more comfortable to work with. This micro funnel system again has various subtypes depending on the variety of goals and objectives that a company has. Some of these types are mentioned above-
Blog opt-in to sale
Consultation to sale
Webinar to sale
Opt-in to sale
Opt-in to a webinar to sales
Key Points to Remember While Creating Your Revenue Funnel
Sales funnel is true, an essential system for companies to develop and execute. It provides a specific structure to a company's marketing policy and allows the business to target a wider audience towards a product. Here are specific final pointers to keep in mind-
Before creating a sales funnel, every company needs to determine its goal and objectives. A company must know the numbers that they are targeting to create better sales funnel.
Understand the various techniques used to engage a wider audience and to establish communication with them.
There are various lead-generating options to choose from. It is essential to understand which lead-=generating technique is best suited to advertise your product.
It is always better to adopt a three-part micro funnel system to ease the process of marketing the company's products and services.
Conclusion
Sales funnel is an ongoing process that begins with driving traffic towards a product and ends with successfully finishing a sale. In the era of digital marketing, every company needs to create their sales funnel system according to the type of product that they are marketing as well as the kind of audience that they are looking to target.
A sales usually funnel a three-part structure comprising of three phases- top of the funnel, middle of the funnel and bottom of the funnel. Each stage is characterized by a unique set of events in the marketing process.
The first step in the sales funnel is to drive an audience towards your product. This can be accomplished by employing various lead-generating techniques. Some of these methods include social media, videography, PPC, emails and many more. The choice of technology usually depends on the type of product or service that the company is looking to market.
A sales funnel, or a revenue funnel consists of various types. But the most common and known sales funnel system is the three-part microsystem. The three parts include the landing page, the Leadbox, and the thank you page. All these elements mark the crucial steps in the sales funnel system.
Creating a sales funnel can be tricky, extensive and exhausting at times. Hence, it is better to keep in mind specific important points and following a systematic path to creating an effective sales funnel.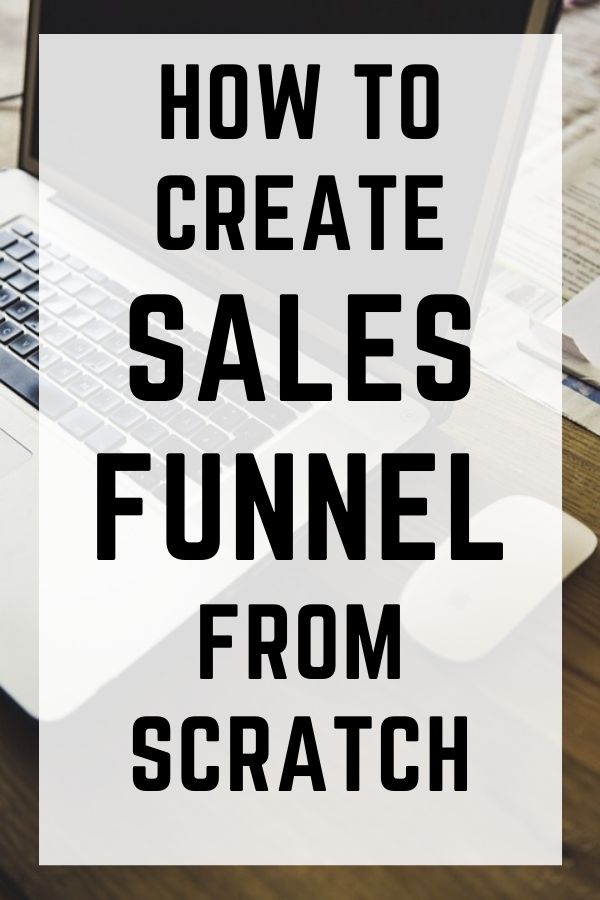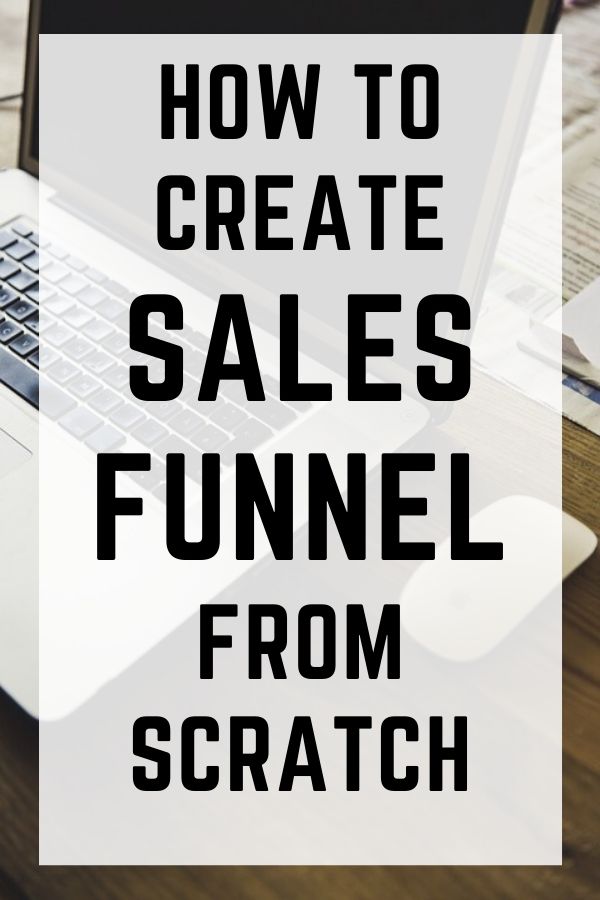 Want to get started FOR FREE with Clickfunnels?
Get your 14 Day Free trial by following this link https://optiux.com/go/clickfunnels-free-trial/ or clicking the banner below.