Wondering how to monetize a website and start making money online?
There is an increasing number of monetizing options for your website in 2020. You are not limited to advertising and affiliate marketing anymore. An increasing number of ad vendors and affiliate networks just deepen impact. Gone are those days when you long for AdSense approval before earning serious cash.
We've also shared top 10 best AdSense alternatives for low traffic & small business sites. You may want to check out the article.
A multitude of monetizing options opens up opportunities for new demographics. It involves newer payment options, revenue models, lucrative content types etc…
Some of these monetizing options are just about reinventing the offline business in the online realm. Here we present the top 10 ways of monetizing your website.
Top 10 Best Ways To Monetize A Website in 2020
Let's get started, shall we?
1. Affiliate Marketing
Affiliate marketing is one of the most lucrative money making methods available for webmasters. You will be placing links to products on Amazon or other e-commerce websites. If a sale happens through that link, you get a portion of the sale. You will be paid only upon a sale.
The easiest network to start with is the Amazon Affiliate Program. It's free and anyone can sign up. It takes very little time to set it up. When you have a product review website, affiliate marketing is your natural choice. Always promote products which are going hot at the moment.
There are affiliate programs that pay every 24 hours so you can have a better cash flow always.
Also Read: Top 7 Best Affiliate Programs for Beginners in 2020 & Beyond
2. Pay-Per-Click (PPC) Advertising
PPC ads are what fuelled most websites historically. It is the common idea people have on how webmasters make cash. Google AdSense is indeed the king. However, the effective alternatives have always been there. The revenues directly depend on your traffic and demographics. Though it doesn't create massive income like affiliate marketing, PPC ads create a steady revenue stream for you.
If you have a multi-niche website or news portal, PPC ads are the go-to option for you. When you have more than 80k page views, start working with premium ad networks. Not all of them essentially pay per click, thus paying you for page views too.
3. Sell Direct Ad Space
Tagging up with ad networks doesn't give you complete control over your ads. You have no say on what ads will show up on the website. Selling ad space directly is a method that outdates PPC ads. You deal with the sponsors directly. They will only be interested in the type of traffic you command.
You have 100% say on the aesthetics of your website. The idea is to charge a fixed monthly fee for running the ad. You can also combine direct advertising with Google AdSense. Advertising offers do not roll in from day 1. It might take a couple of months or even more. Having a solid contact form is the key.
4. Sponsored Posts
A lot of bloggers and bigger forums do this. When you are in a niche that's so hard to monetize, a sponsored post comes handy. A sponsored post is purchased by companies that want access to your audience. It comes as a guest post on your blog or as a sticky thread on your forum.
A sponsored post can be helpful content but it's still an ad. You can earn anywhere between $50 to a few grand per post. What your audience is and how large it is, decides the price. Place a contact form on your website. Sponsored posts will come and find you. That's how it works.
5. Start Selling Products
Products include both physical and digital products. List the products on your website. Share your Amazon or Alibaba links on your website. You can sell products that your friend or colleague or client manufactures. With the amount of shipping involved, always factor in the liabilities. Digital products have a billion dollar market as well. People need apps for their iPhones and Androids.
Digital tools are very easy to monetize. For instance, most photographers purchase their presets online. Training info products are always a hot thing. People make pretty big fortunes selling e-books too. The competition can be stiff today, but people need e-books for iPads and Kindles.
On our website, we sell digital marketing related services/products. You can check them out on our shop.
6. Merchandise Items
Fan products are definitely money. You earn more than you expect by selling t-shirts or mugs. Invest in the custom designs to go with these products. People like to purchase fun, quirky items. If your merchandise is going well, a donation button is long due.
If you have a compelling case, open up donations. When your content is really good, people don't bother about the lack of cause. It's a tough sell, where you can't make a lot of money. At least you can cover up hosting by allowing a few patrons.
7. Online Tools (SaaS)
Online tools and software is a trendy business model right now. These are not really conventional digital tools. These are web tools that people have to pay to get access. If you have serious development skills, consider monetizing with SaaS. This is normally for the tech giants. For instance, Shopify is technically a SaaS e-commerce platform.
SaaS stands for Software as a Service. If you cannot develop the tools yourself, consider becoming an affiliate. Some networks allow you to present the tools and logins from your website. You can even stop with providing just the customer support.
8. Consulting & Training
If you are an expert in your field, people would like to get some inputs from you. A lot of times they need complete consultation sessions rather than just asking doubts. You should be kind of a big deal for that to happen. If you are open to helping people out, you should mention it on the website.
People are always interested in 1-on-1 training. They have already seen your free videos. They might have even purchased your premium content already. All that's remaining now is some 1-on-1 training. From SEO gurus to pet trainers to chess masters to relationship experts, everyone offers such training sessions online.
9. Offer Paid Membership
Subscription sites are a classy way to monetize your website. You are going to have some free for all content. Then, you have some gated premium content. This is where you have a regular product or service. You are going to have users pay a monthly subscription fee.
The first month free trials can be offered upon credit card entry. The common places are training platforms, mastermind groups, etc… You will be required to build an impeccable authority on the subject. That's one way to get anybody pay for a subscription. Forum memberships will involve giving access to private sub-forums.
10. Lead Generation
Lead generation works as simple as 1-2-3. You get an audience in a certain topic. Other companies are going to pay you for leads. Essentially you will be selling them a list. It will be a list of names, email addresses, and contact information. There are tons of widgets that help collect this information from your visitors.
If you are generating leads from your website, it will be courteous to mention it in the privacy policy. Tools automate gathering and supplying leads to your clients. You will get paid per lead. There are tons of Cost per Action (CPA) offers in college, job, insurance and such niches. In affiliate programs, we call it Cost per Sale (CPS).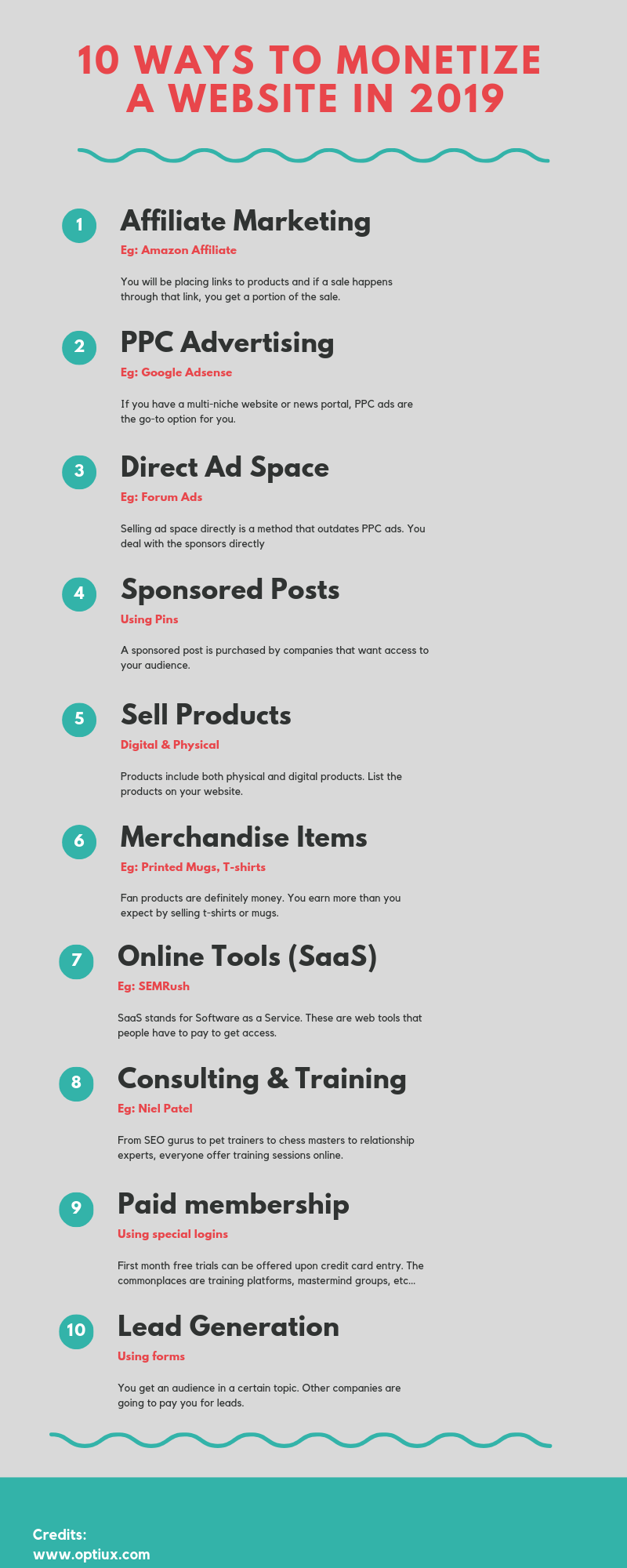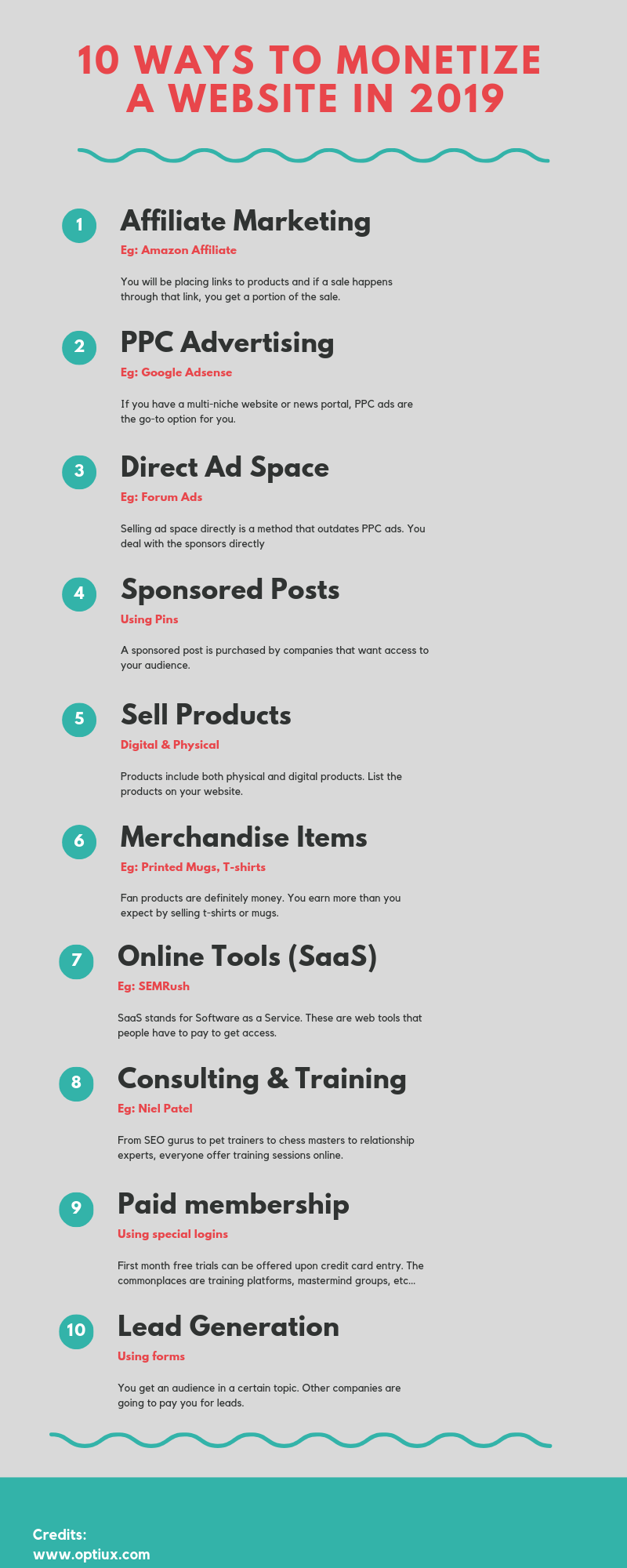 Final Words
You need a hardcore monetizing strategy for your website. Timing is everything and knowing when to monetize is important. You can combine more than one monetizing option.
Do not look desperate and put off visitors. If you are running a non-profit website, you can ask for donations. Ensuring the sustainability of the website is what really counts.
P.S. If you still don't own a blog and looking to start one, here are the best blogging sites you can pick from.