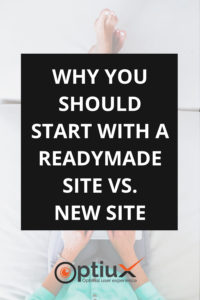 Building and promoting your brand online, without an offline presence, is very tough. There is plenty of work to be done. You need to compete with players who splurge serious cash on advertising.
Most of the top paying, evergreen niches are saturated. The competition isn't unbelievably easy for any keyword. If you are planning to build your online presence from scratch, there's a long way to go.
Affiliate Marketing Is Lucrative
That's why allegiances shift towards affiliate marketing, nowadays. You create content that helps people to choose between selections of products. The products come from more prominent brands or e-commerce names.
You have to sign up as their affiliate partner. You get your affiliate code on a selection of products. When sales happen from your links, you earn a commission. You don't have to bother promoting lesser known brands.
Players like Amazon already did the heavy lifting for you. They have massively promoted and advertised its brand to create an incredible amount of trust. Your job gets a whole lot easier when you promote their products.
It's lucrative since you get to keep a part of the sale that happens through your website. That's pretty much how the affiliate system works.
However, keep in mind that, affiliate marketing is not the only method to monetize a website. There are several other ways monetize a website in 2019 & beyond.
Time Is of The Essence
It's not just Amazon. There are plenty of affiliate networks to supply you with niche specific products to promote. The real catch is your products, or even your niche may wear out thin with time. You are also more vulnerable when dealing with micro-niche websites.
You need to promote these products real quick if you bother about conversion rates. You need readymade niche sites to launch pads that can fast-track the process for you.
What is A Turnkey Website?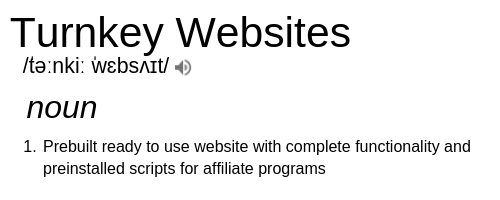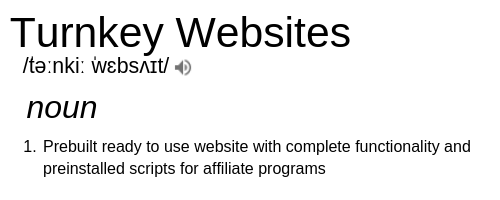 In any business, turnkey refers to a readymade setup. Similarly, a turnkey website is synonymous to a readymade website. You don't have built the site. You don't have to develop anything. You don't have to put in the graphics and content. Figuratively, you have to put the key in ignition and process is underway. It takes you one step closer to generating revenues.
These are websites pre-built for you. You have your launch pad, ready and waiting for you. The content is created and curated already.
You can integrate the affiliate products into it. Seller did all the heavy lifting already. On the back-end, you have a familiar system like WordPress. Turnkey websites are best for beginners and busy people. Time is a luxury for a lot of folks.
Related: Top 8 Best Blogging Platforms for Beginners
Branding And Marketing Tool
The turnkey website can be your branding and marketing tool. It provides with a chance to start making money right away. These are the web solutions any internet marketer can make use of.
Depending on your commitment, it can transform into a powerhouse. The service providers even help with post-sale maintenance. Finding an all-around support team is a real prospect.
The perks of the turnkey website are endless. You don't have to learn about website building tools. You don't have to learn HTML, JavaScript, CSS, Photoshop, Illustrator or even cPanel.
You don't even have to work with a team of web designers. Instead, they present what you need. Though it misses your initial inputs, there is a lot of strategy and planning behind the project.
Why Are Turnkey Websites Popular Today?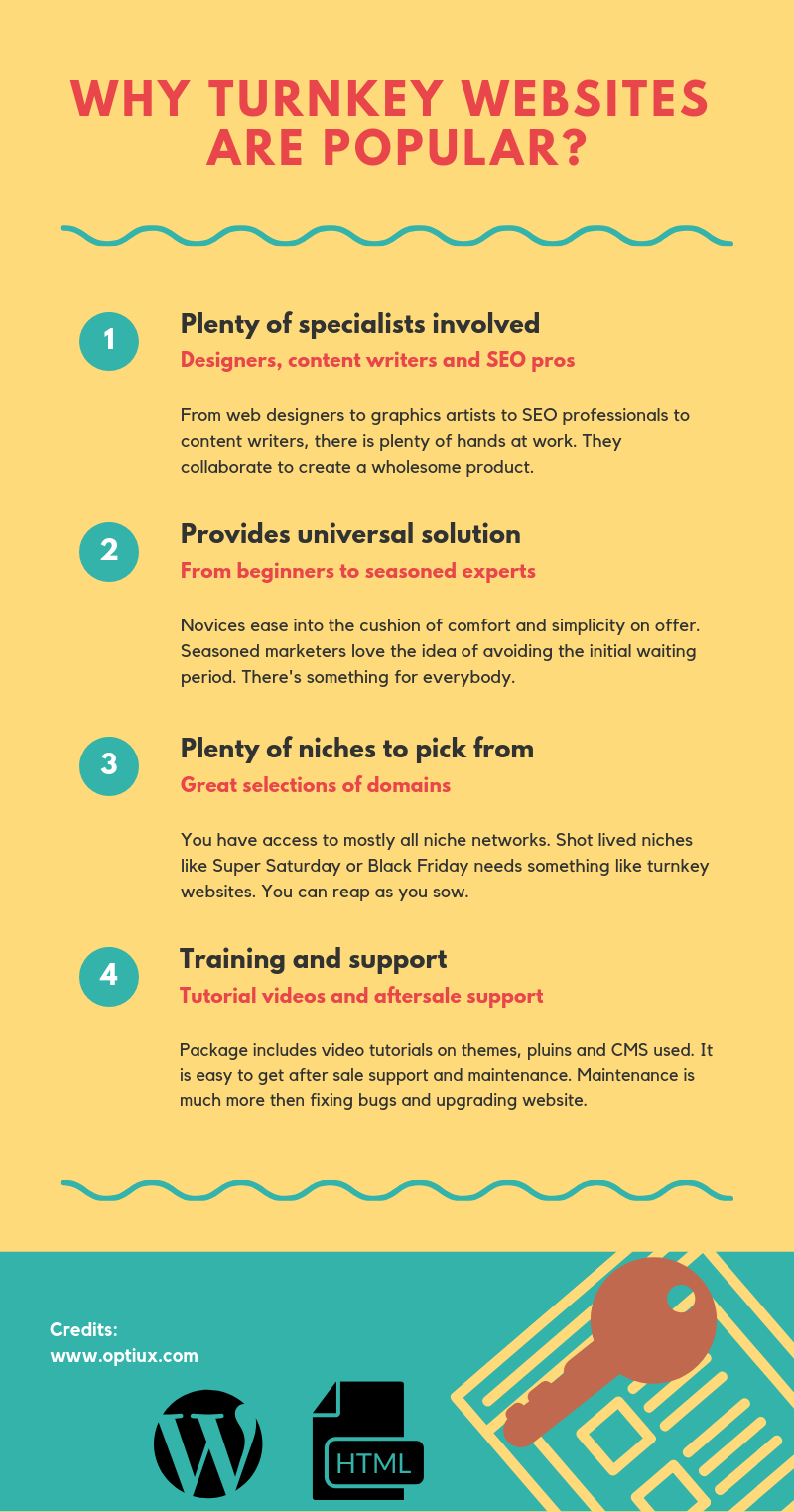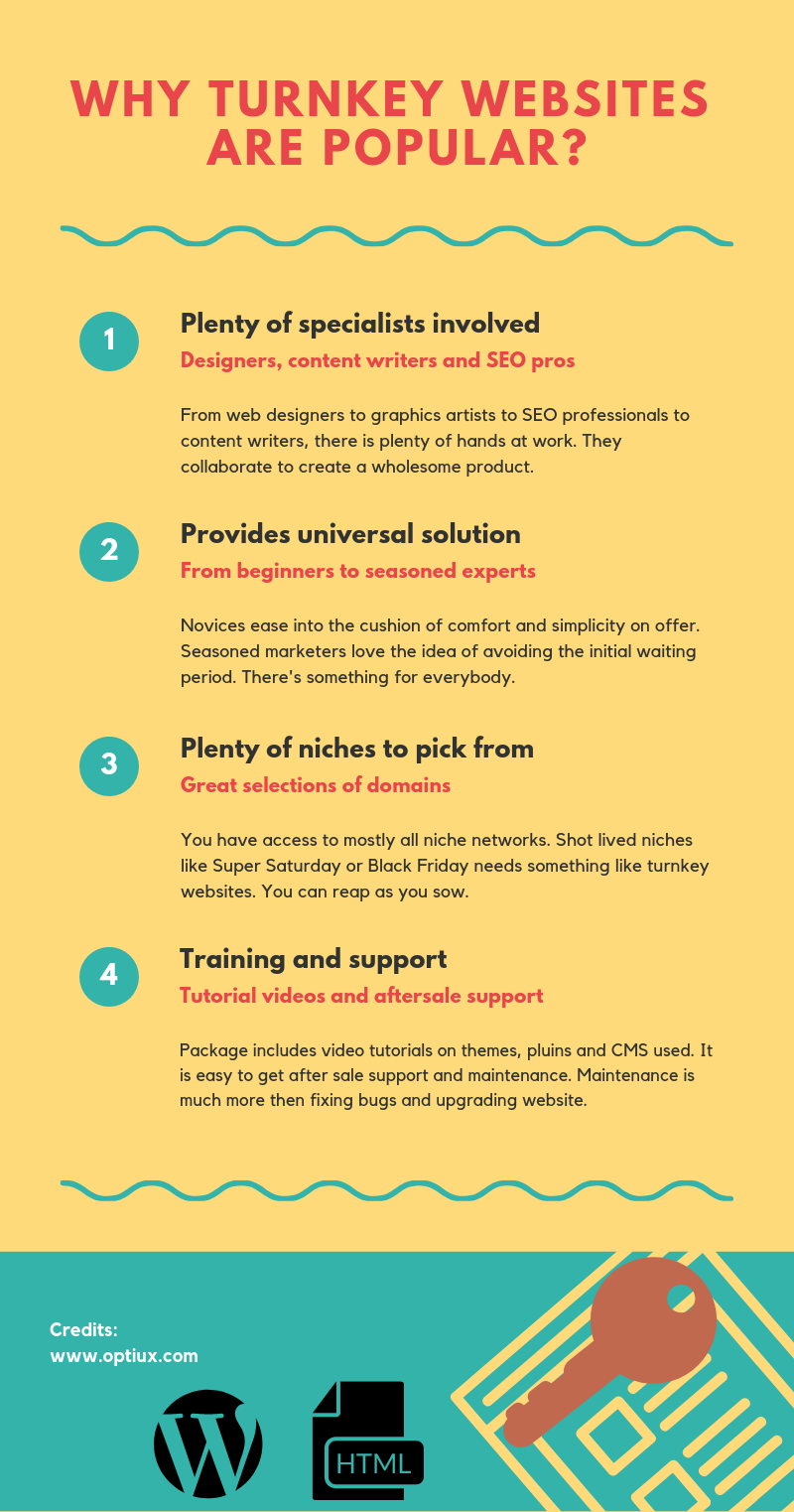 Apart from giving you a launchpad to start the online business, there are few more significant advantages of using Turnkey Websites.
1. Plenty of Specialists Involved
Turnkey websites are built using collective intelligence and expertise. There is web designers, graphics designers, SEO pros, content writers, etc.
These are people who have walked down the path, you intend to travel. Whether, it's a blog, e-commerce store or forum, they are more experienced.
In most cases, websites enjoy support and maintenance after the sale too.
2. Provides Universal Solution
Turnkey websites are for everybody. The beginners can benefit immensely from it. Even the seasoned internet marketers will need it at some point.
More often than not, they are caught between plenty of niche options. Building every website by ourselves disturbs focus. Turnkeys give cutting-edge advantage you need to have over your competitors.
3. Plenty of Niches To Pick
You get a range of niche networks to choose from weight loss to insurance to Christmas shopping; you get it all. In every niche, there is a selection of best-suited domains. Festival based niches like Black Friday, Super Saturdays is where you benefit the most.
These are short-lived niches, where you don't have the time to build everything. These are some of the biggest days in the year for retail. You can make a lot of sales and commissions.
4. Training And Support
Maintaining a turnkey website is as simple as 1-2-3. Your site will be hosted by the seller for one or more months after purchase. Your back-end is usually a familiar system like WordPress.
The back-end contains video tutorials that walk through different aspects of the website. From page to posts to plugins, you got it all covered. The service provider bundles WordPress tutorials, Yoast SEO tutorials, Affiliate tutorials, and pretty much everything you need.
Check out our "Readymade Sites for Sale" you can buy and start your blogging journey right away.
Can You Make Money with A Turnkey Website?
The most straightforward answer is, YES. But it is no PayPal Money Generator either. The more active you are, the better your passive income is going to be.
Turnkey websites offer the opportunity to earn cash without much effort. The groundwork is already done, and you can focus on generating revenues. You would have to care about ranking your website as well.
What You Get And What Should You Add?
Turnkey websites come with the furnished platform, graphical elements, and even content. Most sites are sold as a five-pager in content value. You get at least 5 articles that are 400-600 words long. The articles are already optimized for commercial keywords. You can find products to promote, based on the keyword ideas.
You can consistently add articles to the website too. You should hang on to the site, till stays relevant to the current trend. Apart from content, you might want to invest in link building as well.
Any website, big or small, is a work in progress. You need to consistently add content and promote them. Get links to your newest and promising articles. Track your progress as an affiliate, in every network you signed up for. Most people use an Amazon – ClickBank combo.
However, you can also use Amazon + AdSense + ClickBank combo to maximize the earnings potential. If your niche is not fit for AdSense, these alternatives can work best for you.
Affiliate Friendly System
Turnkey websites are for active internet marketers. It's not an AdSense friendly setup. Affiliate marketing is the mantra in this ecosystem.
Webmasters get to cash out on the current trend. You invest a few hundred dollars and get back a few grand in 3-6 months. That's how turnkey websites work as a revenue model.
Final Words
A turnkey website will be very much like a website you built. Sellers provide attention to the tiniest of detail. There are a clear-cut strategy and planning along with a vision on what you'll need. These are guys who deal with websites day in day out. They have a repository of templates and designs to work with.
Your site is effectively built in a matter of a day or even hours. Professional copywriters write your content. They are well aware of on-page SEO. Turnkey websites come with 'About Us' and Terms of Service pages, besides 5-10 articles.
Your website starts looking legit right from day 1 — the fully responsive design suits all screen sizes. Professionals use the latest technologies in web development. Maintenance gets bugs fixed and website upgraded.
Time Is Money
Turnkey websites are great for beginners. People, who are doing a 9-5, hardly have the time to learn designing or work with designers. With regular maintenance, you can safely absorb the trade. Turnkey websites will serve seasoned marketers too. It's hard to focus on one thing when you want to get in a lot of niches.
With ready-made websites, you can even build a PBN in no time. Time is money, and thus turnkey websites are profitable to start your internet career. The bottom line is Turnkey aka ready-made website is indeed a lucrative option for affiliate marketers.
Must Read – Best affiliate programs with daily payment