Who hasn't heard about making money online? All of us come across such ads or hear it from a friend. A few unsuspecting victims succumb to Ponzi schemes and get scammed. Computer savvy folks survive that pitfall and get into the technical side. They settle at designing graphics or websites for others. There are a very few people who learn, prepare and act on a greater goal. These are people who develop themselves as a brand.
Such people typically start off with a website or blog. They learn about the various aspects of blogging eventually. They experiment with a multitude of niches and don't shy away from research tools. It takes time for them to arrive at a preferred niche revenue model.
There are two prominent niche revenue models – Affiliate Marketing and CPC ads. Former is about making some serious cash in quick time, while the latter is a steady income option.
Let's look at every aspect of Affiliate marketing in detail in this post.
What is Affiliate Marketing?
As Rakuten marketing rights put it, affiliate marketing is performance-based marketing. Publishers operate from a blog, website or social media channel.
They partner with brands or networks and promote the brand's products. Affiliate links are used for catching sales on their behalf. They earn commissions for any sales made.
Publishers include bloggers, webmaster, social media account holders or even browser add-ons. There is more than one category of publishers – coupon publishers, content publisher, social media influencer and more. In this post, we will be discussing exclusively on content publishers who operate from a blog/website.
Advertisers are merchants or brands who just like more business. They don't mind paying commissions while making sales. They like to introduce their brand and product line-ups to a whole new demographic. Some advertisers use affiliate system just to gauge real-time demand for their products. It also helps explore newer opportunities in the industry.
How Does Affiliate Marketing Works?
Affiliate marketing happens over a bridge between advertiser and publisher. The bridge is usually an affiliate network. The publisher hosts generate affiliate links of products he/she is promoting.
Their visitors click the links and are taken to the advertiser's site. The publisher is incentivized when the consumer purchases the product. The original publisher is paid by the affiliate network.
Let's take a real time example. Let's say you want to buy a gaming laptop. You will ideally aim to bag the best deal. It starts with Googling an appropriate search phrase like 'best gaming laptops 2019'.
It is likely to stumble into the publisher's website, read their listings or reviews and make a purchase through their affiliate link. The advertiser will get money on the sale and the publisher earns a commission on the purchase.
Top 7 Best Affiliate Programs for Beginners in 2019
Most affiliate journeys turn into success stories, owing to the right choice on the affiliate program. You can combine more than one network occasionally. Nevertheless, it's not viable for the long term. It is thus important to find the best affiliate program for you.
Quality of the network, nature of your blog and convenience based on region, essentially makes your decision. Here are the top 7 best affiliate programs in 2019.
1. Amazon Affiliate
If you have a product review website, don't think twice. Amazon affiliate is your ticket to internet riches. When people purchase products through your affiliate link, you get a commission. Depending on the category, the commission is usually between 1-10%.
The products in Amazon are already something people want to purchase. To optimize Amazon affiliate revenues, you should follow some guidelines. Research in depth about the products and create appealing content. Chip in the unboxing or demo videos. Scale it up by promoting from your YouTube channel too.
2. ClickBank
Founded in 1998, ClickBank is an online marketplace where product developers can market and sell their digital products. For the most part, they sell eBooks and graphics packages through affiliates. As an affiliate, you get a personalized hop link on products you want to promote.
You can place these hop links on your blog/website. Every time, a sale happens through this link, you will receive a commission. The company pays commissions of up to 75%. To answer most of the online queries, ClickBank as a company is legit. They got a robust payment processing system, a venerable affiliate marketplace, and sound refund policy.
Read our latest guide on how you can make money on Instagram with ClickBank.
3. ShareASale
ShareASale has more physical products, unlike ClickBank. You got products coming from health and beauty space. There are also office accessories, garden supplies and what not? You can build a complete e-store with their products. You can view the merchants or products list for every keyword.
Before you can successfully signup for their program, their affiliate managers check whether you have a legit website. Make sure you build a website with a clear content structure, before applying to join in. It helps if you appreciate communicating with the team. If you ask them at the right time, you can get a product to review personally.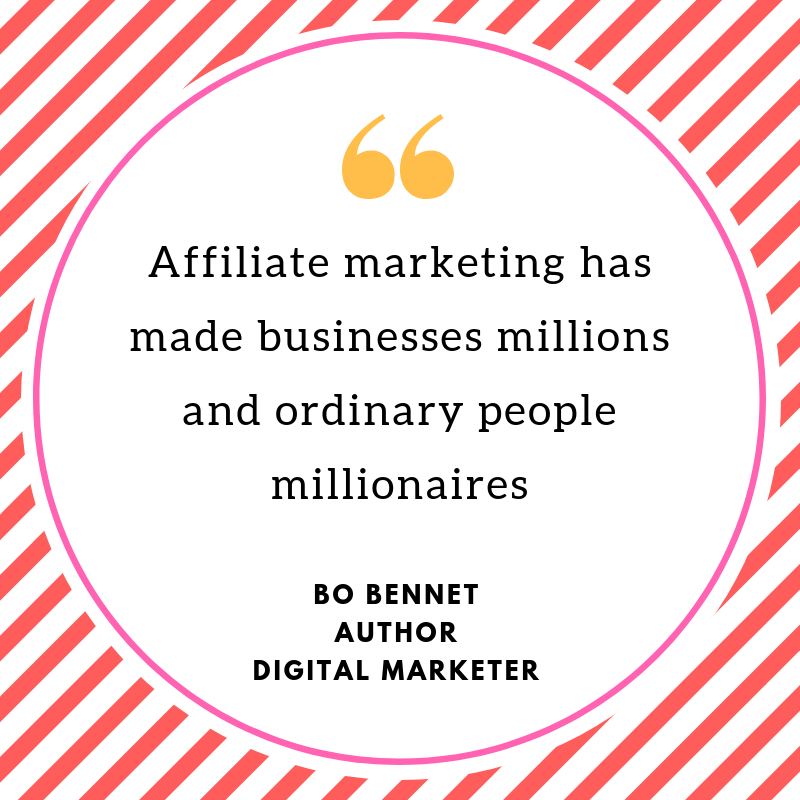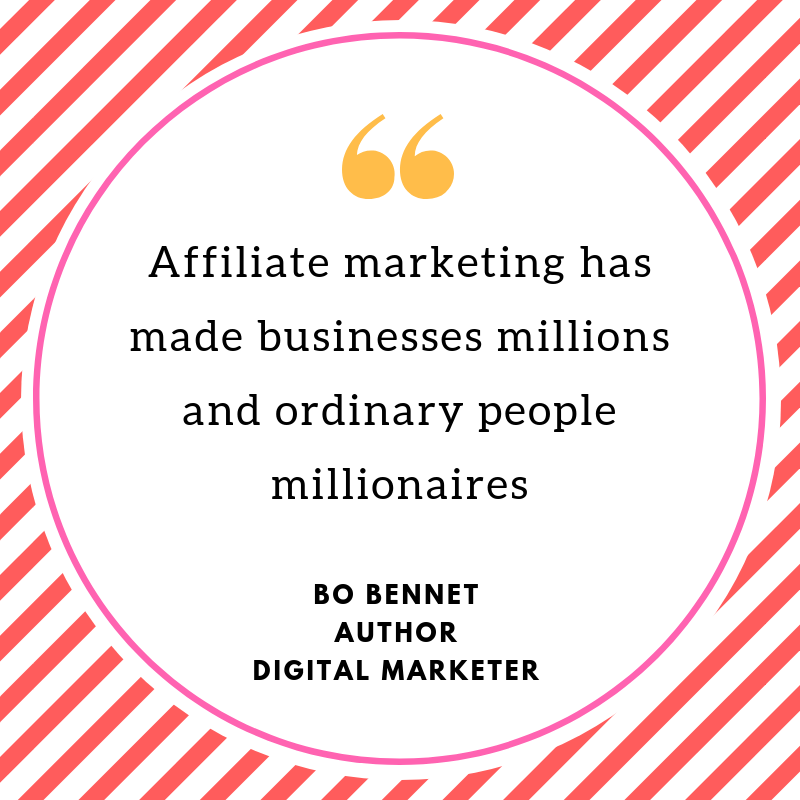 4. CJ Affiliate
This is the old Commission Junction. They are one of strictest affiliate programs on the internet. Your account will be put on hold if you are not showing traffic within the first month. Their team researches a lot on your profile. Entry is denied for webmasters who don't have a content-driven business.
CJ Affiliate is picky and specific about whom they let in. They are more concerned about brand value than keeping things busy. They support deep link automation that helps save time and scale faster. It is a single line of JavaScript which monetizes any link going to CJ's domain. Also, note that not all advertisers in the platform permit the creation of deep links.
5. JVZoo
JVZoo has been in operations since 2011. You can sell products of your own as well as other people's products for a commission. You have access to digital products coming from a variety of niches. Most of the products belong to e-commerce, e-courses, software, finance, and internet marketing niche.
It's a free platform barring commissions on sales. Picking the right products is important to break the bank at JVZoo. Product selection is almost similar to how it works in ClickBank. Do your research before promoting any product on your site. Beware of launch-jackers owing to quality control issues from the team.
6. Web Hosting Affiliate Programs
One of the profitable options is web hosting affiliate programs. All you need to do is sell hosting packages from your blog/website. Unbelievably good offers are available from time to time.
The classic $1 hosting from Hostgator sells like hotcakes. The webmasters have to do with normal pricing the following month. But more often than not, sales are made and the commission is earned.
BlueHost web hosting affiliate program is right there at the top. WordPress hosting packages from them sell easy. If you want to get out of EIG conglomerate, SiteGround is a nice alternative. Top notch annual packages start at $3.95/month. You can also give GoDaddy a try as their conversion rate is above average in the industry.
They also offer $10 per month packages, where disk size and bandwidth is limited. 1&1 hosting is the cheapest web host out there. Novice webmasters and PBN builders can make use of its $12 per year package.
When hooting a hosting package, know about the web host. If you are not honest about a hosting package, people will find out. Try to be as transparent and appealing as possible. Chip in videos in addition to articles. People want to have a feel of the cPanel and its operations, and videos deliver exactly what's required.
Related: What Are Turnkey Websites and Should You Buy One?
7. Rakuten Marketing
Formerly known as LinkShare, they don't give out too much information on the front end. Founded in 1996, it's almost an ancient one in affiliate timeline. You need a great site going for you. Once you have that, apply to them. They listed out ads based on categories and follow a brand-focused approach.
The website has an advertiser based search rather than a product search. It may take a little time getting used to their M.O. They don't have a traffic or language requirement for publishers. The network consists of more than 1000 advertisers.
How Much Can You Earn with Affiliate Programs?
Can you really make money with affiliate marketing? Yes, indeed and you can do it with relative ease. All you need is a plan and daily involvement. Now, how much can you earn with affiliate programs? The answer depends on a lot of things. Nevertheless, serious cash is involved here. It's a 5 billion dollar industry. It is expected to grow over $6.8 billion in 2020.
In a recent survey conducted by VigLink, IM fraternity stumbled into some of the coolest findings. 9% of the affiliate marketers earn well over $50,000 annually. Two in three affiliate marketers make up to 20% of their revenues through affiliate programs. These are people, who are doing a 9-5. That's as far as the law of averages goes.
Top bloggers such as Matthew Woodward, Pat Flynn, Harsh Aggarwal, etc… are breaking the bank with affiliate marketing alone. Their affiliate marketing goes along with AdSense, courses, and eBooks. They have a multitude of affiliate options from digital products to themes to hosting packages to physical goods. Here are some of their income reports.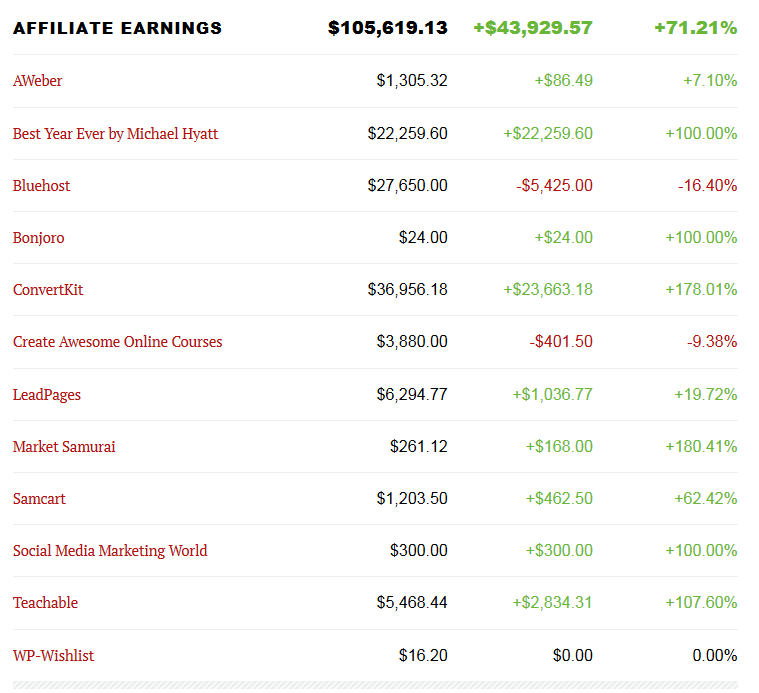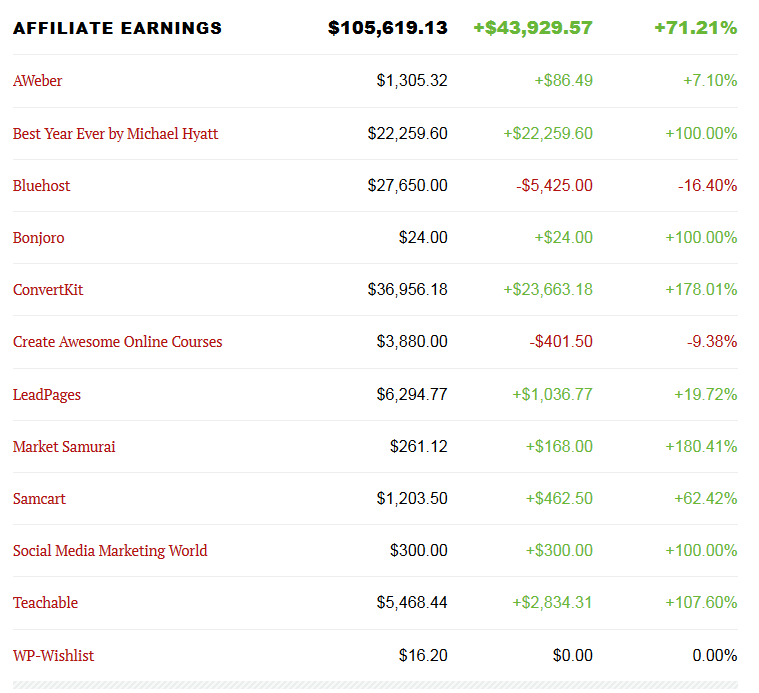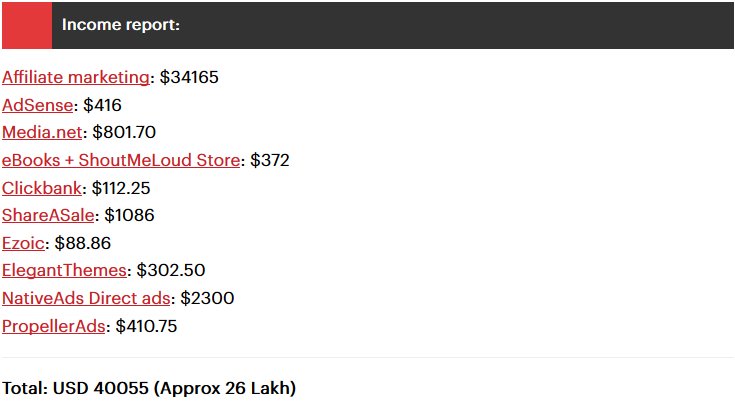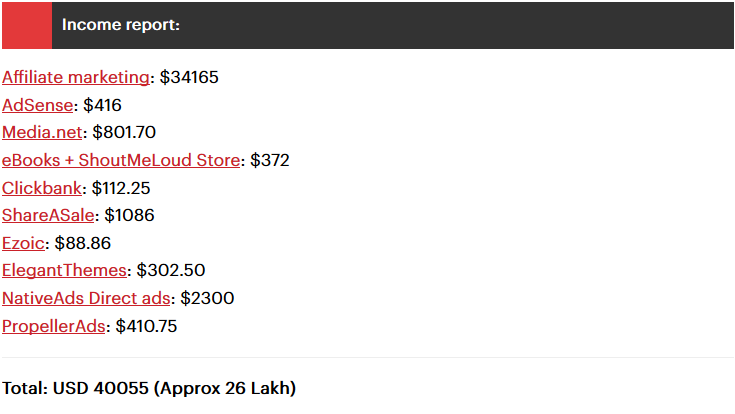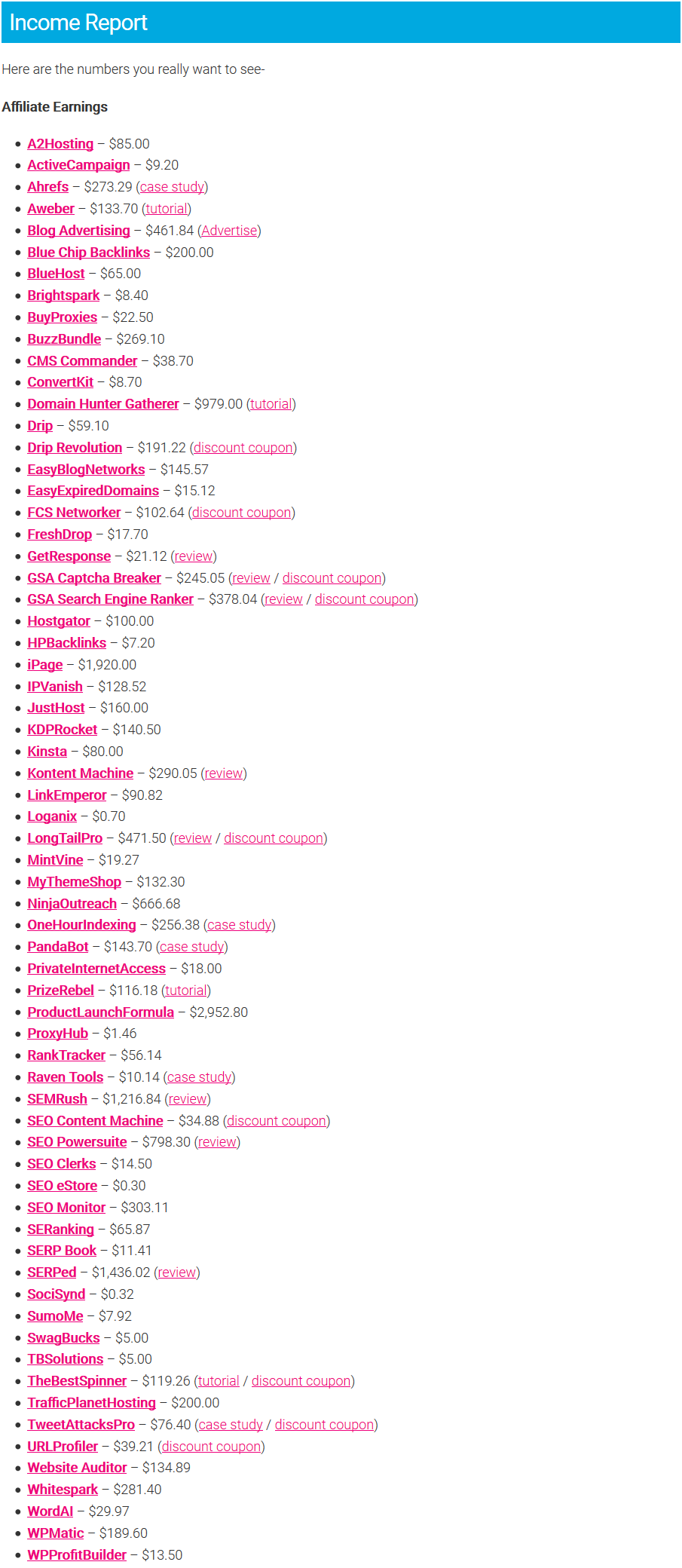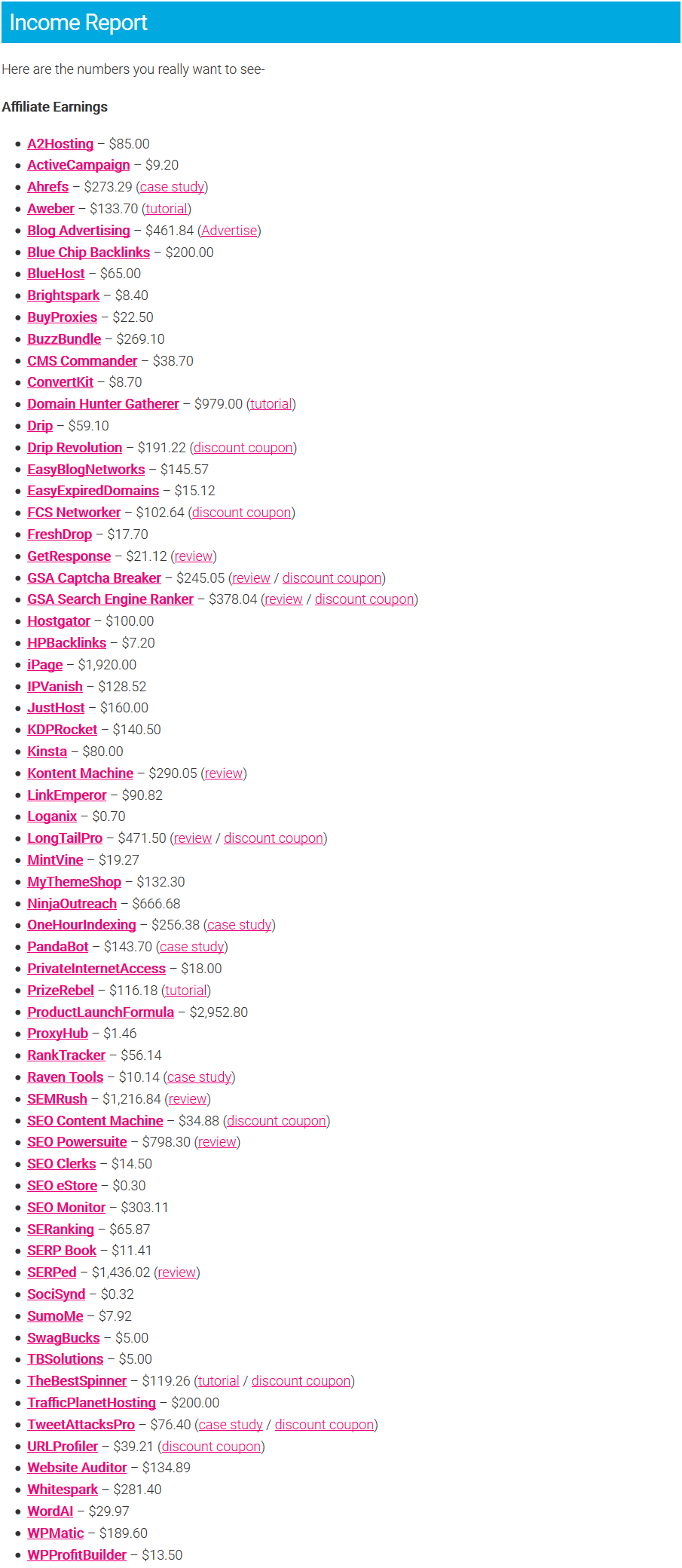 The top dogs have stopped posting income reports citing personal reasons. They have made their first affiliate million already.
Final Words
Affiliate marketing creates a win-win situation for all parties involved. Of course, the publisher gets to keep a part of the sale. The advertiser benefits from increased sales and customers. The affiliate network makes some serious cash.
On top of all that, the consumer is introduced to the best of deals. It's the most natural niche revenue model, there is. You can count on it to sustain and don't think twice about investing yourself in it now.
When starting out on making money online, creating a product or service is never easy, let alone getting sales. It's relatively easy to start working with established brands. It's all about getting a smaller piece of the larger pie.
Affiliate marketing takes very little time for initial setup. Revenues start rolling in a really quick time. Affiliate revenues can support you financially. You can take the time to learn about the industry.
Note: In additional to Affiliate Marketing, you can always use either AdSense or its alternatives to make more money from the existing traffic. However, don't fill too many ads which will affect user experience.
For clueless internet users, here's how you can start a successful blog for just $1.99/month.