A lot of us think we know enough about web hosting already. Small businesses are hurt the most on this illusion of knowledge. Their first choice happens to be budget hosting. They don't understand where their package really lacks. Over course of doing business and interacting with their designers, they understand cheap is expensive.
Web hosting companies with rock-bottom pricing thrive on their upsells. The hot thing right now is SSL certificates. Budget hosts are selling for $80 per year. When working with a high-end package, you already have such things built in. These are plenty of such nuances which help cheaper hosts to make cash. On the downside, customers are deprived of good quality hosting.
In this post, we would be explaining why your small business needs the best hosting package. We will introduce you to the best of best-hosting companies and their flagship packages. Further discussions will be on what features determines the quality of a web host. Compare the findings with features offered in your current web hosting. If you are into PBNs, you need to vary between different types of hosting plans.
Why Choosing the Best Hosting for Small Businesses is Important
Speed: Most budget hosts overcrowd their servers to provide services for cheap. When they try to consolidate resources, it results in performance issues. A lot of times, such servers just won't load. It may go extremely bad, making you to even wait an hour.
To make things worse, you cannot effect changes on the backend too. Clearly, some other site will be hogging great amount of resources on that server. It's one of the reasons to stick with the best hosting, regardless of the cost.
Search Engine Optimization: It's so important to understand how hosting influences website rankings. In shared hosting, plenty of other website shares the C block.
Cheap hosting companies pretty much allow spammy or suspected PBN websites on your C block. Those are sites that are going to attract Google penalties. Owing to a similar website IP, your site is likely to be penalized too. Search engines rank your website based on loading time as well.
Related: Check out our monthly SEO service package.
Downtime: Besides speed, what can come to bite your back are downtime issues. You need a downtime of 99.8% uptime or better. When you are buying a $1 hosting even from a reputed company like Godaddy, the downtime is definitely going to be shaky.
You can't expect top quality service when buying with coupon codes. Downtime of best hosting adds reliability to your website.
Security:  A lot of security issues come up from time to time when you are not choosing the best host. For instance, target hack took the internet by storm recently. Interestingly, the hackers didn't directly go for websites but we're going for vendors.
The hackers attack smaller websites like yours to get access to larger websites in the server. It is a prime reason why you shouldn't settle for anything but the best when it comes to hosting services.
Top 5 Best Web Hosting for Small Businesses in 2019
Let's have a look at the top 5 best web hosting companies for small businesses and their features:
GoDaddy isn't just the big daddy of domain registrations. Almost 1 in 6 websites worldwide is hosted by GoDaddy. The publicly traded American company has the largest global web hosting market share. From VPS to dedicated servers to WordPress hosting, they offer all sort of packages.
They offer good loading speeds on website and backend too. GoDaddy follows competitive pricing. Their support is good, but they try to sell you stuff time and again. Average loading time is pretty good and the response is under 1 second. They score good overall including support, pricing, and performance.
iPage is the most underrated web host. Their low-end packages do have complaints. But that's pretty much what budget hosting delivers, irrespective of the company. Most complaints come from people who used their incredible discounts for new customers.
If you avoid their under $2 per month promotions, their hosting is really good. Their 1 click installs and customer support makes things as simple as 1-2-3. We suggest getting an annual package for $96 which includes a free domain.
The company offers both cPanel and managed WordPress hosting. iPage gets you online quickly without putting a major dent in your wallet.
Check out this guide to start a profitable blog with iPage hosting.
3. BlueHost
BlueHost is the 6th most popular web host with a 2.5% global web hosting market share. It's part of the EIG group. Regardless of you like it or not, it's worthwhile to give Bluehost a chance.
You need to factor in that it has been recommended by WordPress and WooCommerce. They offer a free SSL and free domain. The prices are inexpensive and you get a 30-day money back guarantee. Where the company scores the best in performance.
The server response time is less than 0.5 seconds. It doesn't any get better than that. Their managed WordPress hosting option begins at $20 per month. Webmasters don't go gaga over this hot but recommend it all the time.
4. SiteGround
The SEO pros personally use SiteGround. Like BlueHost, it has been recommended by WordPress and WooCommerce They have specified limits on monthly visits. Don't let that scare you. Most hosts that say unlimited, doesn't actually deliver.
They mention it beforehand and don't throttle you when you grow. The uptime is almost always 100%. There are some really good sub 10 USD packages. They have one of the best load speeds and uptimes. Siteground has upped the ante with security and privacy.
The servers are a lot secure now than they were a couple of years ago. When it comes to support, SiteGround is the best. They have the staff and they do changes really quick.
HostGator is the 4th most popular web host behind GoDaddy, AWS and 1&1. Their 1 cent first-month hosting package was an affiliate success. Their coolest additional services in hosting were runaway hits too. They are not performance beasts like the rest of the hosts in the list.
They make up for that in pricing and support. Though it belongs to the EIG group, it's not comparable with BlueHost. Nevertheless, you are not going to be upset either. They are relatively less expensive as well. That's why it has been a popular company right from the beginning.
Features To Look for In "Best Web Hosting for Small Businesses"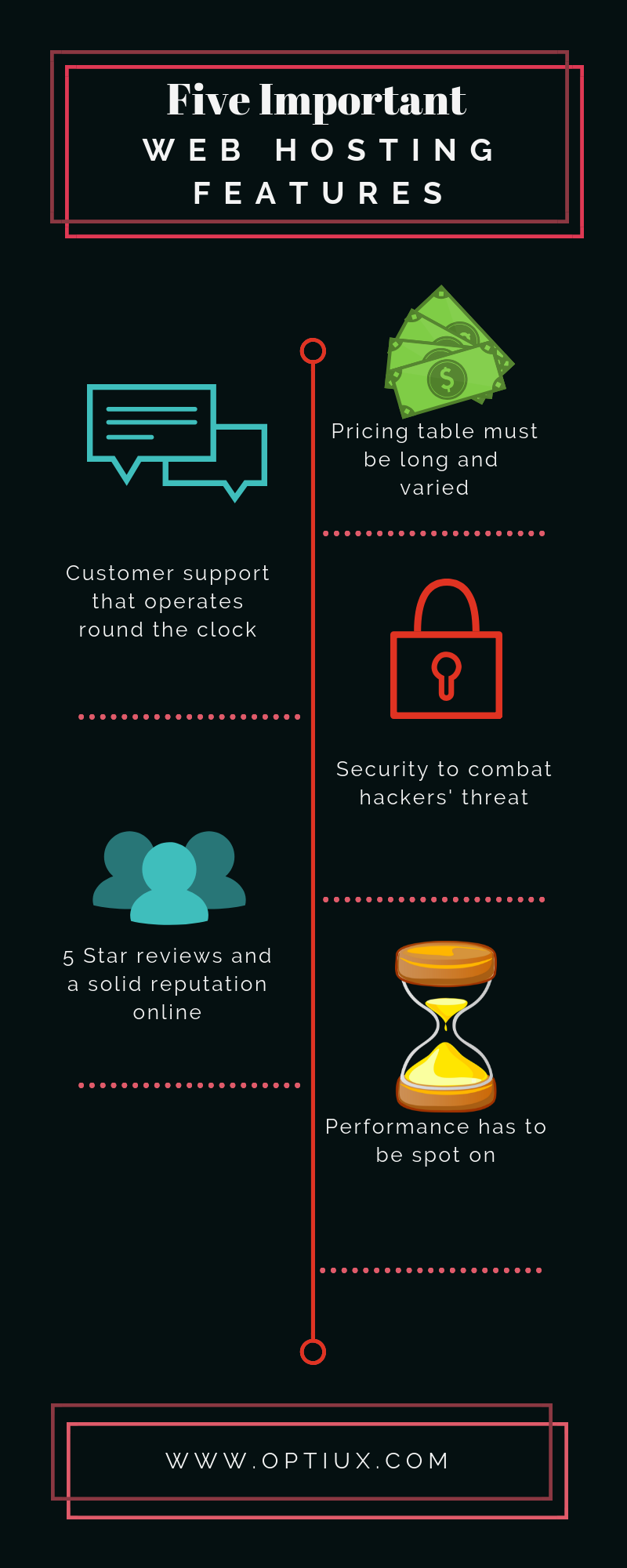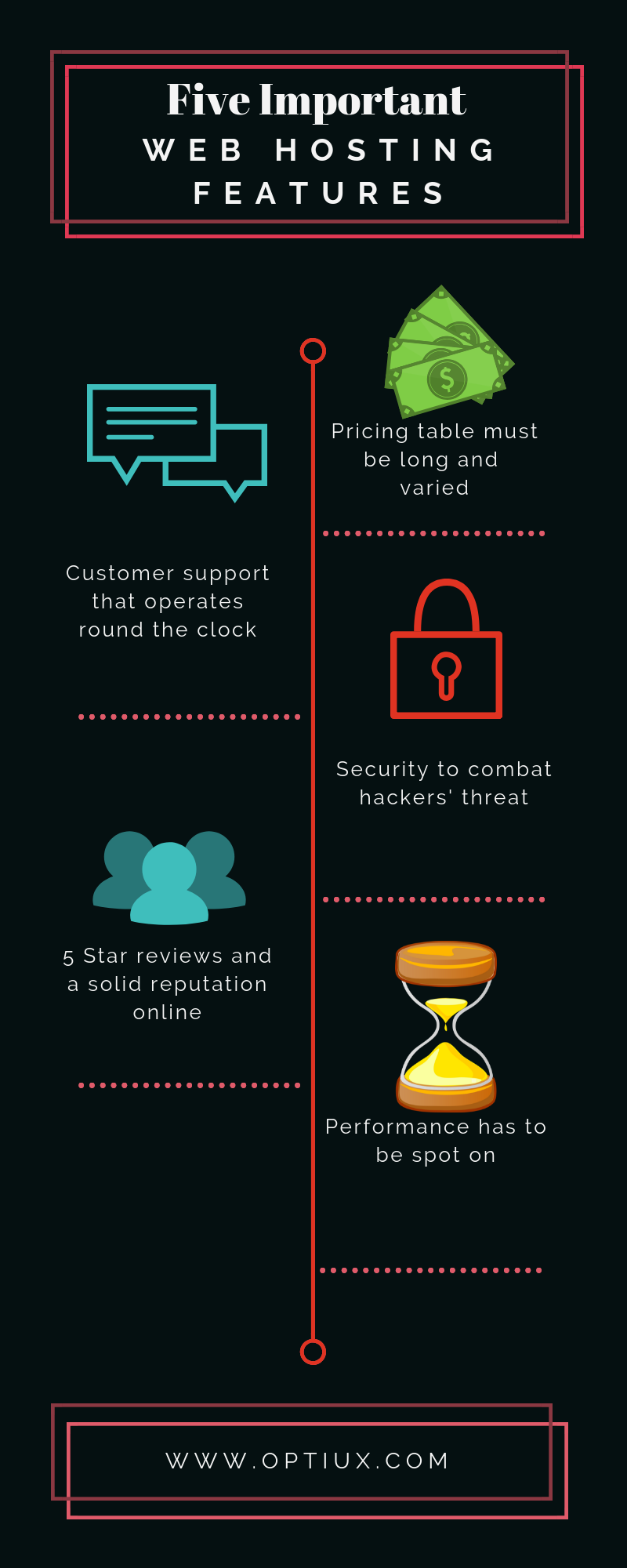 1. Price
What's a price you can expect to pay for hosting? You can be pretty sure $1 hosting gets you nowhere. If you are intending to create a busy e-commerce website, you want $10, $20 or even $40 per month hosting.
What does $40 per month get you?
For sure, it doesn't get you hacked. You are not sharing your C block with a bad website. In the long run, the webmaster understands cheap is expensive, owing to performance, SEO and security.
2. Performance
Premium hosting is important to ensure good loading speeds. It's very important to attract visitors and improve the user experience. Performance is 80% back end and 20% front end. You need to be able to work on your CMS anytime.
The changes need to happen really quickly. You can't be wasting time with delays involved in the day to day updates. The emails and database activity should be smooth. You can't settle even for a minor compromise in server performance.
3. Customer Support
If you want a solid website for your small business, you need great hosting support. You cannot be stalled with a response like 'Hey, I am working on something. I will get back to you in a few minutes'. You don't want to create a ticket and wait for hours.
An empowered customer team which works round the clock to resolve your immediate issues is a must. When you want to get managed WordPress hosting, make sure it is actually 'managed'.
4. Security
We can't emphasize more about the importance of security. It is exactly what that separate good hosting services from the rest. Get a package that gets you the optimal support.
Premium packages ensure you are hosted in a server with vulnerable websites. As a rule, always choose a reputable company that has n number of data centers. Things are least likely to go wrong because they have the infrastructure and staff to deal with it.
5. Online Reviews
You don't really have to buy into gimmicks. Things such as uptime can get too technical. Don't be intimidated by all these jargons. Ignore all of it and look at what reviews are saying. It would be better if you got feedback from someone you know.
Reviewers tell the webmaster's part of the story. There is plenty of web hosting review sites. Authority websites make listicles of top 10s and top 5s for the particular year.
Final Words
For a change, let's get to the basics. For starters, a web host is a series of servers that physically store your files and data, and makes them visible on the web. In a business context, hosts are companies that own several servers in one location aka datacenter. When announcing themselves on the front end, they provide software, support, security, and bandwidth.
What you can do is rent some web space from any of these servers to create your online presence. Small businesses benefit immensely from their symbiosis with the internet. Godaddy is doing a lot of local campaign emphasizing how online presence benefits small businesses. You can reach out to several unexplored demographic.
When creating an online presence, the need for good hosting is often overlooked. Businesses learn about the damages mostly in the hindsight.
Most small businesses do pretty well with domain name registrations, content, Search Engine Optimization (SEO) and even Social Media Marketing (SMM). Let's put the emphasis back to where it really counts. Apply the discussed guidelines when choosing your next hosting service.