Can you make money watching videos? Yes, you can.
Some networks pay you to do that. Nevertheless, only a few of them are legit. Furthermore, the real issue is the pay rate. Sometimes it's too low that you barely make $100 a month. We will present to you some of the legit and feasible options that pay you to watch videos and/or complete some surveys.
Firstly, you need bandwidth to seamlessly stream videos. Your earnings get to rock bottom when videos aren't buffering quick enough for you. Secondly, you need a payment account that's accepted by the network and your territory.
Fortunately, there are many payment processors to choose, PayPal is the most widely accepted. When these two conditions are met, you need to find a legit program that'll pay. To make your search easier, here are 10 simple ways you can make money watching videos.
#1. Swagbucks

It is the most popular option in this space. Certainly, they live up to the hype. They process withdrawals via PayPal and gift cards. It takes less than 24 hours to process payments. You get paid to watch a range of videos. From new to sports to other themes, every clip is cash.
In addition to watching videos, they have paid surveys too. Above all, they have A-rating with Better Business Bureau (BBB) for more than a decade.
#2. Netflix Tagging
Can you really make money watching videos on Netflix? Yes, indeed you can.
Evidently, becoming a Netflix tagger is the only way to do it. Taggers watch and tag their programming to improve recommendations for other subscribers. Nevertheless, the position isn't always open. You can always keep track of Netflix jobs for suitable openings.
Fortunately, Netflix gets interested in hiring a few taggers periodically. Above all, how cool is it to make money via Netflix? In addition, you can enjoy their free subscription.
#3. Try my UI
The name explains it all. Here, UI stands for User Interface. In other words, it's a combination of testing plus watching videos. You earn an impressive $10 per test. Each test lasts up to 20 minutes. You can take any number of tests.
They send payments every Friday via PayPal. Completed tests undergo a review and graders accept them later. The honorable mentions in testing site category are Userlytics, Whatusersdo, and Enroll.
#4. User Testing
User Testing isn't just about watching videos. They ask you to test websites and apps. The instructions come in a video. More often than not, no specific skills will be required.
For instance, you will be asked to test signing up process after watching demo videos. In a nutshell, you get paid for testing software and watching videos. User Testing pays you $10 for every 20-minute video you complete. They pay out every week via PayPal.
#5. UserFeel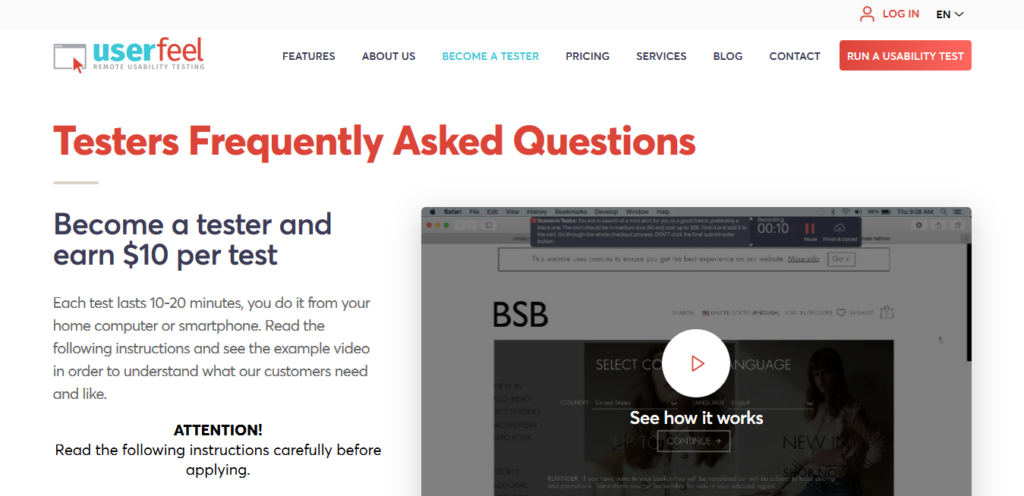 If you want access to more tests, use User Feel. Join this network to make some more money. The pay rate is quite the same. They pay you $10 for each test that lasts 10-20 minutes. Invariably, the user conducts tests on apps and websites.
You may be asked to find a product from search, get through the checkout process, etc…
Additionally, you are required to speak your thoughts while taking the test. They pay weekly via Amazon gift cards and PayPal.
#6. Viggle
Viggle is an app based network where you earn points. In other words, there are certain things you do with the app. As a result, the app is going to give you points for it. After that, you can redeem these points for gift cards.
Above all, it's an app which you can install in your smartphone. Thus, you can make money on the go. Most activities involve watching your favorite TV shows, which makes the deal a whole lot sweeter.
#7. Perk.tv
Consider it the sister project of Viggle. Similarly, you will be watching videos, TV shows and earning points for that. They have paid out close to $52 million till date. In the same vein of Viggle, you can take Perk.tv wherever you go.
Likewise, you can redeem these points for cash, gift cards, and donations. Additionally, they pay you to shop online, perform web searches and answer pop quizzes. Certainly, there are other ways to earn money via Perk.tv besides watching videos.
#8. App Trailers
It's an app that pays you to watch app trailers and other videos. Additionally, they present music, games and TMZ videos. They are in operations since 2010. Five years later, Perk.com bagged it through an acquisition. Certainly, it's a cool app that lets you earn some money on the sidelines.
Nevertheless, they do have a B-rating in Better Business Bureau. It can still come as a handy alternative that pays through PayPal and Amazon gift cards.
#9. Success Bux

Since 2012, Success Bux has been popular as a survey site. Certainly, the name belongs to the PTC era. However, they have revamped their business model now. In addition, they have now introduced paid to watch advertisements. Simply put, you can watch advertisements and earn cash.
The payouts are most flexible here. For instance, the minimum withdrawal threshold is just $1. Withdrawal options include PayPal, Payza and more. If PayPal isn't an available option for you, it comes as a handy rescue.
#10. You-Cubez
You-Cubez is a lesser known website in this space. Besides videos, they provide surveys and website ads. There is always a decent list of videos that people want you to watch. The prices are very low if you live in a third world country. People often use VPNs to get lucrative ads. However, we leave it up to you.
Like Success Bux, You-Cubez is a PTC site. We recommend it to users who have prior experience in this. You should know every trick in the book to make real money here.
Author's Views On Making Money Watching Videos
You can never look up to these gigs as mainstream income. Obviously, it has to invest in something bigger. To make money watching videos is good when you are starting out. That's exactly when you have more time and less money.
Hence you can incentivize the extra time in your hands. It's definitely not something you can scale, let alone consider it as full-time work.
If you enjoyed this article, please leave a comment and also share this post with your friends. Do pin the below image so that you can access it later.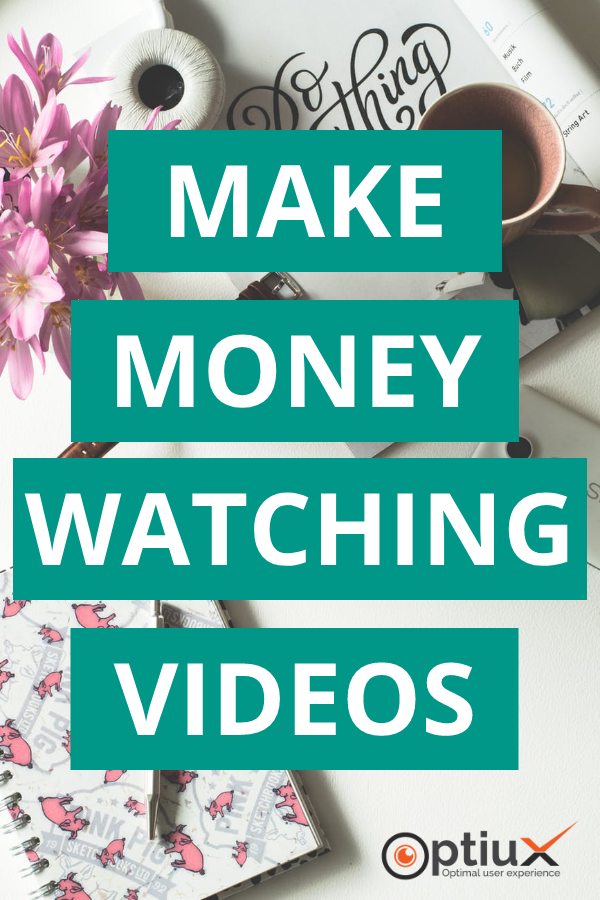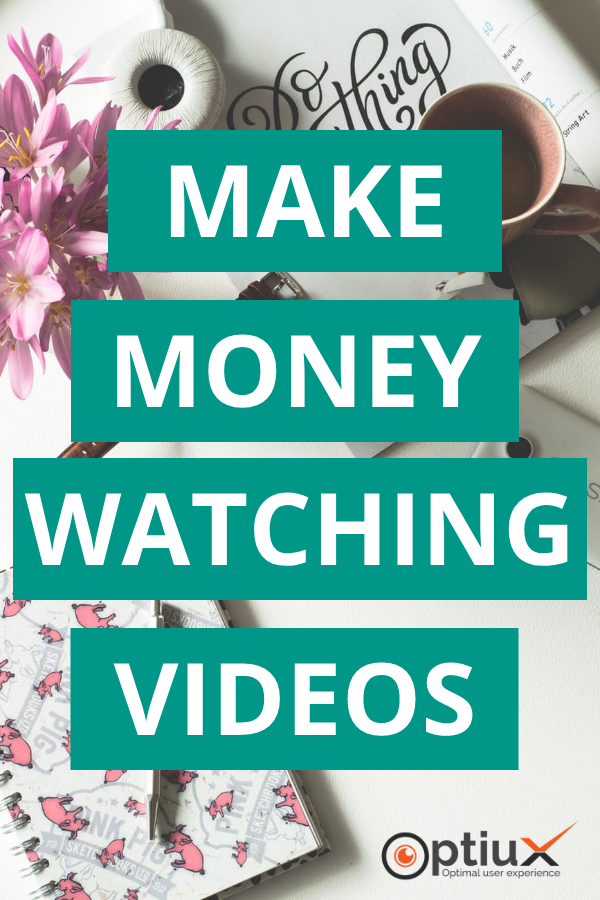 Other interesting articles worth reading: