Most people starting out in online freelancing cannot wait an entire month to receive their first paycheck. Some of them cannot even wait a couple of weeks. In this post, we'll discuss the legitimate work-at-home options that pay weekly. Furthermore, we make sure these jobs don't pay as low as pennies.
We are talking gigs that can actually help you pay the bills. Evidently, there are legit companies that pay their freelancers once a month.
However, it doesn't help when you are making the leap from your 9 to 5. For the aspiring freelancers, we list down 10 legit online jobs that pay weekly.
Let's dive straight to it.
Transcription Jobs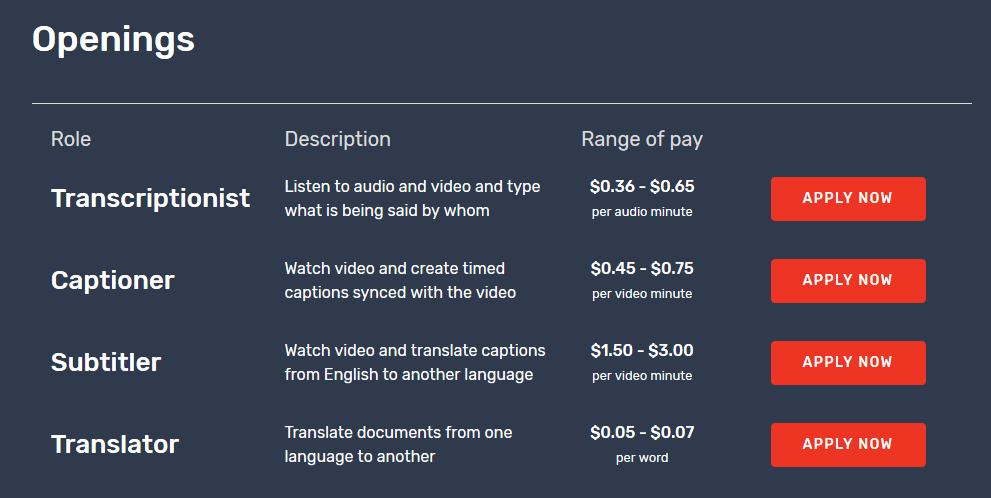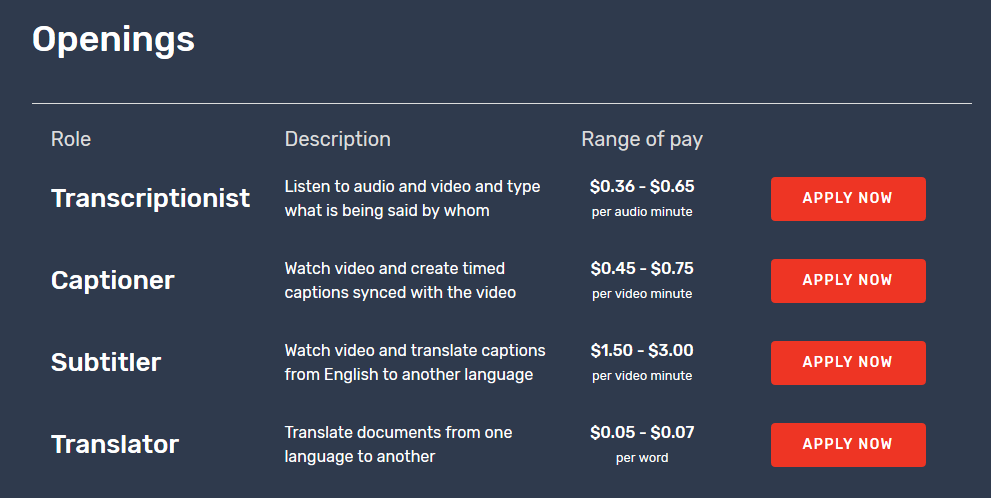 Rev.com
Rev.com is the hub for type work on different media formats. You can transcribe audio or video. You can add captions to videos. If you are a polyglot, you can add foreign subtitles on videos. Additionally, they hire translators to work with documents. The average earning per month is $245.
There are a few steps before you start earning. Firstly, take their online test for grammar and transcription. Secondly, wait a couple of days for account approval. Thereafter, you can start picking gigs. Select your withdrawal limit and get paid every Monday via PayPal.
Babble-type
As their tagline goes, it's 'Market Research Transcription'. This transcriptionist job network focuses on accuracy. Therefore they accept native speakers only. It explains a few negative reviews about them. On the positive side, they hire newcomers. Their pay average is around $10 per hour.
You can work on your own schedule. You get to pick the days and hours on those days. Besides transcribers, proofreaders and translators can be part of the payroll. You can apply through this page.
TranscibeMe
TranscribeMe is exclusively for transcription and translation jobs. You take what you hear and turn them into paragraph, sentences and different forms of text. They pay via PayPal on a weekly basis. You might be asked to take a typing test. It is to test you on speed and accuracy. Unlike most networks, you have a boss here to work with.
Depending on the company, they might demand a certain typing speed requirement. Assess your typing speed (words per minute) at TypingTest.com. It's advisable to invest in a good quality headset for the job.
Content Writing Jobs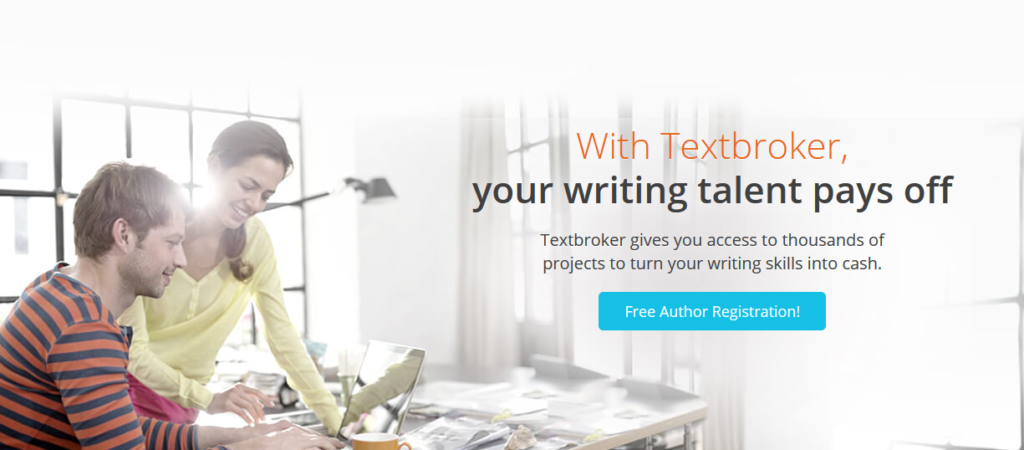 Text Broker
It's a writing platform, where you can write to different clients. Even better, you can work as teams. There are tons of projects and teams to choose from. Nevertheless, the key is to pick the good ones and to stick with them. They too pay weekly via PayPal.
The pay rate depends on your writing skills. It can go all the way till $50 per 1000 words. Essentially, you have to put in a withdrawal request on Thursday, in order to get paid on Friday. They only employ citizens and residents of U.S., owing to tax regulations.
Content Authority
It is yet another content writing platform. They require you to use high school level grammar. Furthermore, you must be ready to take critiques from both clients and staff. To get accepted, you need to submit a writing sample on the topic given to you.
Once you are accepted, you can write articles for different clients. Payments are made every Monday via PayPal. The withdrawal threshold is just $25. The website is open to writers around the world. Fluency in the English language and advanced research skills are musts.
HireWriters.com
You are usually paid to write SEO articles in HireWriters.com. It's a simple and easy interface. They pay every Fridays via PayPal. You will be paid as long as you have $10 in your account. The pay rate isn't usually quite great.
However, these are quick and easy articles. Like Text Brokers, they do not accept writers from a few countries. They have four different ranking system based on the level of skills. You can move up the ranks by receiving positive reviews from clients.
Read more: 10 Legit Platforms That Pay To Watch Videos Online
Online Tutoring Jobs

Cambly
It involves a Skype type platform to do video tutoring. You would be teaching English to people around the world. Like all proper work-at-home jobs, you can work anytime, anywhere. The hourly pay is $10.20 and they pay via PayPal. The minimum withdrawal threshold is $20.
The pending withdrawals are processed every Monday. Moreover, it doesn't mandate prior experience. You will need a webcam though. It will be required to conduct chat sessions with Cambly users. Visit their 'Become a Tutor' page.
Chegg
It's a highly professional online tutoring platform. Top tutors earn in upwards of a grand. The pay rates start at $20 per hour. The network sends students to you. Build your reputation to get more opportunities. Thus, the honest and hardworking tutors move up the ranks.
You can tutor in a range of topics including biology, computers, law, calculus and a lot more. You work with students at middle school, high school, and college level. Above all, Chegg works well for students and hence it's a win-win scenario.
NiceTalk
It's a great app where English native speakers can make money chatting to students. Your internet needs to hold up for seamless video streaming. Most importantly, you should have a strong command of the English language. Once you register an account, download the app from nicetalk.com.
The hourly pay rate is an impressive $10. As long as your balance is above $20, they pay every Monday via PayPal. You can tutor on your own schedule. They also have a referral program which lets you earn beyond teaching too.
Data Entry Jobs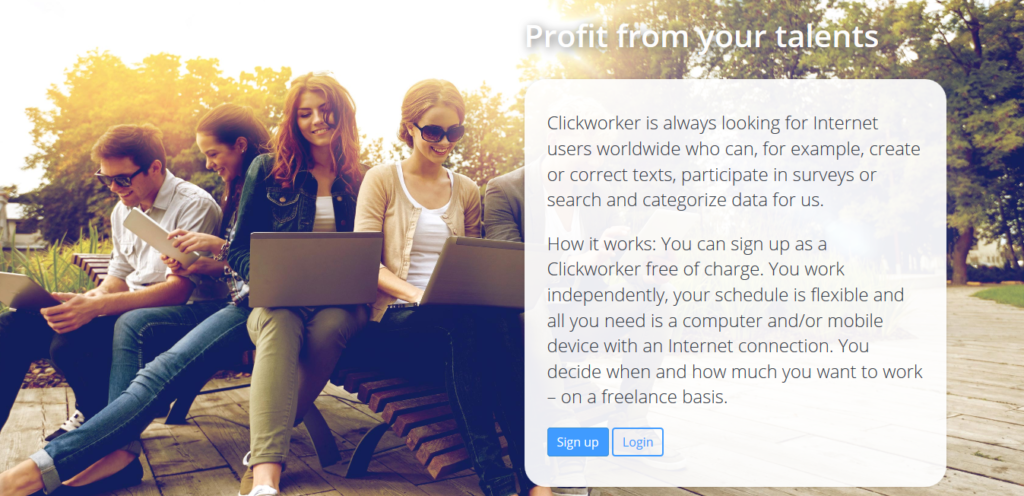 Clickworker
It's a company that pays weekly via PayPal. It's more about data entry and short tasks. They pay you for taking simple surveys. You can also proofread and edit copies. You are paid for web research and data categorization. Besides pc work, there are mobile app testing gigs too.
They have all kind of tasks that you can do. Thus, you don't require any specific set of skills. They have three different payout options – PayPal, Transferwise & SEPA transfers. The preferred option is PayPal weekly payment. Nevertheless, the PayPal account you use must be in your name.
Final Words
Making money online is definitely not an easy feat but possible if you know what you're doing and stick to it. The problem of getting paid after several weeks or months can be a huge turndown for beginners but with the above shared online jobs that pay weekly, it is solved.
I hope you enjoyed reading this article and if you did, please take some time to leave a comment and share this article to your favorite social media channel.