If you have just started a new eCommerce business and want to make it reach up to the new heights of success, then building an interactive and robust website builder is very important. However, making a website domain by taking services of any website builder company can be a complicated and costly affair.
In today's age, you people no longer look for the services of web studios or freelancers and instead opt for a more natural and cheaper way of building a website. If you are looking for a company that can provide you with the free or less costly site for your new venture, then we have mentioned a list of top e-commerce website builders that you can use. These e-commerce website builders can help in creating your online dream platform.
This cloud-based solution requires no additional skills and training, which saves your time to focus on more critical activities.  A website builder will help the user in SEO optimization, which will bring from traffic and make your presence in Google, attracting more users to your website.
The ease of use, affordable price compared to that of freelancers and web designers and inclusive package with 24/7 customer support and professional results make these e-commerce website builders the best option for new budding and experienced e-commerce portal.
With so many options to choose from, we have made a list of the top 8 best eCommerce website builder; you can look forward to in 2020.
1. Shopify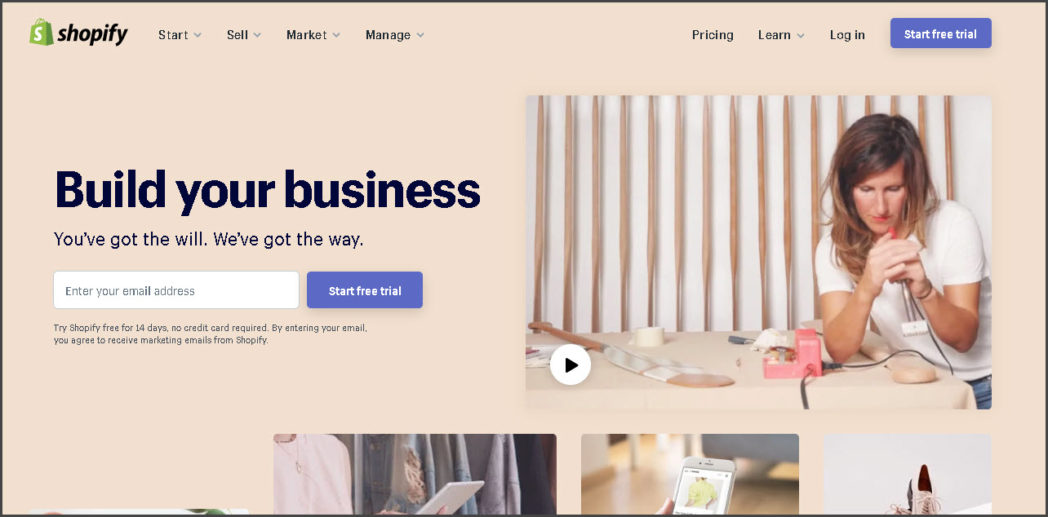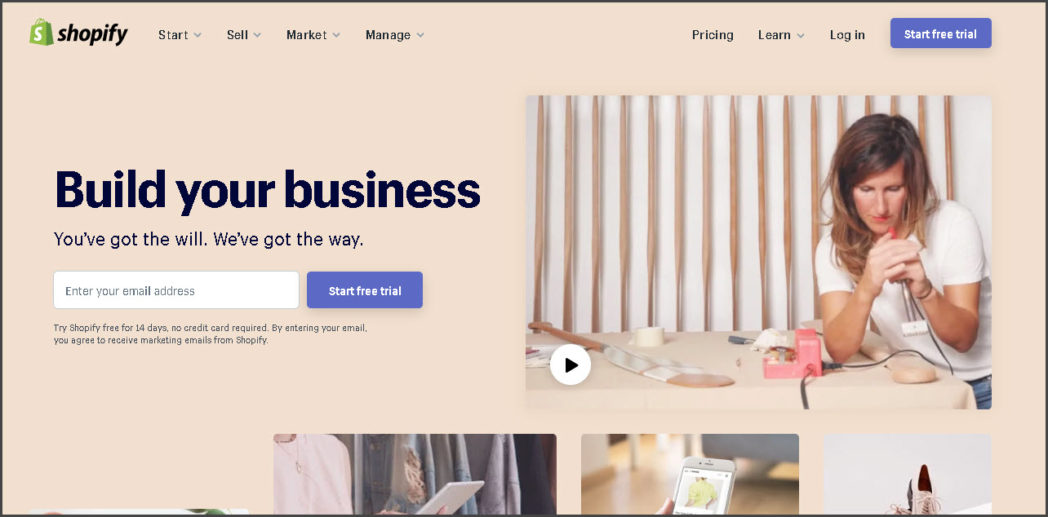 If you are looking for a more specialized company which knows precisely the work has to be and won't disappoint you at all, then Shopify is a site you must definitely look forward to. Internationally recognized for making best-in-class products, this company has managed to serve over half a million happy clients by providing them with products of worth in billions.
They are known for providing its clientele with a comprehensive service and learning to use its feature is much more comfortable than ever. The new app launched by Shopify has some useful features which correctly categorizes in sales, statistics, social, marketing and many other similar categories which help its client in choosing the kind of service they want to opt for.
Shopify is loved by its clients for the beautiful templates they offer with setting features that are very powerful. These templates are both and paid ones, and one can switch from one to another according to their choice. Shopify also offers with customization offer and the parameters of the template are very detailed.
Every little detail of the website starting from the sidebars, header, font, and option of the cart can be set according to the taste of the user. Shopify also offers the user a choice of accessing a code through which one can edit the website anytime they want. Shopify doesn't provide the option of free plans, but they do offer14 day free trial offer.
Pros of using Shopify
It supports modern technology.
They use useful modern templates.
They make use of powerful marketing and analytical tools.
Cons of using Shopify
No free plans and relatively expensive fares.
Their plans don't include the fare of paid templates.
2. Hostpapa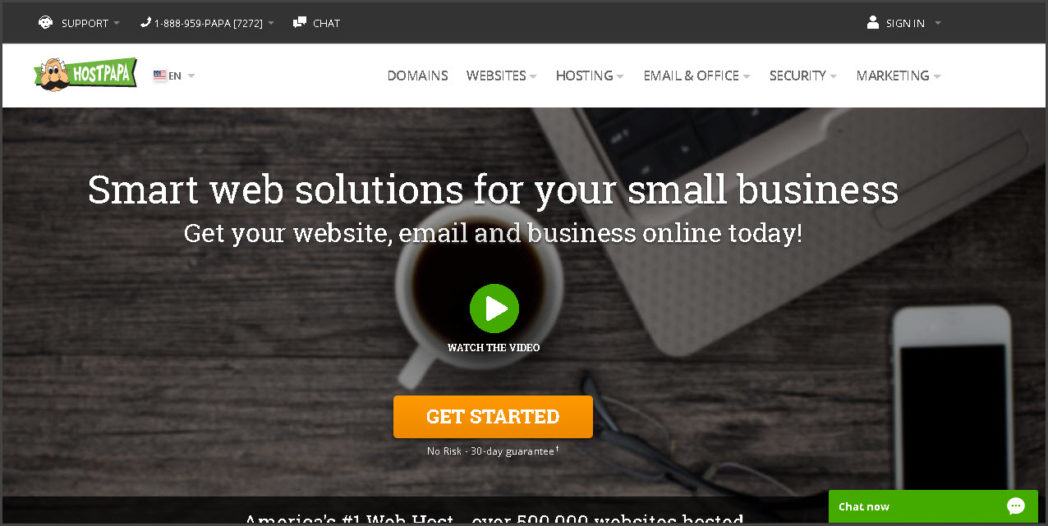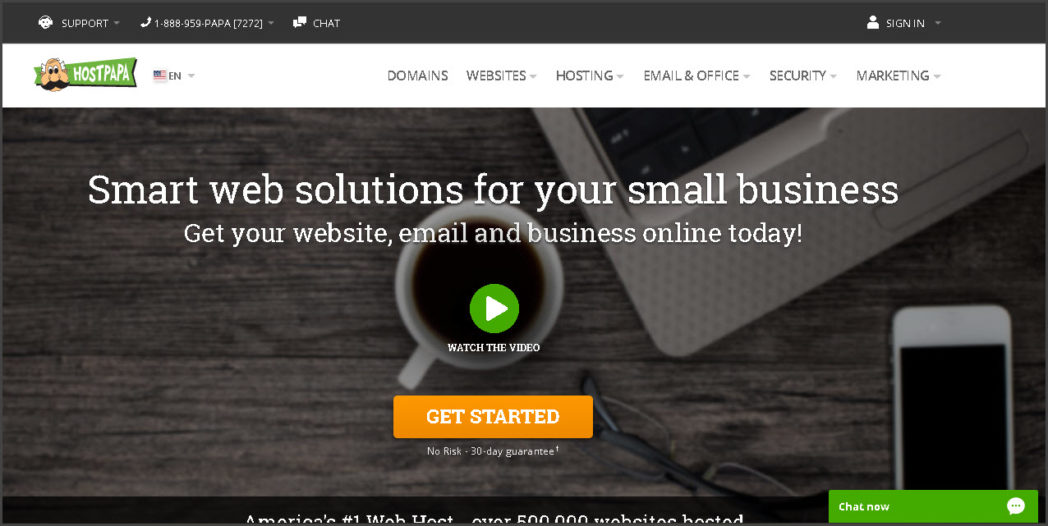 If you are looking for an established and renowned player of website building competition, then HostPapa should definitely be one of your options. It is one of the earliest companies in the online hosting service, and it is also the first company that runs its datacenter by using renewable energy. Hostpapa is known for providing its large clientele base with customer service and feature which have won awards in the past.
Today, HostPapa is offering its services to millions of websites and hence can be considered as an epitome of website provider which offers low cost and high-value service. This company boasts itself to be a one-stop-shop for small businesses and users who want to expand and grow their online presence at a low price.
The services provided by HostPapa is seamless and secure as the representatives of this service provider are present to assist the user round the clock and also provide solutions through video chats.
They also provide services of unlimited storage, backups, and other CRM tools. Hostpapa provides the user with the security, sends emails which have a comfortable and clean interface. They provide its customers with satisfying services with the technicians being ready 24/7 for providing help at any point of time they need.
Pros of using HostPapa
It is transparent and provides services at low prices.
24/7 customer support
The services are comprehensive
Cons of using HostPapa
The marketing is overstated.
They don't provide any extra bonuses.
3. WooCommerce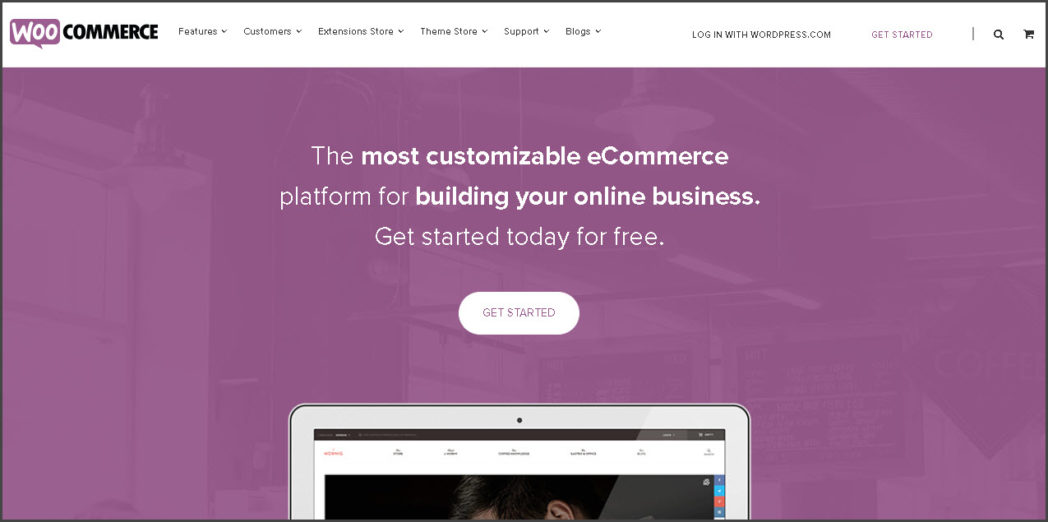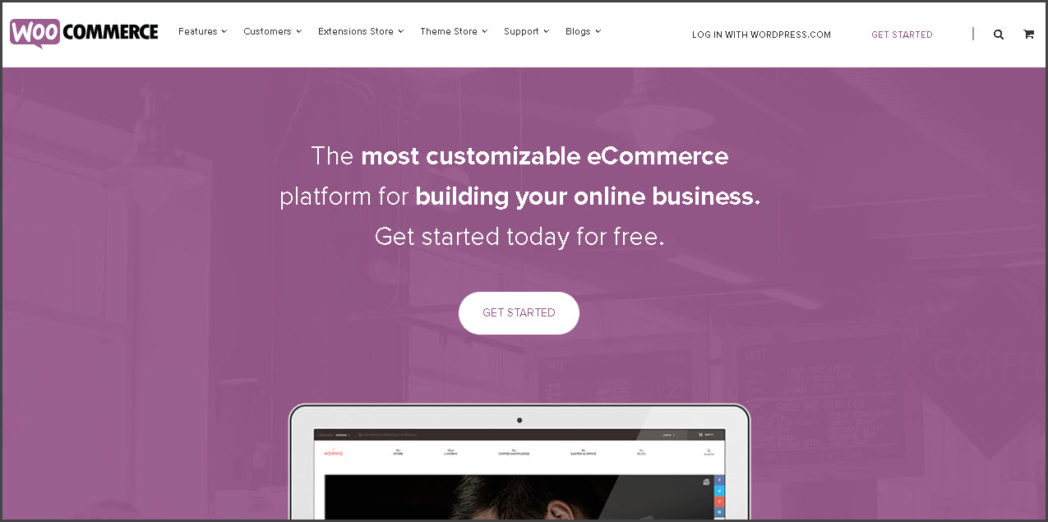 If you are looking for a hassle-free and easy to access e-commerce website provider which doesn't need any formalities to be done and also has a good reputation for providing the best-in-class services, then woo-commerce should be marked the top in your list.
WooCoomerce is a plugin of WordPress. Unlike other beasts in the domain industry, WooCommerce offers free use for both personal and professional use.
Use of woo commerce won't charge proprietary costs like other domain providers charges, and one can install and start using it immediately. Woo-commerce provides some fantastic templates one can use to upgrade the look of their website.
Not only do they provide useful models, but also they have set a benchmark to guarantee with utmost security. Woo-commerce delivers advanced features to its users which will benefit the online store to get more powerful. They provide the functionality of having separate customer and admin accounts in which customers can check out as a guest without making any account.
WooCommerce provides both free and paid designs which one can modify easily at any time according to their choice.
It gives the customer with essential features like product presentation, cart function, product variants and ratings by the user.
Here's how to setup WordPress on a hosting.
Pros of using WooCommerce
The advanced features are suitable not only for small businesses but also for large online stores.
Maintenance of store and customer accounts
Excellent and advanced designs and templates
Cons of using WooCommerce
It is not very easy to use for a novice.
They provide below-average customer support.
4. GoDaddy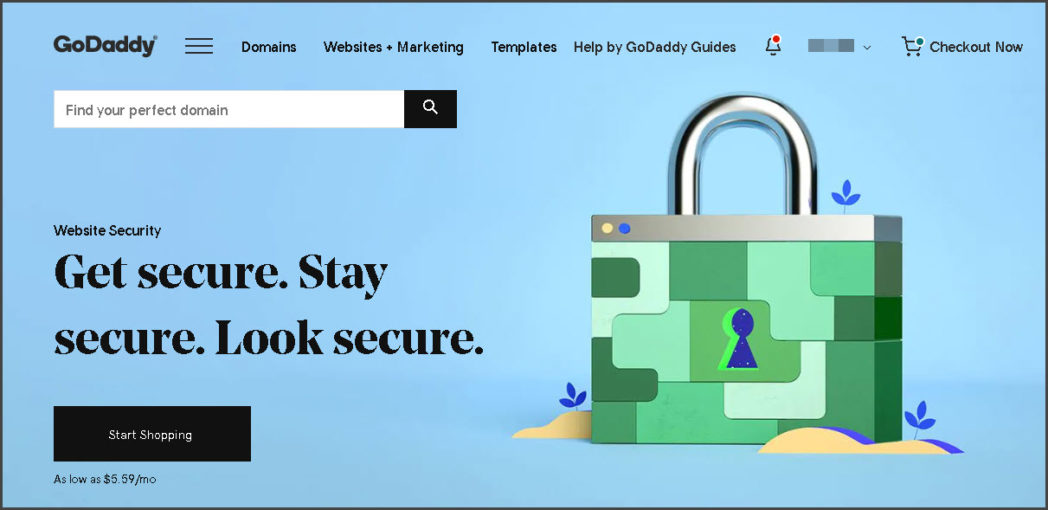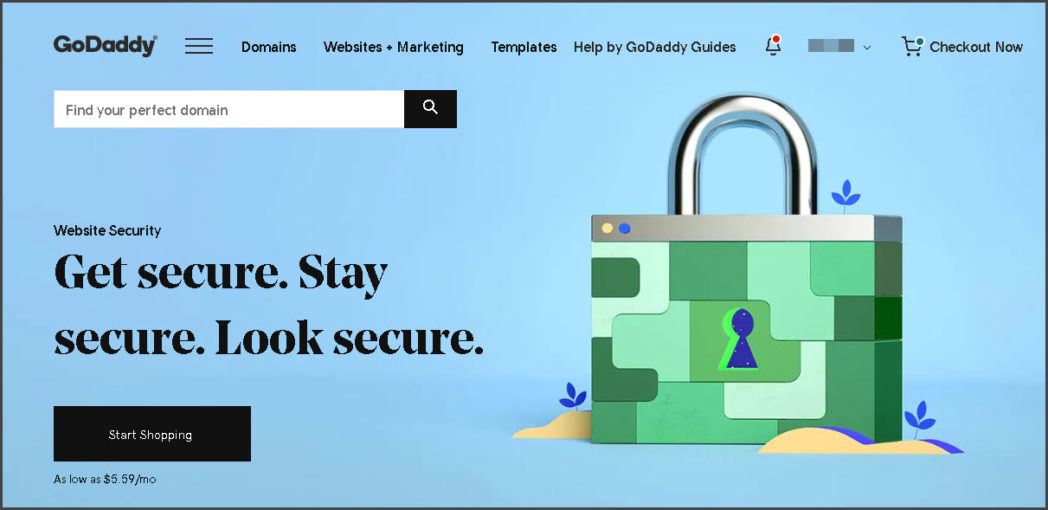 GoDaddy is one of the well-known hosting spaces in the world of the hosting industry. The company is known for offering it's incredibly affordable and easy to operate and choose names for a domain, building their business online or use websites for personal web property.
Not only does go daddy offers services of its area, hosting services and emails but also it provides options for dedicated and virtual servers. After one purchases an e-commerce website from GoDaddy, one can easily upgrade it to a higher version in a straightforward and seamless manner.
It is because of this feature the customers get a boost and scale their site as their business grows. GoDaddy offers user control options which are quite popular as it deems to serve every type of business and customer.
One can easily choose between easy to use CPanel and Plesk control panel or for the tech-savvy customer; one can get access to positive root user control. The process of signing up and making unlimited emails as a customer is a straightforward and secure process.
GoDaddy is also known for its increasing focus on customer support lately which has a number of expert staff ready to help customers 24/7 every day of the year and even always on hand to talk about issues the client might be facing.
They keep an eye on the server of the client and monitor it round the clock. GoDaddy is the go-to website provider which will help you in blooming your e-commerce portal.
Pros of using GoDaddy
It has a 1-month trial option and getting started is free of cost.
It has options of more than 300 templates.
24/7 customer care support.
Cons of using GoDaddy
The designs are fundamental.
It doesn't provide any password protection option. 
5. BigCommerce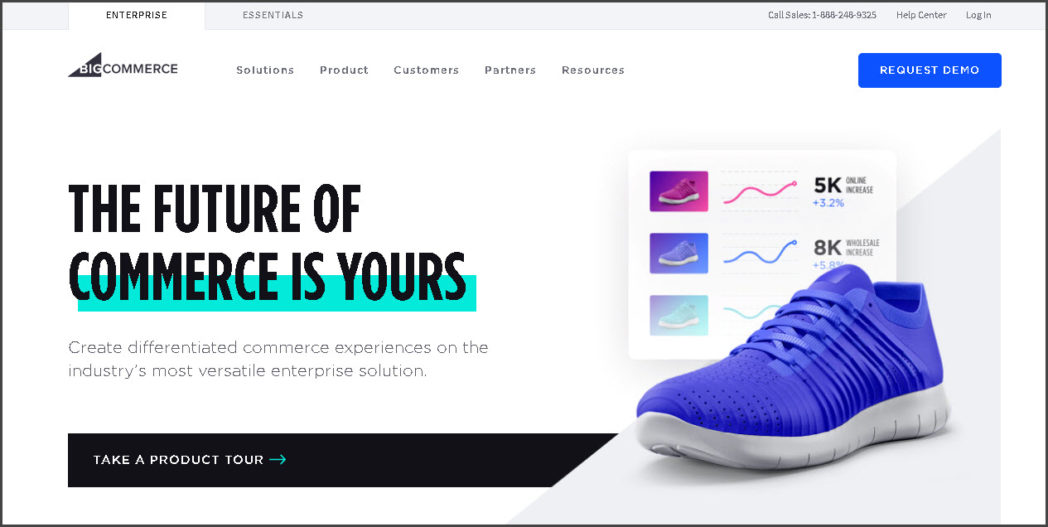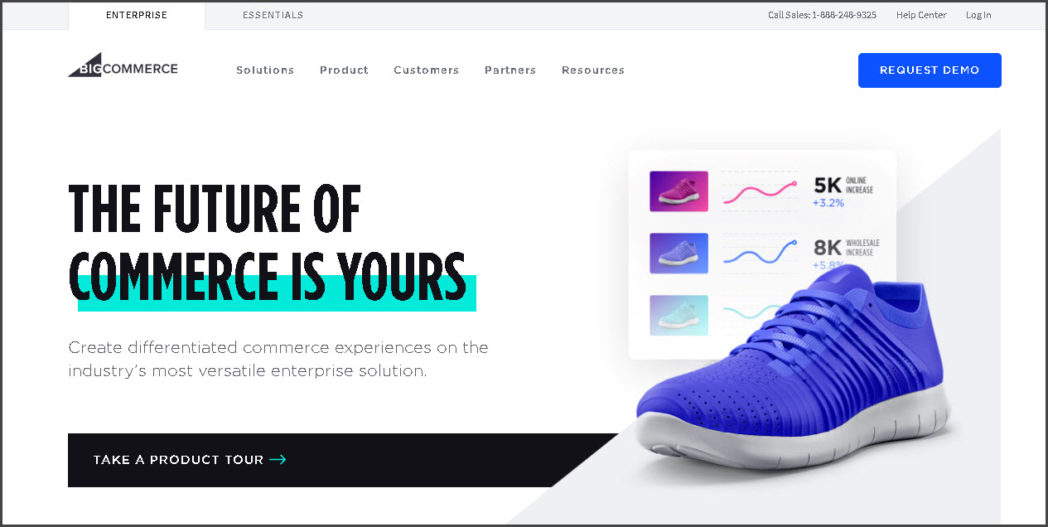 If you plan on having everything vast and significant in number, then big commerce will provide you with the most number of built-in features you will ever get in any other e-commerce website builder.
BigCommerce is very affordable and is ideal for small businesses and online businesses with a low budget. It is less reliant on apps that cut down its cost to a great extent. BigCommerce stands as the most scalable e-commerce website business in the domain industry.
If your business is small, but your dreams are big enough to expand and grow in the coming years, a prominent commerce website builder will also build along with you. If your e-commerce business deals with multiple products, then BigCommerce should be your choice as it offers a variety of channels.
It has received great reviews for its feature in the area of sales as it has proper SEO tools which make your business make an appearance via Google.
Pros of using BigCommerce
It has a channel for multiple products.
Ideal for a scalable business.
Value for money.
Cons of using BigCommerce
It is difficult to use for beginners and novices.
It doesn't provide a mobile app feature.
6. Volusion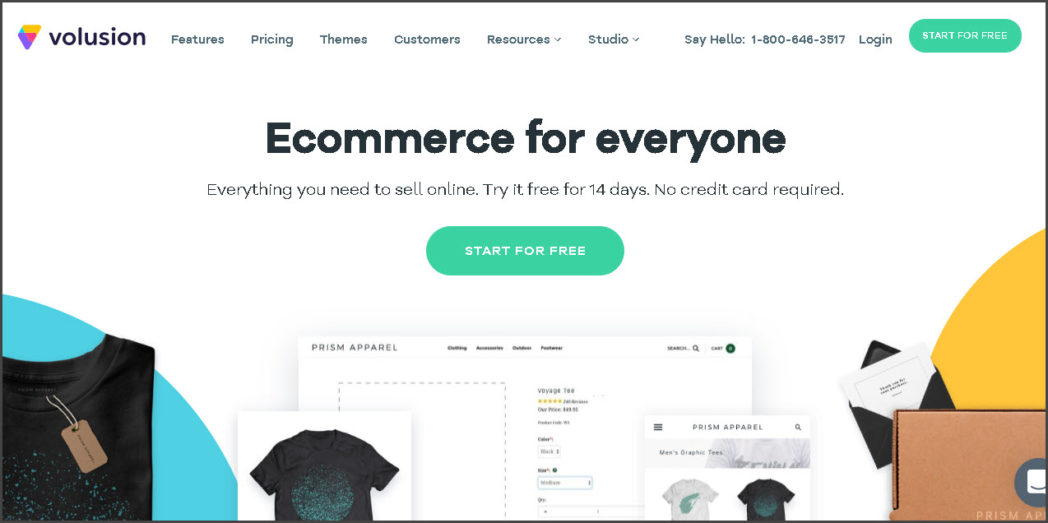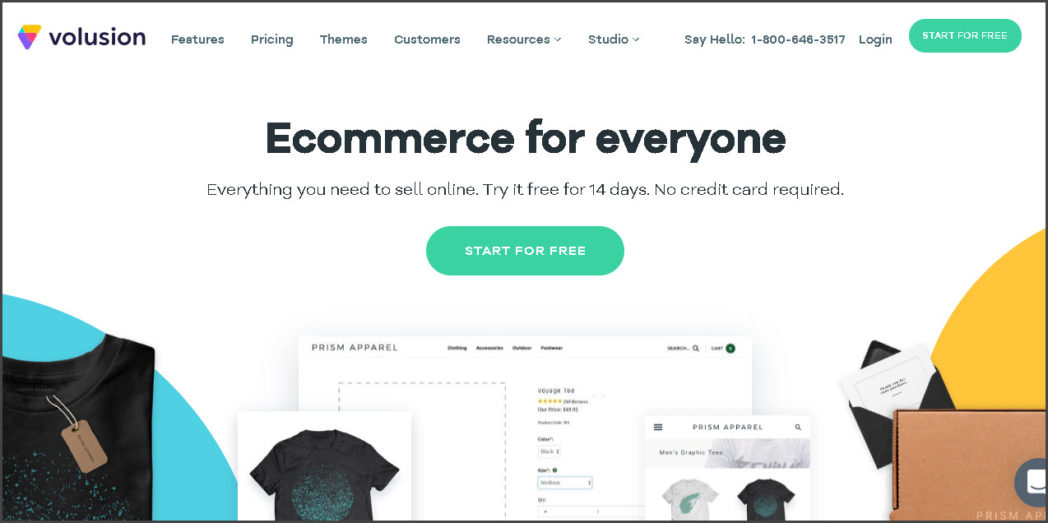 If you believe that keeping an eye on the numbers and focusing on data will provide you with more significant results and better opportunities for growth and expansion, then Volusion is the perfect fit for you. All the data, figures and statistics you will ever need for tracking the progress and performance of the website are available in this eCommerce website builder.
If your business is in its growing stage and you think you want to keep in check the progress minutely then it is ideal for you to use Volusion. It is done through the data tool which is provided by the company, which helps you measure the success of pages and also adjusts the site according to the performance of the sales.
The sales features of Volusion matched with the most prominent players in the hosting industry. Some recent updates have brought many improvements such as now it includes a more precise system of inventory which makes it easy for the business to manage the stock.
It provides a truckload of useful data, payment options, and analytical tools which again strengthen its position.
Pros of using Volusion
It provides the business with many payment methods.
Excellent analytical and sales tools for a scalable business.
Volusion provides a mobile app that makes it easy to use.
Cons of using Volusion
It is not capable of selling digital products.
It doesn't provide a blogging function.
7. Wix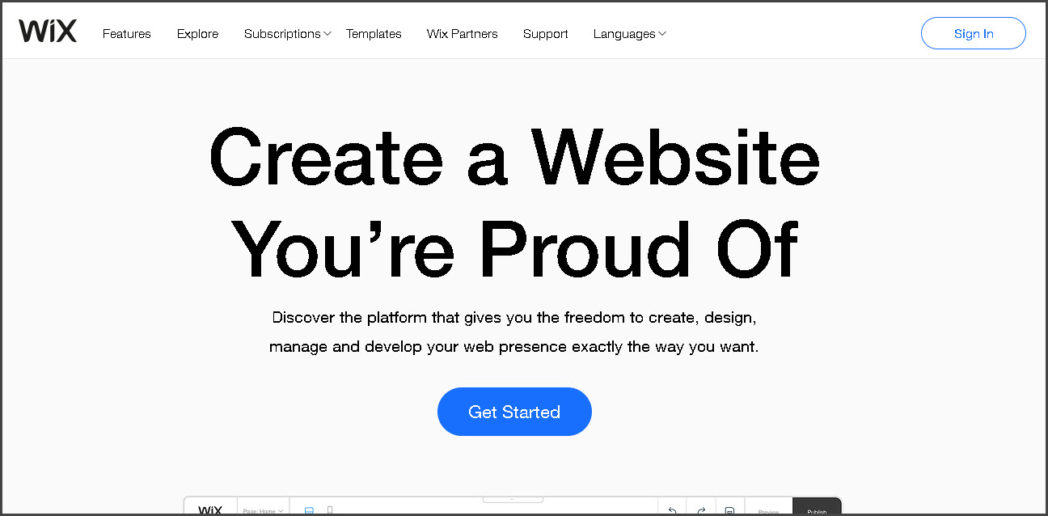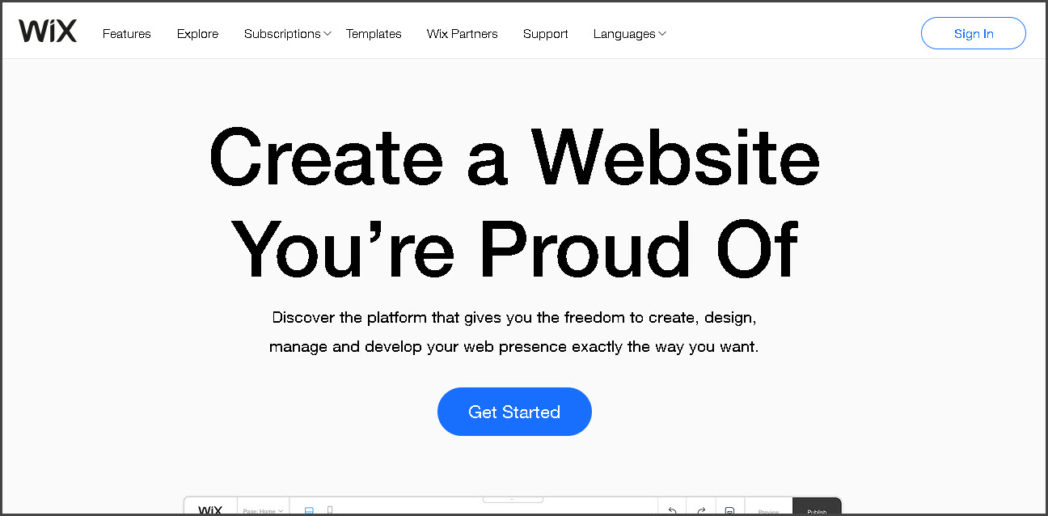 Wix is one of the most significant players in the world of the domain industry. It has achieved appreciation, particularly in three spaces that it value for money, ease of use and designs offered by them.
If you want to set the creativity bird inside of you, head free and customize your website according to your style, then Wix gives you all the creative control. It also makes websites for e-commerce business which are easy to use for beginners and provides packs for the e-commerce plans; all this without hiking the price.
If you are someone who just started taking interest in technology and want to take things slow, then Wix is your ideal choice as it is easy to use, and lets you build an interactive and beautiful interface.
One more advantage is that it enables you to add the video of the product, which will make your website look even more interactive. The designs provided by Wix and the level of creativity it reaches are awe-inspiring.
It is as easy as drag and drop editing and all you need to do is imagining the design of the website as per your choice.
If you are wondering how much bucks you will have to spend in order to get all these best in class features, then take a sigh of relief as Wix lets you create the foundation of your e-commerce empire at no cost. So now with Wix create, design and upgrade the website of your dreams at an affordable price easily.
Pros of using Wix
It is effortless to use as no skills are required.
You have creative control.
Has a lot of designs and templates for you to choose from.
Cons of using Wix
One can upload products in bulk.
It doesn't support selling in multichannel products.
8. Squarespace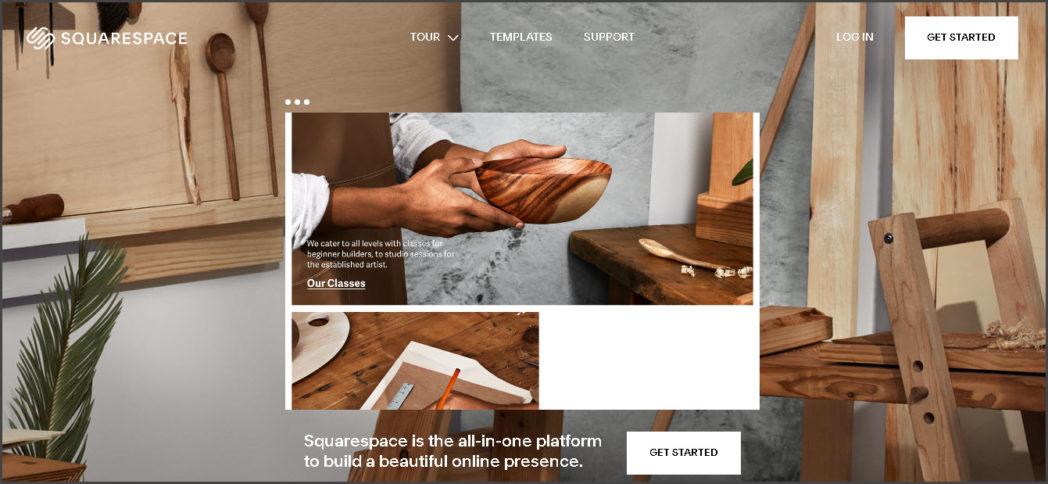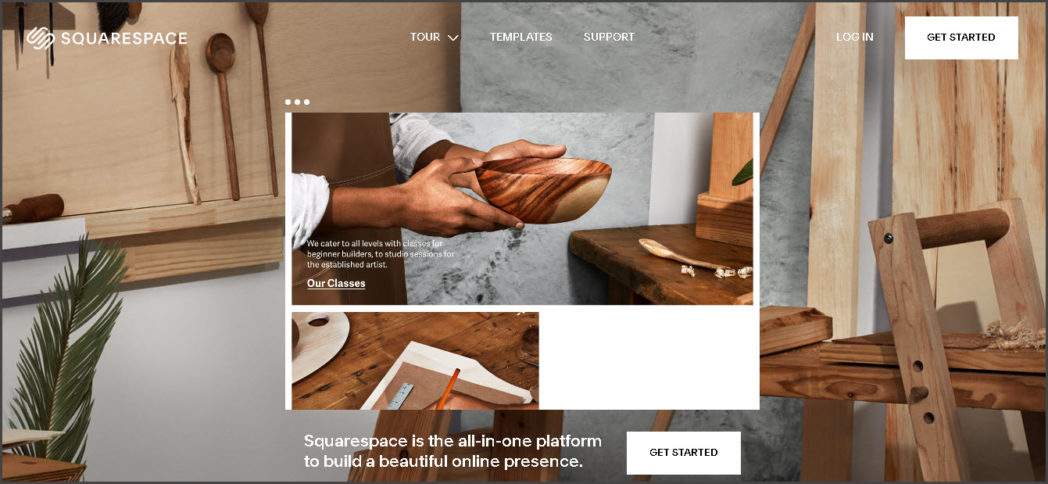 If you are looking for an attractive and eye-catching interface for your e-commerce business, then Squarespace is the best choice for you. When it comes to design, Squarespace boasts to outperform most of its competitors in the market of the hosting industry.
The collection of its online templates is sleek, modern and is built in such a way that it shows off your products. It gives you an option to switch between different templates and match it with brands if you change them at a point of time.
It comes with many built-in tools that will set everything you will ever need to make for your e-commerce business, especially if it's new.
Squarespace is known for building websites with multiple pages by adding features that are aesthetically beautiful as well as very functional. One can add features like sitemap view, automatic linking between various pages and adding new pages as you add more products when your business grows and expands.
It has a massive selection of templates that comes with free trials, and it also offers features of change in a different font, color, and size of fonts.
Given its super stylish templates and professional designs, it is highly ranked by the experts. If you wish to change the design of the models, then you can easily switch without losing the content of any other page. Squarespace is your best option if the budget of your business is small and you wish to take free trials and then buy the plans at a low price.
Pros of using Squarespace
It has stylish designs.
Squarespace provides 100% reliable uptime.
Doesn't charge any transaction fees.
Cons of using Squarespace
It doesn't have any free plans and comes with 14 days free trial pack.
The interface is a little inconvenient.
Final Words
If you have planned to start your own little e-commerce online venture, then to reach more clients and audiences, you will need a highly interactive and exciting website interface.
Using any of the best eCommerce website builder mentioned above can be cost-effective and also very easy as it requires little or no special skills required. It is necessary for one to build an e-commerce website using a website builder because it cuts down a lot of time-consuming and tasking process.
One can get a more professional and customized website which makes it easier for the customer to navigate through the website and more comfortable for the user to arrange the products in the storefront according to his or her choice.
As a website builder is ready-made and self-sufficient, it will provide the user with the set of tools that are necessary to support and create and the project. Some website builders are scalable, which means it will grow with your business making it convenient to increase the capacity of products and data on your website.
There are a lot of options present in the market, but you must wisely choose the one which suits your choices the best.