"Self expression has become the new entertainment" – Arianna Huffington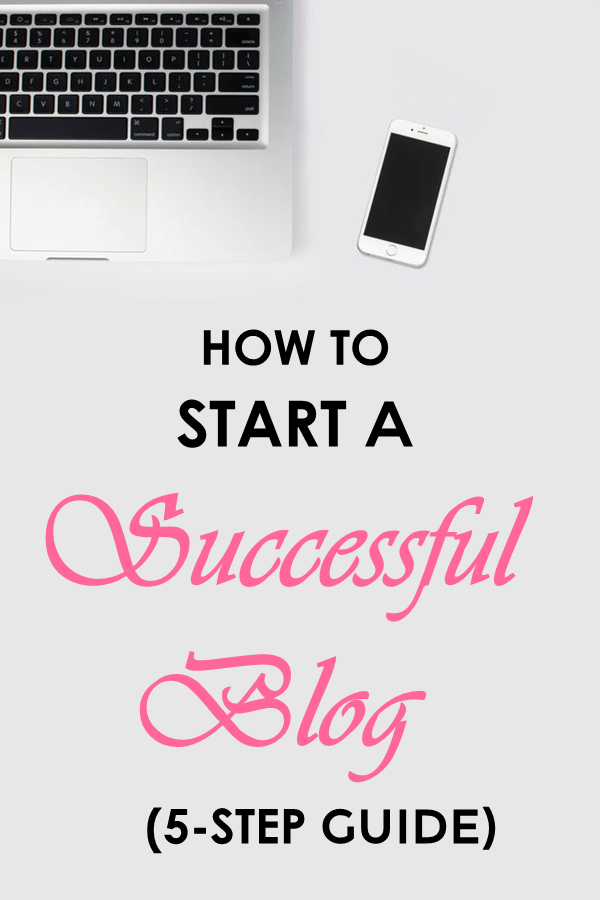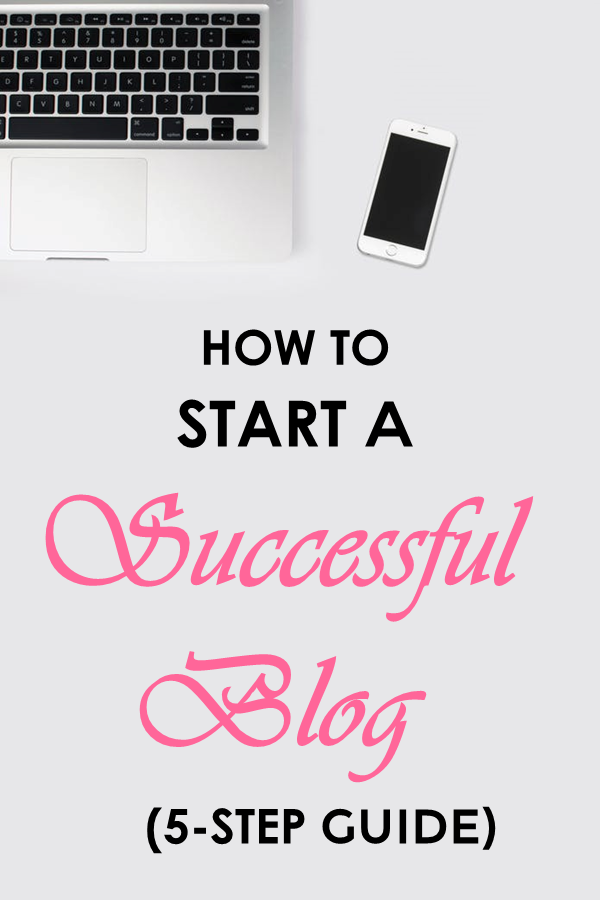 Almost everybody is a blogger these days – irrespective of the fact whether they realize it or not.
Have you ever written something on Facebook and received a few likes and maybe some comments as well? Awesome! You are a blogger.
Did you ever tweet a short sentence on Twitter? Congratulations! You are a microblogger!
How about uploading a YouTube video where you can obtain a few subscribers and prompt a few comments? Well – you have begun video blogging too!
Blogging leads to an outburst of expression and creativity, which in turn opens up digital doors for an expert who has till now been invisible. And the best part – you do not have to wait for twenty-five long years in order to be declared as an expert in a particular field.
Just declare yourself and publish. Isn't it easy?
Let us first try and understand the whole concept.
What Is a Blog and Why so Much Hype Around Blogging?
A blog is short for Web log. In layman terms, it is just a website with entries listed in reverse chronological order.
The original idea behind the creation of a blog was to create an online diary or journal that could be updated every day.
During the past few years, a number of software companies have developed platforms that have made the process of blogging extremely simple – you write your story, click 'submit,' and voila – it shows on your blog for the world to take notice of you and your brand. But I am not a techie? No problem.
You don't worry on that front since most bloggers do not understand any programming language and the companies that have developed these platforms acknowledge that.
Starting a blog can be one of the simplest processes to start a website.
It is quick to set up and sometimes completely free. Even if there are steps to follow, they are extremely simple and then, there are plenty of resources to help you along the way.
Here are some interesting facts about blogs:
Every half a second – a new blog is created somewhere in the world.
This signifies an addition of 172,800 blogs to the internet every day.
As on date, there are 152 million blogs on the internet.
Still thinking about the process? Well, if there are so many blogs, the process just cannot be difficult.
How Much Does It Cost to Start A Successful Blog?
A number of services are available in order to empower you to start your blog – and that too for free. If you are simply going to be experimenting with the entire process of blogging, I would recommend a free service in order to first understand the process.
Once you get your feet wet and decide to stick with it and eventually make money with your blog, you can upgrade yourself to a self-hosted blog.
Getting a self-hosted blog is inexpensive – the domain name costs around $10 per year and web hosting is approximately a few bucks every month.
If you choose web hosts like iPage, for just $1.99/month, you get a free domain name which also saves you the hassle of changing nameservers and other tech stuff.
How To Start A Successful Blog in 2020 (5-Steps Guide)
If you're ready to start a profitable blog, here are the steps to follow:
Step One: Choose The Blogging Platform


Well, if you are looking at creating a great blog and generating some passive income from it, I would suggest that you do not waste time with Blogger.com or WordPress.com or any other free blogging platforms.
You will eventually want to change it – the sooner you do, the better it is for your blog. I personally recommend being self-hosted on WordPress.org – this is more or less the industry standard today.
You would need to pay a few dollars a month ($1.99 to be exact) for hosting and domain, but the income that you will generate eventually makes up for the expenses.

Step Two: Choose A Domain Name


Domain name is nothing but the name of your website. For instance, my website's name is Optiux and domain is optiux.com
Based on your passion or niche, you can choose a unique name to start a blog. Don't overthink too much about your domain name. Follow these few simple tips and you should be good to go.
Try and pick up a .com name that matches your site name. Alternatively, you can go for .net, .org, or .co extensions. Avoid using other extensions like .info, .store, .blog, etc.
Keep it easy to pronounce and type
Avoid numbers and hyphens
Avoid copyright or trademark names like Google, Facebook, etc.
Try to keep it brandable so you can expand to other niches or topics if needed
You can also use online business name generator tools to find a brandable name. This post has shared 24 such tools you can use.
Tip: Browse the top 10 blogs in your industry and see what kind of naming system they use. Use their power words and add a twist to come up with your own domain name.
Step Three: Buy Hosting, Domain, and Install WordPress


Now that you have got a domain in your mind, let's buy hosting (+ free domain name) and install WordPress.
With iPage hosting's super easy user interface and one-click WordPress installer, it takes less than 3 minutes to buy hosting and launch your WordPress blog.
Use this discounted link to visit iPage (opens in new tab) and follow the below steps.
Buying Web Hosting and Domain
1. Click on "Get Started Now" button on the homepage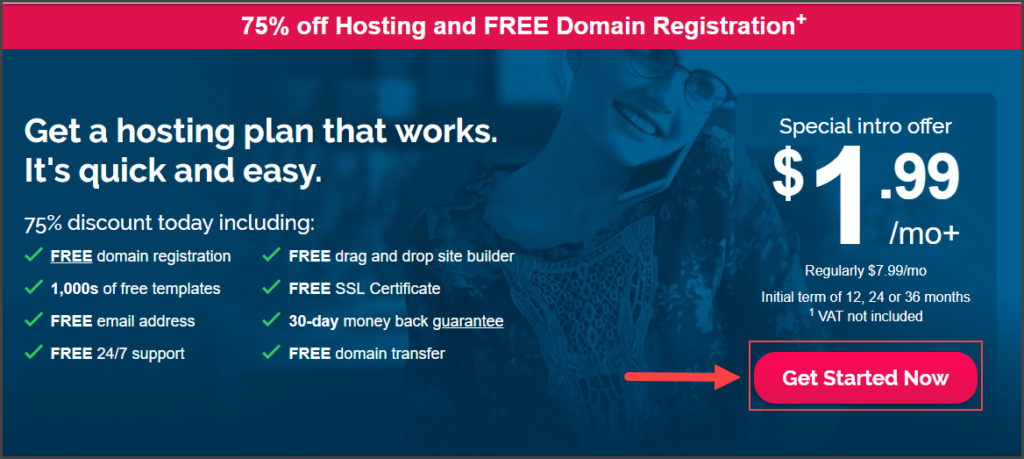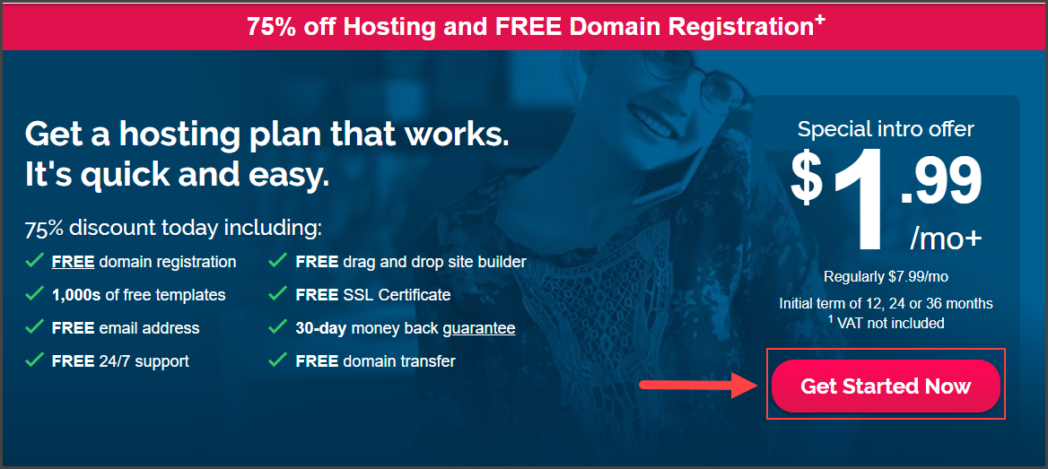 2. Enter the domain name you'd like to register for free and click on "Search" button. It'll check and show if the domain is available for registration.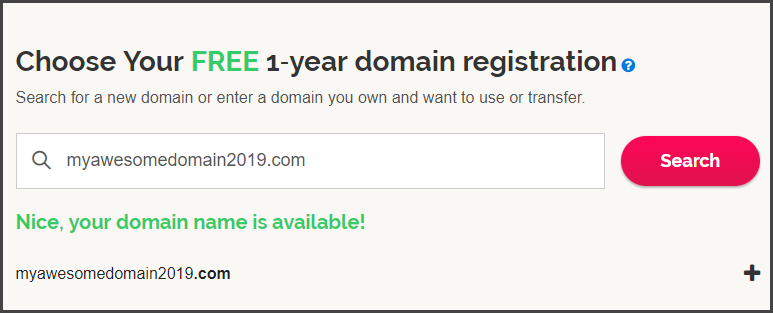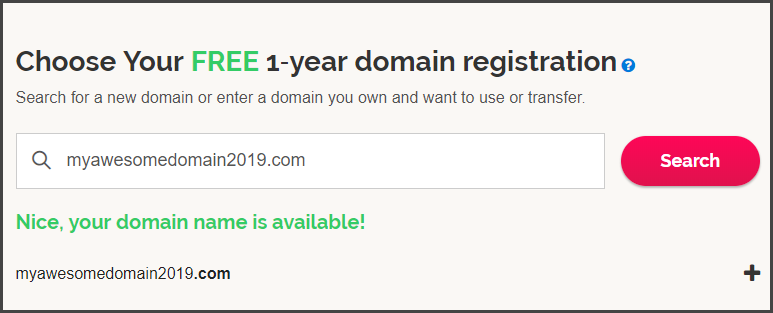 Click on + sign to add the domain to your cart and proceed.
3. Choose the hosting term plan. We recommend choosing the 3-year plan as it provides the cheapest hosting at just $1.99/month and will cost only $71.64. However, the final decision is up to you and you can choose whatever term you like.

After choosing the term plan, click on "Next, customize my plan" button.
4. On the next screen, you'll see some add-ons and services recommended by iPage. I recommend you to untick all the services as you don't need them right now.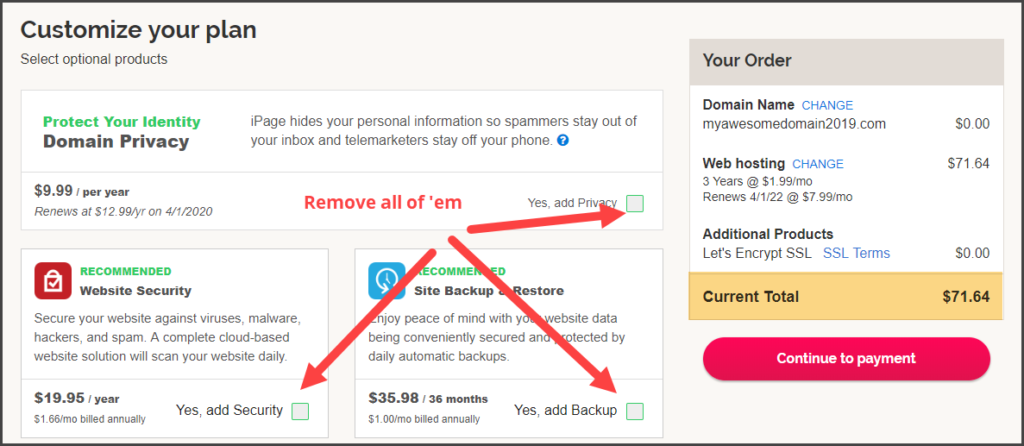 Before proceeding, make sure the final price is $71.64 or what you saw on the last step.
5. Enter your personal details and complete the payment via either Credit Card or PayPal.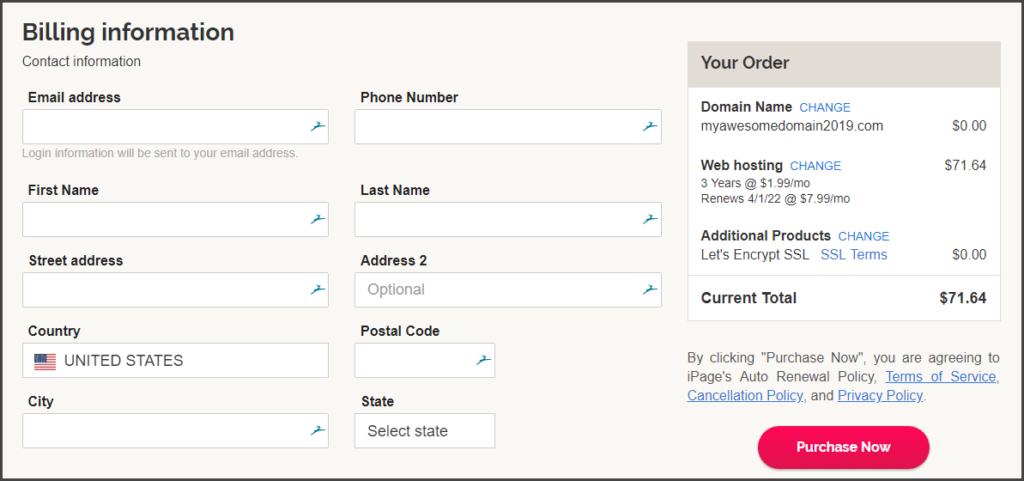 Installing WordPress
After a successful payment, you'll be taken to Control Panel. You can install WordPress and manage your hosting from here.
You can follow this quick video to install WordPress with iPage Hosting.
If you're stuck somewhere or need help with WordPress installation, comment below with your problem.
Done? Let's move on to the next important step in starting a successful blog i.e. content creation.
Step Four: Create Compelling Content


Once you set up your blog on WordPress, you begin the process of content creation. This is, in fact, the most critical part of your blog.
Remember, people will come for killer content – they definitely may get impressed by the pretty design or layout, however, that is not something that will get them back – only killer content can get them back and even generate some referrals.
WHAT SHOULD YOU WRITE ABOUT?
Well, the best thing, to begin with, is to create amazing, compelling content – content that brings your readers back to your blog. This implies that your blog has to be truly awesome.
The key here is to discover what 'awesome' means to you. Everyone has a passion – something that they are too good at, something that they can share and that their readers can learn from.
Discover your true passion and decide on a topic. Remember, everything that you publish should be meaningful – there has to be a definite intention behind whatever you decide to publish.
The content has to be amazing and should add value to the readers.
Here are some questions that you can ask yourself before deciding on the subject for your blog:
What is it that you love to do most?
What are the things that you are really passionate about?
What are the topics that people ask you for advice?
What are the subjects that you are naturally drawn towards?
What subjects do you love to read most?
What gets you so fired up that you can't stop talking about?
You must also have a clear plan on what you want to write about. It will include the main topic, then a few subtopics, and then a few categories beneath each subtopic.
Let us take an example here – If your main topic is 'Living well on a budget,' your subtopics could be 'Using coupons to your advantage,' 'DIY recipes', 'Tips to declutter your home,' 'Ideas to save money during the holiday season,' etc.
Now, here the main theme is pretty broad and includes a couple of sub-themes – however, it does not include everything. Therefore, the readers of the blog are aware of what to expect when they visit the blog.
Now, imagine this blog owner starting with movie reviews and then reviews of the latest makeup and gadgets and then reviews of various restaurants in the town.
It will only confuse the reader and they will think that the blog owner does not understand their content too well. Therefore, it is important to have a clear structure and plan in place.
Readers always crave authenticity – don't hold things back, be authentic and give everything that you have got. Just focus on making your blog awesome.
Go through the blogs that you love but never try and BE those blogs. Be your own voice – be authentic – be passionate – focus on your individual strengths that can make your readers' life awesome.
Related: Speed up your WordPress site with these best cache plugins
Step Five: Design Your Website


The next thing that you need is an amazing layout and design.
The only reason why I didn't write this topic before content creation is because website design is an ongoing process. You never stop tweaking your website design and as more people start visiting – you will get suggestions and feedback.
Also, if you focus too much on website design at the beginning, you'll end up not writing any content – EVER.
Now, there are two ways you can go for – 1. Install a premium theme and tweak it yourself to get the desired website design. 2. Hire a website dev or graphic designer to design a custom website.
The first option is inexpensive and should cost you less than $100 to get a premium theme and do little tweaks. I'm using GeneratePress theme which costs well under $50 and offers extreme customization. But it requires you to have basic knowledge of CSS and JavaScript.
Some of the best theme providers are:
ThemeForest (for any and all kind of websites)
MyThemeShop (responsive and affordable themes)
Thrive Themes (conversion-focused theme)
The second option can be out of the budget for many beginner bloggers as a website developer will charge at least $500 to design a custom website. But it'll take all the hard work off your hands. And you can request custom changes which are generally not possible with a premium theme.
I recommend that you hire someone to help you with this process (unless, of course, you are a web developer or graphic designer yourself). An experienced designer can help you create a layout that becomes a visual representation of your content, your feelings, your personality, and yourself!
Pro Tip: We, at Optiux also offer custom website designing as well as theme customization. So, if needed, you can reach out and hire us to build a personalized website design for you.
Final Words on How To Start A Successful Blog And Make Money
So, let us review the action items from this post:
Choose a blogging platform – I recommend to go for self-hosted WordPress
Pick up a great blog name and stick to the rules I shared above
Buy hosting, domain, and set up a self-hosted blog on WordPress.org
Spend some time with yourself, trying to discover your passion which will translate into your blog's main theme, sub-theme, and subtopics. Create compelling content that is truly awesome and adds value to your readers
Buy a premium theme to design your website. If you are not a graphic designer, get professional help with the layout and design
That's it. You're now ready to become a popular blogger and conquer the internet. Don't hold yourself back and promote your website to everyone you know and to the internet audience.

The website can possibly change your lifestyle and make you an internet superstar so act like one. Keep writing compelling content and promote them like crazy.
If you need any other help with starting a successful blog, comment below and I'll reply to your query in the best possible way. Also, make sure to share this article with your friends and family.