Landing page builder tool is an important tool for those who are looking for driving more leads on the internet. The best landing page builder tools help one to easily create customized landing pages with the help of images, forms, and funnels. That's why these are extremely important for novices as well as pros. 
What is a Landing Page?
Before delving deeper into the review section of the best landing page builder tools, let's discuss something about the ins and outs of any landing page and why it is important. 
Landing pages can easily be found organically while searching. Therefore, SEO, testing and respective measurements are extremely crucial to obtain success. It can also be published through paid advertisements.
A landing page can also be considered as your homepage, any page within the site structure, or any standalone page that you built for a special purpose or event – any instance that can drive some conversions. 
What is Landing Page Builder Software?
A landing page builder software helps you to obtain easy and effective landing pages that can increase conversions. It will allow you to choose from the range of templates that are already tried and tested by the experts to be effective in converting random leads. 
Most of the landing page hosting tools offer drag and drop feature that enables you to customize the landing pages to suit your site. Further, there are text, image, call to action and color options which are easy to manipulate and customize as per your choice.
Why Should You Use Template Landing Page Builder?
There are several reasons to choose a landing page builder that has inbuilt templates: 
If you are new in creating a landing page, a readymade template can help you start. As you progress and become a pro, you will be able to customize on your own.
While a professional developer can create a landing page with their learning, it's difficult for a novice marketer to build effective landing pages. In such a scenario, templates come in handy.
You can always choose to employ expert developers from an agency to help you build a landing page, but that will cost you a high amount. And if you have recently launched a start-up, you may not afford an extra expense. This is when a template landing page builder comes into play. You can avail them at a nominal price. And they can serve to build effective campaigns for your site. 
Templates are not only helpful from such technical aspects but it has other benefits too. The range of templates in a builder tool allows you to select a format that matches your purpose. You can choose to have a navigation bar, a footer, a sidebar, pop-ups, links to other sites or social widgets. Or you may discard the entire thing. The choice is entirely yours.
If you are looking forward to knowing about the best landing page builders available in today's market, you are in the right place.
In this article, we will discuss the reviews of the top 5 landing page builders so that you can understand which tools you can use. Read on to know more about them.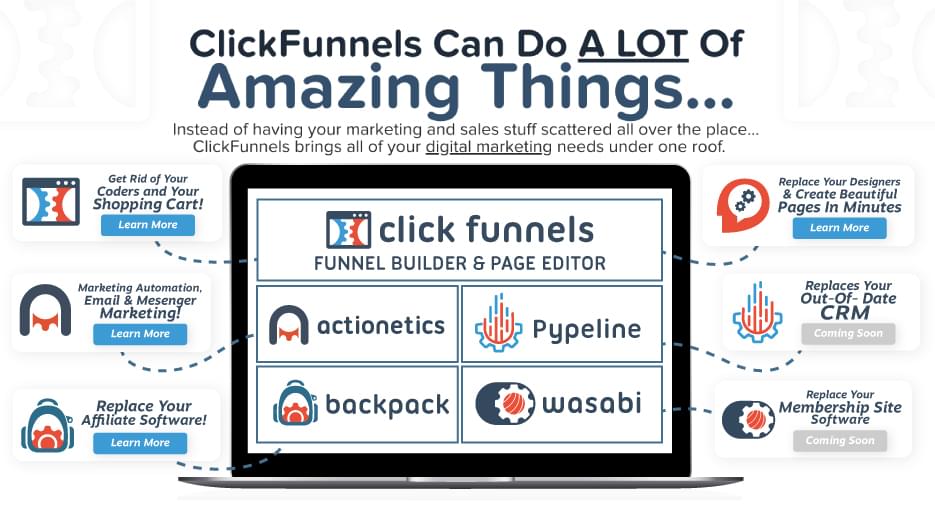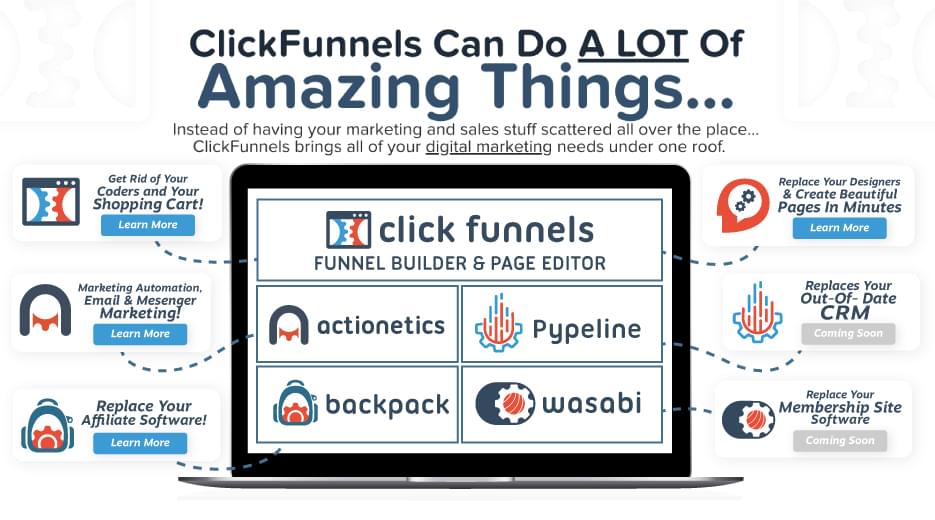 ClickFunnels lets the users select the sales funnel that is designed in such a way to sell your preferable type of product. This further allows you to drive traffic to any offer. 
ClickFunnel permits you to sell your product online. All you need to do is to select the preferable sales funnel, then select the appropriate design and finally upload certain custom elements such as a logo. After doing this, you will be allowed to modify this page with certain drag and drop tools before making the funnel entirely ready to roll. 
Features
Various out of the box templates for ClickFunnels
It can capture several leads along with respective forms in a user-friendly format. 
Easy to use
ClickFunnels is perhaps the easiest tool to use while surfing the internet even if the user is a novice
From beginning to end, the tool is full of various onboarding videos. This allows the users to understand the tricks of the tool
Easily movable content helps one to take his/her business live on an online platform. 
It has several plugins, ranging from form creating to page designing
Templates are simple yet effective
You can easily add videos or track codes.
Our Verdict
According to us, ClickFunnels is the most simple tool among others. This solution will require a few minutes to start your business from scratch.
The only problem is that its customization is limited. Your total presence on the web will seem to be like ClickFunnels which is not a great impression to create on your viewers' mind. They shouldn't understand which tool you used to design your site. Further, it will give your competitors an advantage to learn the ins and outs of your website building strategies. 
If you have a blog or a website, you shouldn't use ClickFunnels. You better go for it if you are starting from scratch and still a novice with online tricks and strategies. 
ClickFunnels is indeed one of the best landing page builders.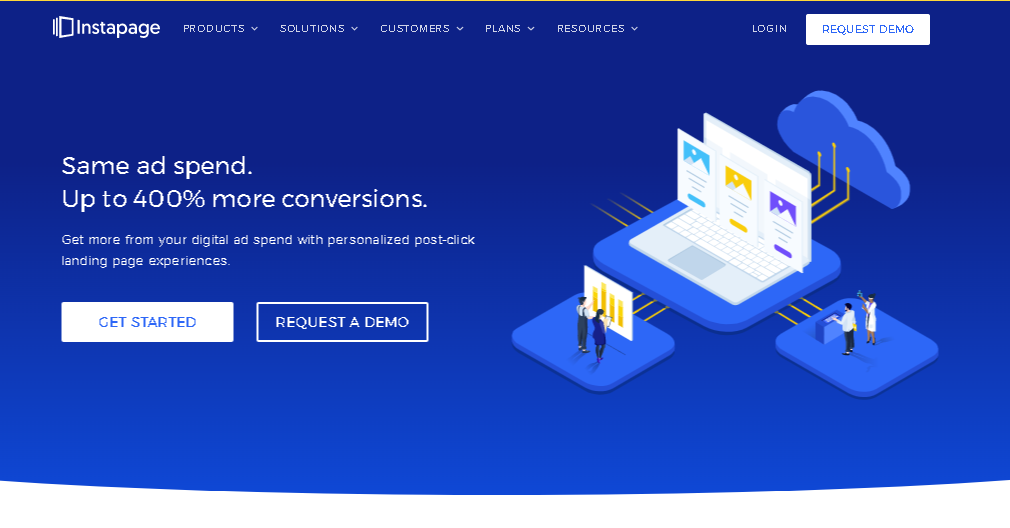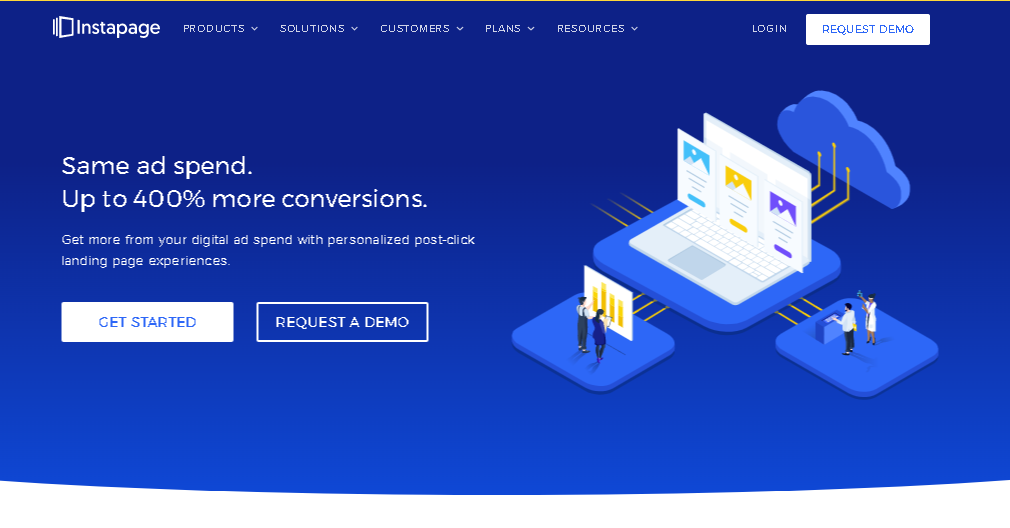 Instapage permits you to build amazing, mobile responsive and on-brand landing pages where you can choose from a range of 200+ templates. Also, note that you don't need any developer to create such a landing page. This is a great advantage for online novice people. Even if you don't know the way around, Instapage will direct you step by step to get a creative and fascinating landing page. 
Instapage is an important tool for bloggers, small online business owners, and power pact search agencies. It allows creating beautiful landing pages that are as simple as drag and drop. 
With its 2 minutes easy setup process and a user-friendly interface, you can easily avail a customized page in no time. The tool helps you to attend more leads in a cost-effective way. 
Further, integrating the pages into your own website does not require any extra charge or code. 
Features
Ease of use is the most prominent feature of Instapage.
The direct integration with WordPress offers an easy user interface. From this perspective, Instapage is one of the best landing page builders. 
With a simple drag and drop process, you can easily move content around. 
Stating from form creation to page designing, friendly plugins help you to design the page really effectively. 
With an easy to decipher analytics and lead driving export list, you can easily understand how to make your way around the tool. 
You can edit the pages you make with this tool and also make them extremely mobile responsive within a minute. Therefore, you will have no trouble with Instapage. 
With codeless integration with Facebook advertising and Google analytics, Instapage helps to create a beautiful landing page. 
200+ amazing templates allow you to explore your creativity and make pages as per your theme of the site. 
The inbuilt analytics with A/B test reads and wins the trendy graphs.
Instapage captures the leads with forms and then sends them to Zapier, GetResponse, Mailchimp, Marketo, Salesforce, AWeber, Autopilot and others. 
A/B testing and dynamic keyword placements help to make effective PPC campaigns. 
Heatmaps is an important feature of this best landing page builder.
Direct integration with Facebook, Google AdWords, and Google Analytics helps you to move from one site to another with a simple click. 
Instapage will also provide you an ability to add custom codes to the landing pages. 
Our Verdict
Instapage is one of the most user-friendly, functional, high performing, powerful and the easiest landing page software. It absolutely does not require any code to run and thereby it's ideal for large businesses and eCommerce shops. 
Instapage holds over 150+ reviews around the web, which is even more than any landing page builder. It also allows you to customize the landing pages entirely and it easily integrates with each software that you are already using. 
You can easily set up your landing pages on your domain URL with a single click or even choose to integrate with a WordPress plugin.   
3. Unbounce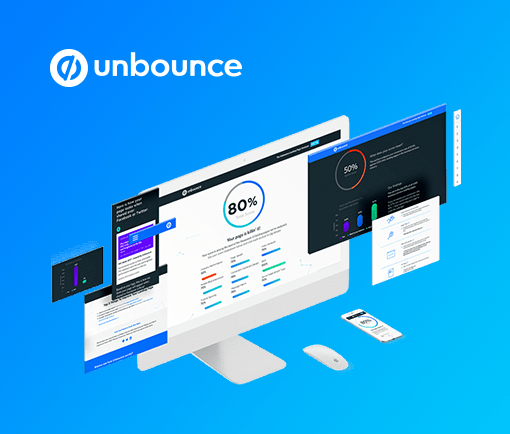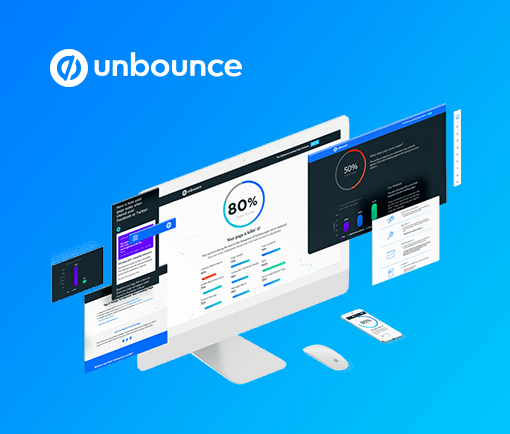 We are keen admirers of Unbounce once it comes to the best landing page builder tools. It's one of the best in this field. Unbounce gives the perfect opportunity to build custom pages along with versatile elements.
Here you will be provided with some beginners level tools and some advanced options to design your site. For instance, you can easily add some basic elements, or run some level high A/B test. You will be able to use even some Dynamic Text Replacement (DTR). This is a big deal indeed! 
Features
If you are not quite familiar with DTR, it's extremely important to know that the time-saving feature of the tool will help you to easily replace the keywords of landing pages based on the search query of the users. 
Let's explain with an example. Suppose, a searcher used the phrase "foreign exchange" as a keyword and another searcher has used the phrase "credit card". 
The landing page will automatically adjust the keywords depending on each of the search items. Therefore, instead of using 100 distinct pages for all of the keywords, you can simply dynamically replace all of them on one page and thereby save a lot of time. 
Apart from this, Unbounce has other features such as overlay CTA and exit intent that enhance one's chance of converting leads. 
Unbounce also includes an unlimited range of integrations on the topmost email programs as well as on CRM platforms. Therefore, all the leads you drive will straight go into your preferable tool in order to automate the further step. 
Our Verdict 
Unbounce is an amazing tool to start your online journey. But as was the case with ClickFunnels, you need to be more well versed with online procedures in order to use Unbounce more effectively. 
Even then you can always check out this tool. To start, head to the homepage of Unbounce and run your free trial. Create an account there and log in to the dashboard of the landing page. There you need to create a new page so as to get started with the entire procedure. 
Unbounce offers hundreds of templates in various categories to choose from. For instance, you can select from an event, cooking, SaaS, e-Book and much more. 
On the right-hand side of the tool, you will be able to see preview of the concerned landing page so as to fit the page the way you want your viewers to see. You can also optimize the page in a mobile-friendly manner. This is a great advantage of Unbounce because most people prefer to check the sites on-the-go on a mobile phone without having to carry laptops along with them. 
Unbounce, too, offers the option of dynamic text action. 
We mentioned that Unbounce is for more e-learned people because here the setting is more manual. So you need to be a little bit knowledgeable in web designing. You can also consider hiring the professionals to build amazing landing pages. 
4. Leadpages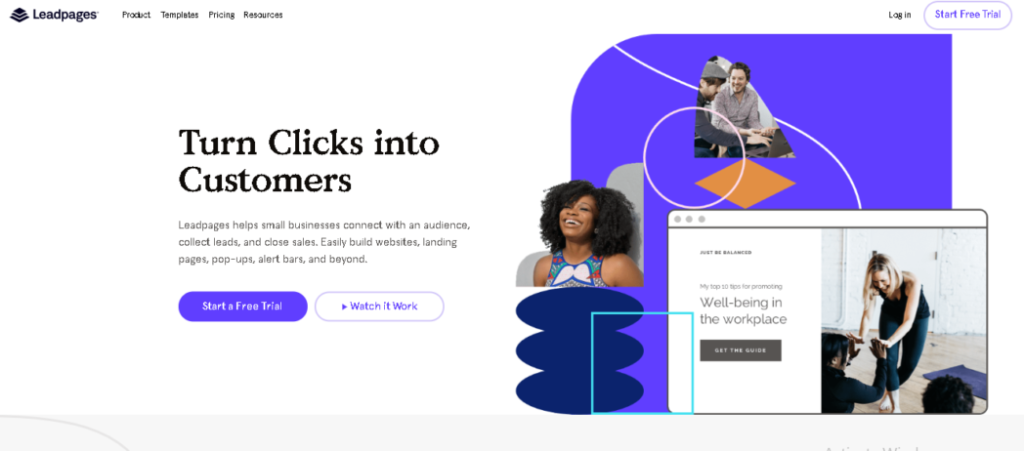 Leadpages lets you build an amazing opt-in campaign in an easy way that can capture leads, convert them and also integrate across several digital marketing tools – ranging from Facebook ads to any e-commerce site. 
You can fine-tune your campaigns easily in order to derive maximum impact by checking numerous versions and thereby you can understand which is working for your brand and which is not clicking. This will help you to retain and invest in the popular ones and discard the unfruitful ones. 
Features
The easy drag and drop option helps you to move content quite easily. 
The plugins range from form creation to page design. Therefore the plugins encompass the entire tool and help you to create your landing pages as you want to.
Leadpages allows you to edit the pages and make them even more mobile responsive. This is immensely helpful to enhance brand reach because people mostly prefer to check out any random things online on their mobile phones. This gives them relief from carrying heavy laptops around. 
You can choose from a range of 160+ box templates and customize your landing page just as you want.
It works easily with 40+ tools. 
You can easily capture leads with the interactive forms that are in an easy format. 
A/B testing is an interesting feature of Leadpages. 
Our Verdict
We think that the user interface is clumsy and to be honest, it's a bit outdated. 
The tool can not be integrated with WordPress which is indeed a weak point of the builder. 
Also, you cannot easily connect or publish the pages to your URL. This is a difficulty you will face while promoting. 
Customer support is quite low which is another disadvantage of this builder. 
An unlimited range of mobile-responsive pages helps you to create decent landing pages. This is why we surely love Leadpages. This is surely one of the best landing page builder tools you can rely upon.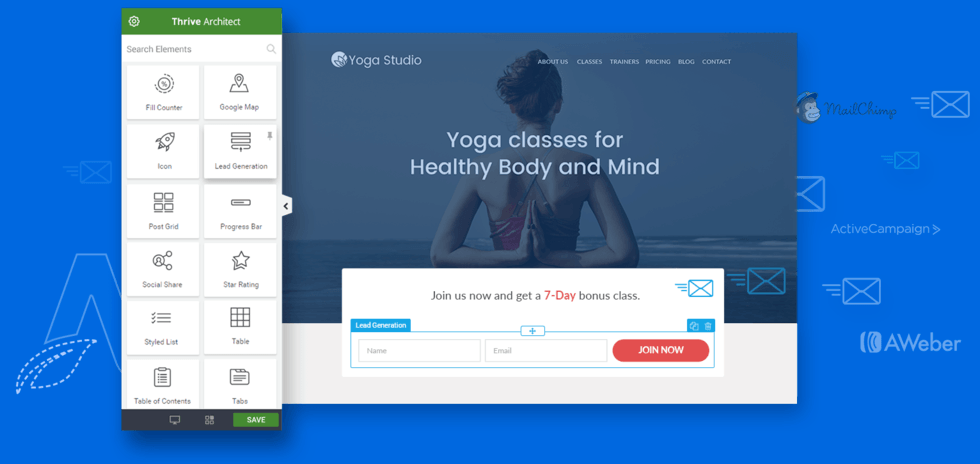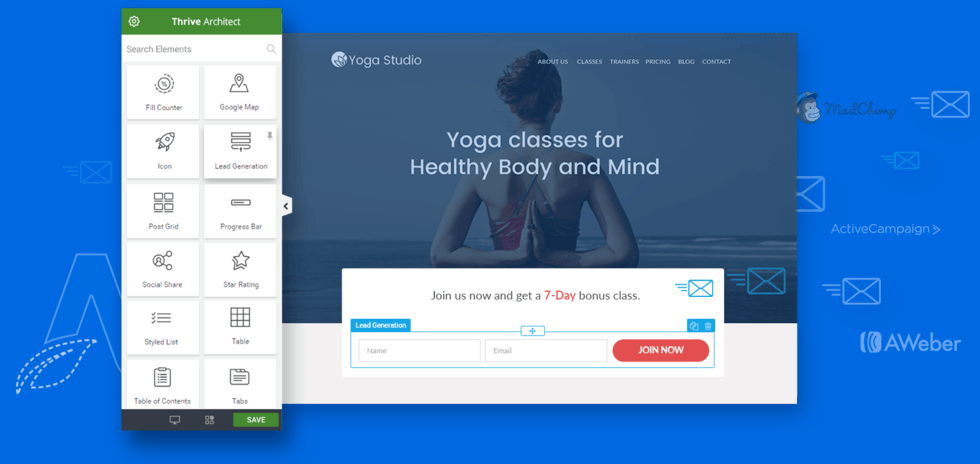 Thrive Architect is one of the WordPress page builder tools from the theme of Thrive. This next-gen page builder replaces the Thrive Content Builder. This is perfect to build any website while shining for the marketers due to its sole marketing focus. 
Features
With over 100 page templates, you will face no trouble in customizing your page as per the theme you deal with.
Mobile responsiveness is an added advantage of Thrive Architect 
It includes several popup engines to introduce several advanced marketing features. 
Its gradient feature makes the builder unique and exclusive from the rest. 
It works with any theme.
Our Verdict
We believe this is just another upgrade of Thrive Content Builder. However, they have surely introduced a few advanced features and templates to help the marketers obtain a customizable landing page.
So you better try this one if you are not yet introduced to Thrive series. Also, if you are already familiar with Thrive Content Builder, you can try this because it will help you to take your landing page to a whole new level. 
If you are new to landing page creation, this may not be suitable for you because it is more complicated than the previous ones. However, you can always seek assistance from professional developers to help you create unique content. 
It is indeed an exciting builder tool. You can always try this when you are looking for the best landing page builder tool online. 
Conclusion
All of the aforementioned landing page builder tools are effective, simple and unique. All of them have their individual pros and cons. Go through our review section thoroughly so that you can make a well-informed decision.
If you need any more help regarding the best landing page builder tool, you can always employ professional expert developers to assist you to get a creative landing page. Nevertheless, if you are experimental, or want to save a few bucks, try these landing page builder tools and you will never have to look back.