Just like any other investment, like equities, real estate, brick, and mortar business, etc., websites too is a great way to earn money. You can easily start earning money simply by using the 'buy and sell websites' method. But, just like every other thing, this process too has a proper method. 
The procedure of buying and selling sites is similar to the method of buying and flipping houses. A smart website flipper will search for undervalued sites that can be modified and improved with a nominal investment of money and time and then he or she will sell it for a larger fee.
Therefore, it's better to take into account how much money can you afford to invest. Having a budget will help you to move to the next part. 
After that, you need to consider which niche you will choose. It can range from money and finance, health and wellness, hobbies and sports, relationship and personal growth. 
If you decide to buy a site, you need to mind several performance indicators. Check whether the site is generating persistent revenue. The income is not totally ad-based and is mostly passive. And also mind that you have adequate scope to maximize the traffic, and improve the existing design and content. These aspects will help you to effectively earn profit through a website. 
Website Flipping: Growing Trend to Make Money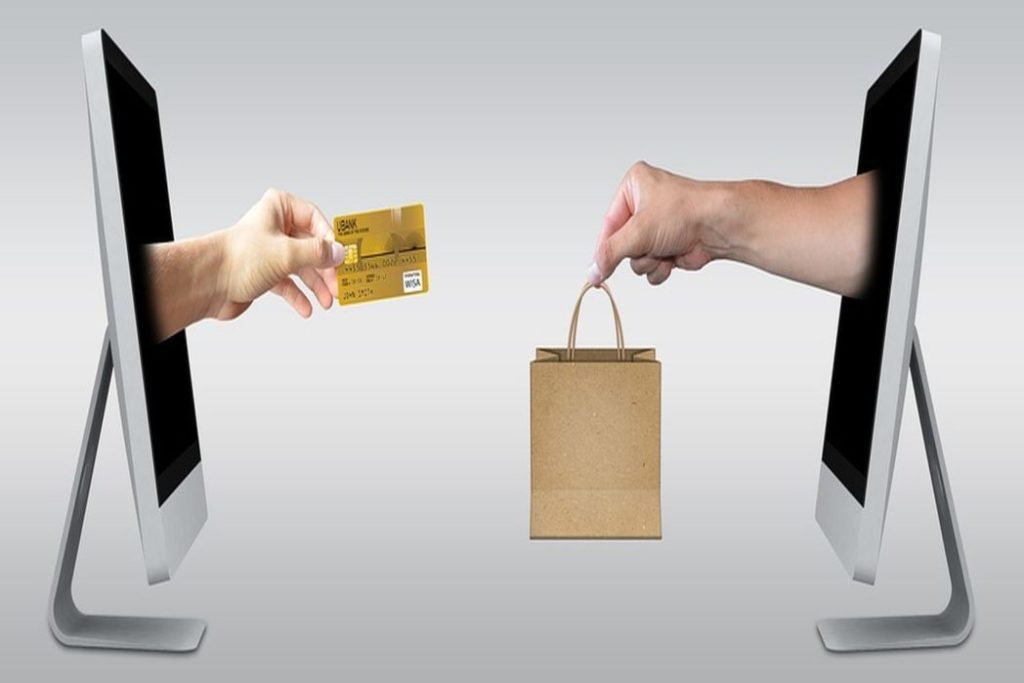 Buy and sell websites are one of the fastest and easiest way to make money online. This is also known as website flipping. Making an interesting website and selling it at a high price is a very profitable business. The more creative you are, the more money you can make.
We already know how people use websites to make business by showcasing their products online which is the base for E-commerce. Then you must be wondering how different this is. In this scenario, the websites itself are sold for an attractive price and the businessmen are free to make changes and customize it according to their needs and likes.
Interestingly there are websites that sell these readymade websites as products and there are customers who buy these ready to use websites for their business. This means people will just have to be ready to explore the plethora of options they find for their business. People are ready to buy them for a high price because it saves them time and we all agree to the fact that time is money.
Considering a situation wherein a businessman wants to launch his product and if he wants to build a website from the scratch it would take him no less than 5-6 months for the same, of course at a lesser price.
But if he is ready to invest some money over this, he can get ready to launch a website within no time. This way the players on both sides are well benefitted. For one player it saves time and for the other, it brings huge profit in terms of money.
So the person who is ready to sell his website will offer it for a huge price and he will be able to build more sites as he will get more money. Now, will all the websites get the same fancy price! No, because there are certain things one needs to consider while making a huge investment on the website. 
Points to Consider While Buying a Website
Net profit earned in the last quarter to last year
Source of the traffic
Authority of the domain
Hyperlinks that point you towards the site
Miscellaneous others which you might personally feel is important 
When you are extremely satisfied with each of the criteria mentioned above to buy and sell websites, you try to negotiate a deal and then consider the final price. 
What Makes Website Flipping a Profitable One
Like I just said, website flipping involves buying, making some changes or improving and then again selling websites. Like how people buy a house of their choice and after a period of time they are stuck in deciding between whether they have to upgrade their existing house or build a totally new house with all the new infrastructure of their liking.
Most of the time people do not wish to shift to a new location or move out of their comfort zone but prefer to make some alterations and remodel the existing house because of the attachment they might have developed for their house.
Same is the case with website flipping. Sometimes all it requires is a few tools for up-gradation and this way it consumes less time and less money. 
Steps Involved in the Process
Buying: From a developer's point of view, the first step to do is to find a website, to begin with. This sounds easy but is the crucial step. If you falter here then it takes a toll on the entire process.
Value addition: In other words, enhancing or developing the site. Changes are to be made in such a way that it brings huge traffic which in turn brings huge income. Making money actually lies in this step. Hence this step work is the deciding factor for your business.
Selling: Once everything is set, the website has to be sold. To find the market is the task here. If you ask me I would suggest selling at the same place it is purchased. Why !! Because it would become easy to determine the market place. Logically by all the value addition made to the site, it must ideally fetch you more than what you have spent initially on it. 
Benefits of Buy and Sell Websites
It is clearly evident that monetary benefits are the most important because buying a basic website involves low capital and paves way for a small entrepreneur to enter the industry. After all the value additions and enhancements, the same website would fetch you a huge amount.
Types of Website Flipping – Places to buy Readymade Websites
1. Beginner's 
As the name suggests, it means to build it from scratch and promote your website to obtain the desired traffic. Once the desired traffic is obtained it can be sold. This is time taking but gives complete control in choosing everything involved like the direction, look, setup and area of interest. 
2. Standard type
It is the most common business model followed. Here, it involves medium investment, unlike the beginner's type. Also, the website is built to an extent with some potential and is out for sale and it can be modified or enhanced quickly to sell it at a greater price.
3. Long term investment
Most of the already successful businessmen prefer buying a website for its recurring income and then further build that website by developing it as a long term investment. In this case, the website will be on hold by the investor for quite a long time reaping the profits from it and then when it reaches its maximum high it will be kept for sale for a greater price. 
Where to buy a readymade websites – Best way to Make Money Online
 1. Optiux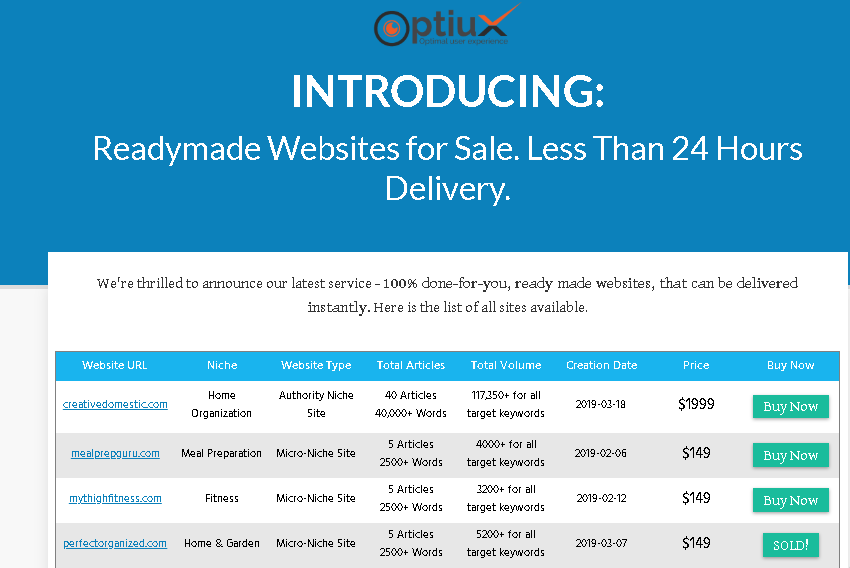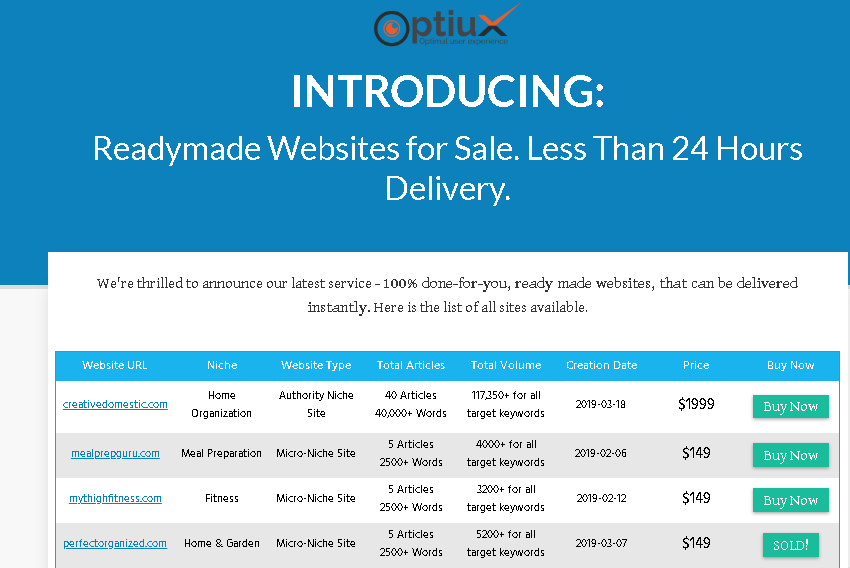 This is a to-go place for result-oriented transactions in digital marketing. The primary aim being – a single goal which is online growth. 
Here you can find several readymade sites for sale. You can also expect less than 24 hours of delivery. Various sorts of websites make it easy for the buyer to choose the favorite niche from the list. Go through the list mentioned below:
1. Niche – Home organization
Site – Creative Domestic
Type – Authority Niche Site 
Total articles – 40 articles with 40,000 words
Total volume – 117,350 + to include all target keywords 
2. Niche – Metal Preparation
Site – Meal Prepguru
Site Type – Micro Niche Site
Total Articles – 5 articles of 2500+ words
Total Volume – 4000+ to include all target keywords
3. Niche – Fitness
Site – My Thigh Fitness
Site Type – Micro Niche Site
Total Articles- 5 articles with 3500+ words
Total Volume – 3200+ to include all target keywords
Apart from these 3, there are several other sites and niches available in the marketplace for you to invest in. We have jotted down these 3 examples to give you an idea about Opitux.  
2. Flippa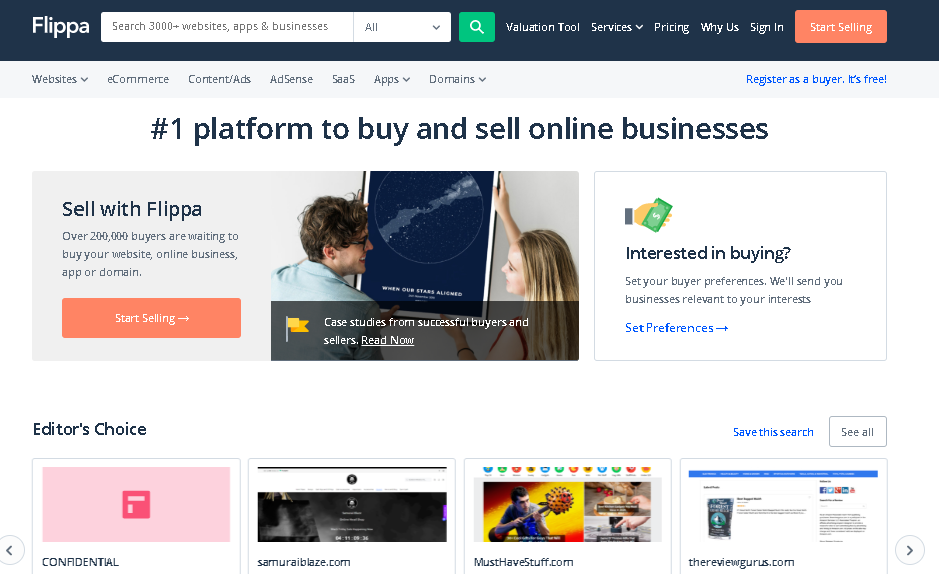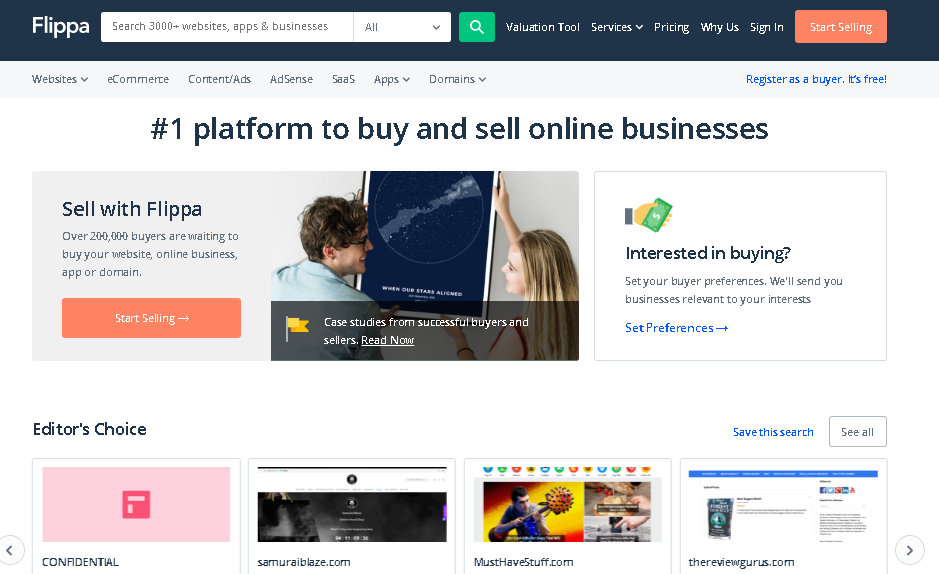 Flippa is another place to buy and sell online businesses. This is based in San Francisco and Melbourne in Australia. Founded in 2009, it has 10 years of reputation in this field. It was established by Matt Mickiewicz and Mark Harbottle as the SitePoint Marketplace. 
By 2015, Flippa has won over numerous customers and traded over $140 million worth in domains, websites and mobile apps. Most of its revenue is occupied by selling the sites; naturally, it's a cult favorite to the buyers. 
The buyers will find several categories that help them to easily pick the right one to suit their purpose. The categories include eCommerce, Content ads, SaaS, apps, domains. There are several other categories to inform more to the customers, for instance, editor's choice sites, sponsored listings sites, established sites, starter and template sites, most active sites, ending soon site, featured apps, etc. Each of the categories includes various names of sites and price rates. Depending on your necessity and choice, you can select any one or more. 
Where to Sell a Website for Profit 
Just like buying, selling a website too can be advantageous and profitable only if you can find the right place to sell a site. The thumb rule is to select a platform that is already popular and has general traffic on the site. We mean to say that any website with better visibility and audience has better potential to offer you a greater profit. You can try the following portals while selling your site. 
1. Flippa Marketplace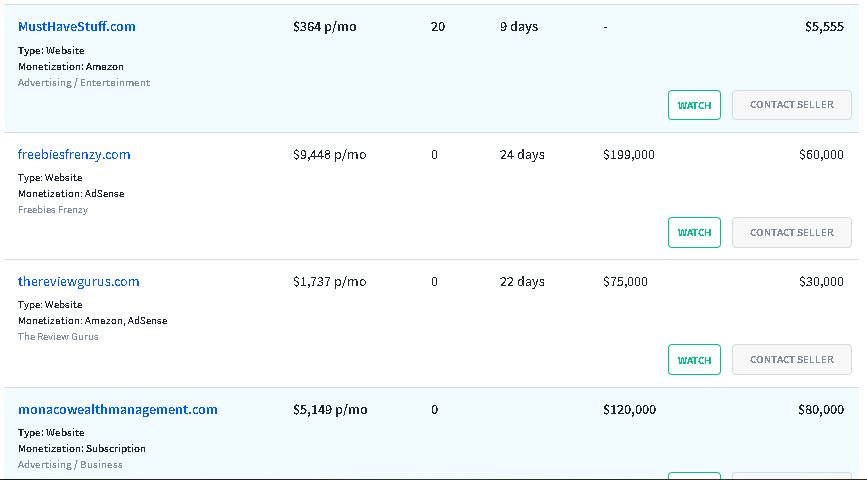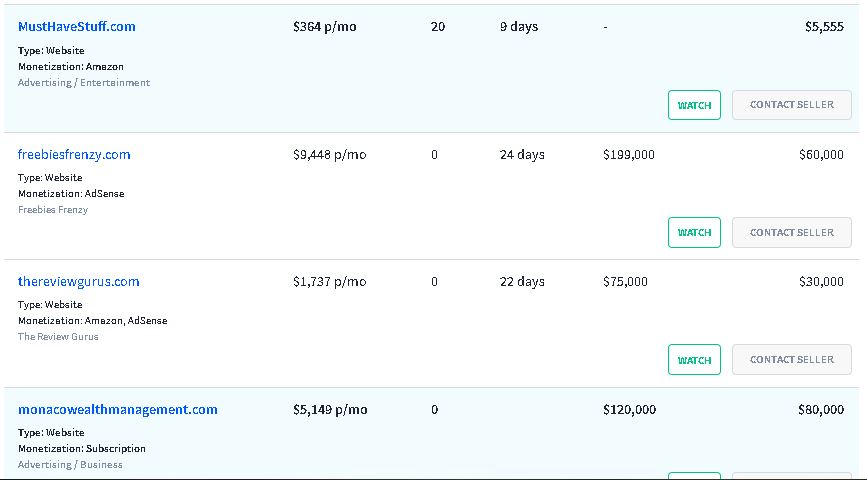 The entire value of websites sold on Flippa website market place has already crossed $50 million. This is a huge achievement for a market place that only got launched in 2009 with merely 300 website listings. Now it has over 3500 websites.
Its popularity is a trademark for its authenticity. High profile sales on Flippa involve ReTweet.com, Mark Zuckerberg's Facemash, Twaud.io, MacTalk.com.au, etc. 60% of its buyers and sellers are based in the UK, US, and Canada. 
2. Motion Invest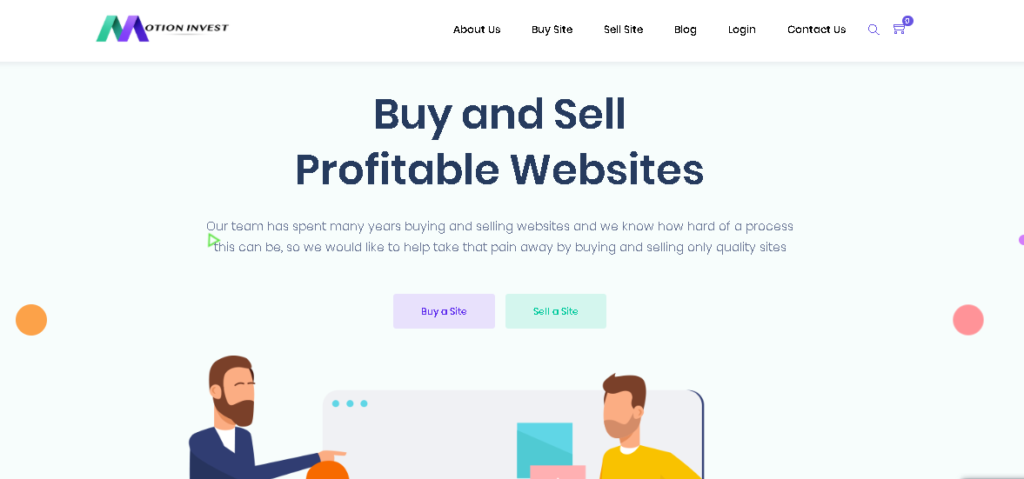 The motto of Motion Invest is to allow you to sell your site real quick and with no fees at all. You can easily obtain the freedom and money that you deserve as a seller by selling the site. It allows you to sell sites without any brokerage fees in between.
Also, get rid of dealing with the trouble of potential buyers. Its fast sale service enables you to buy and sell sites real quick. Sometimes you can even have the entire amount within 48 hours based on the fastness of the agreement, policies, and transfers. 
The portal also offers you a guarantee to sell site authentically. Therefore, you don't have to fall under any scam and don't have to waste 2 or 3 months before selling the site.
Just as you sell your site, you also don't have to rely on any other holding or training agency and you also don't have to share your money with any external middle man or organization. 0 Listing fees and total success ensure wholesome client satisfaction.
They also offer competitive prices so that you don't have to reject them and go to any other site. You don't have to waste time on repetitive and annoying calls, irritating questions as the team of Motion Invest answers everything and you don't need to invest time on that. 
3. Forum
Forum is a great platform for selling websites. You can easily get thousands of buyers with a short time span. It depends on the popularity of your site and attractiveness. If you have a popular and appealing site, you can easily find numerous interested buyers who seek to buy your site.
Through the forum, you can let everyone know about the traits and highlights of your site so that you don't have to answer everyone individually and waste time on that. It's a one time process that can earn you huge benefits. 
4. Empire Flippers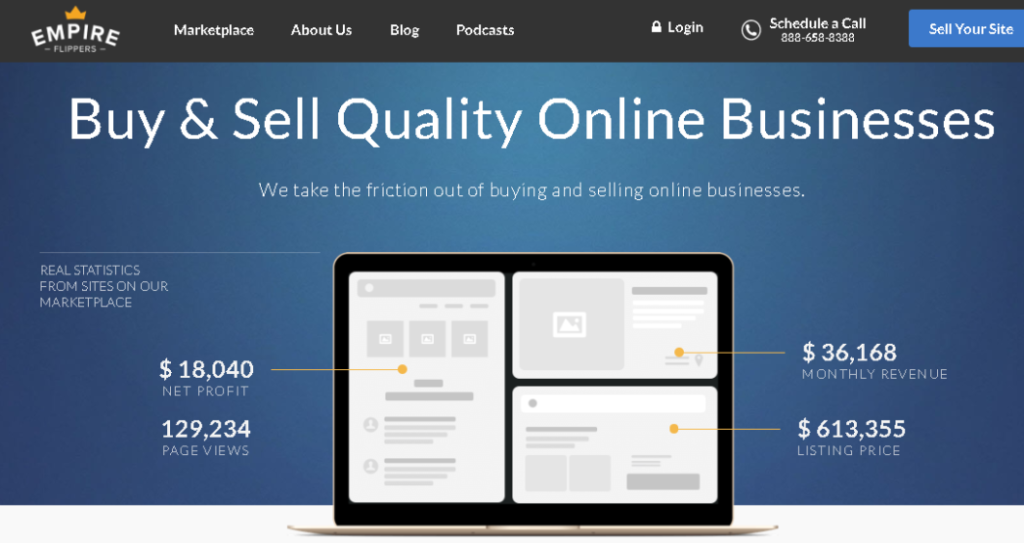 One of the prominent names on the website selling business is Empire Flippers. Its popularity led it to be featured on Forbes, Moz, Ahrefs, HuffPost, Foundr, BuzzFeed, inc, make it, business insider among others.
Its vetted profit margin allows you to visit the empire marketplace to get the perfect online business that suits your needs. With 5% of the totally refundable deposit, you can instantly get access to one year of real data.
They ensure that the data is a hundred percent accurate and specific. They go through the entire process and also schedule calls with the buyer and seller so that you don't have to waste your precious time on that. Our seamless transition facility helps you to get money transaction real quick.
You can also be certain of the facts that the portal is duly protected, the sellers are vetted and it offers authentic results. You can also review and track the transaction procedure. Therefore, Empire Flippers is a great site to start selling your site if you are a novice in this field. 
Final Words
Our above-mentioned points easily help you to understand what to look for while investing in a buying or selling site. Ensure that the site is authentic and also read its reviews so that you don't get cheated or get trapped into a scam.
If you find the sites to be featured in authentic and popular sites, or to have some really good reviews by the users, you can trust on that. Also, bear in mind several factors.
For instance, you should check if the transaction is seamless and how long does it take to accomplish the transition. Consider the fact whether you have to communicate with each buyer or seller individually or the portal takes care of it. If you are already seeking help from the experts at these portals and investing money and effort, then there's no point in wasting time to answer irritating and annoying questions of the potential buyers.
Let the portals take care of it. The aforementioned portals, for example, take care of this issue and they don't demand you to invest time or energy after dealing with the clients.
Also, make sure that the entire procedure – starting from selecting a portal to getting money in your account or ending up buying a site – completes real quick because research shows, more time you invest on this, you will lack interest and get frustrated and won't be able to select the right one. 
If you are looking for buying a website, Optiux is the best choice because here you can easily find several websites categorized according to various niches and types. This helps you to select the right site that suits your needs. Consider these aspects and make the right decision while buying or selling a site.