Content making has never been so easy. You can take a couple of pictures and turn them into a video slideshow for your business's marketing. But, easy can often be boring and that is what the modern content makers have to deal with. When Animoto software was released it took the industry by storm, easy to use software that could create sharp and edgy video content on the go. But times are changing. You want variation and diversity in your content. So, what do you do? Yes, you look for Animoto Alternatives.
Similar to most things related to software, each individual has a personal preference. But the alternatives listed in this article will cater to people of different tastes when it comes to video editing and slideshow making.
When it comes to making a video slideshow for your social media platforms Microsoft PowerPoint just doesn't cut it anymore. Yes, it can get the job done, but the stock animations are too simple and overused.
And if you're someone who uses or used Animoto, you probably don't want to get lost in the complexities of Adobe Premiere or even Final Cut Pro. These platforms require you to become a master of video editing but you probably don't have that amount of time on your hand.
Why Do You Need an Animoto Alternative?
Animoto has been a faithful and trustworthy companion for the video editors and social media handlers. It gets the job done quite smoothly. You can create topnotch videos using clips, pictures, GIFs, and almost everything related to these. Also, it has a good amount of themed backgrounds and animations that you can use to spice up your content.
Let's say you're covering a social event. All you need to do is take some vibrant snaps and motion pictures (if you want to change it up.)
Your work is almost done after that. Now you need to use your creative side of the brain to find the correct transitions, music, animations, and text fonts to beautify your content and voila!
Technology is continuously evolving and getting more diverse. The freelance editors have upped their game using multiple editing software. You can't fall behind in the race. A minor setback for Animoto users is, the platform doesn't have any video clip library.
If you're spending $8 every month for a subscription that's the least you can as for. There's no denying the fact that Animoto has adapted to the continuously changing dynamic of the scene. But when others are leveling up, you need to do the same.
So, let's look at a few of the best Animoto Alternatives. You can completely rely on them for premium quality content making.
1. Best Alternative: Viddyoze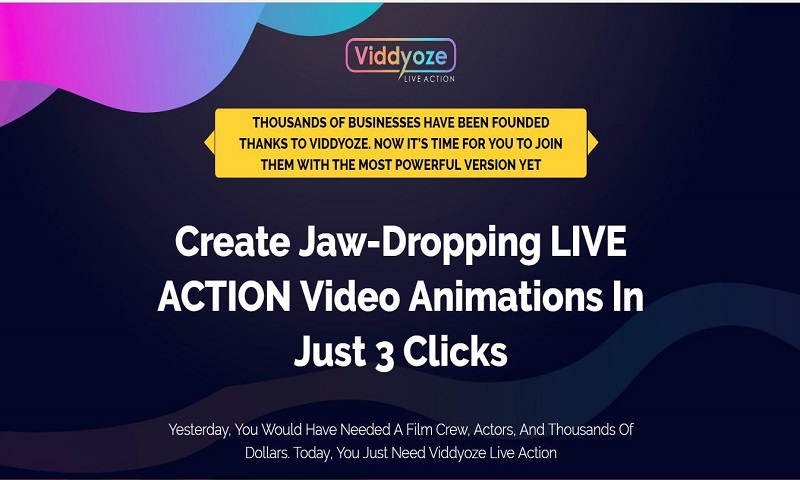 Viddyoze is a completely cloud-based editing platform that allows you to use its huge library of animations, outros, intros, logos, and many other amazing tools. Viddyoze was created in 2015 and back then after it got released, it took the YouTube community by storm.
Every major YouTuber started making their intros using the Viddyoze 1.0. The major selling point of Viddyoze was, even if you had a low configuration PC, you could go to the platform and edit your content whichever way you best saw fit.  
In 2016, came the Viddyoze 2.0. The technology was pretty much the same but the integrated improvements were noteworthy. The interface became much smoother. The developers even added more transitions, call-to-action animations, and an array of templates.
You could buy the lifetime license for just $47. If you required the commercial edition then you'd have to pay $67. The commercial edition allowed unlimited processing. They even introduced a monthly template club.
If you were a member of the club you would get new templates every month right at your control panel.  Viddyoze 2.0 set the benchmark in 2016 for easy-to-use video clip making. 
Shortly after, Viddyoze introduced the Live-Action segment. Normally a real-life animation that took expert film crews days to record and edit, you could use and edit it within minutes.
The current 3.0 version is the only version of Viddyoze available. All the features mentioned above are incorporated into this one with new additions. It has redefined the cloud-based editing community.
The servers are a super-fast and responsive plus, the interface is instinctive. Viddyoze claims its platform has been used by well-known brands like Tesla, Sony, Vodafone, and many others for video making.
Pricing
The pricing of the Viddyoze subscription is per animation based or you can buy a lifetime license. Depending on the number of animations you will render, you can pick your preferred package. The details of the pricing aren't public.
Key Features
Let's take a look at some of the major features of Viddyoze that make it the best alternative of Animoto.
Live-Action Clips:

Viddyoze added a variety of live-action clips to their platform in 2017 which completely changed the dynamic. You can easily incorporate your brand logo, graphic into the real-life clips.
Cloud Hosting:

All of the editing and rendering takes place in the cloud interface. The cloud-hosting for Viddyoze is provided by the reliable Amazon. So you get a lag-free experience without the hassle of owning an expensive PC.  
Lifetime License:

Animoto has a monthly subscription system where you pay $8/month for the basic package. Viddyoze changed it up by introducing a lifetime license where you have to pay only once. Viddyoze makes the experience far more convenient than its competitors.   

Two Different Packages:

Viddyoze has a personal package and a commercial package. The personal one allows you to edit 30 clips each month and for the commercial package, there is no limit.  
Uses of Viddyoze
There are no limits to what this editing tool cannot do. Some of the popular uses are:
Videos for social media marketing 

Intros and outros for YouTube Content, membership clips, etc.

Experimenting the craft of video content making 

With the commercial license, you can sell your service using Fiverr or other such sites

Level-up your daily household videos
Second Best Alternative: Doodly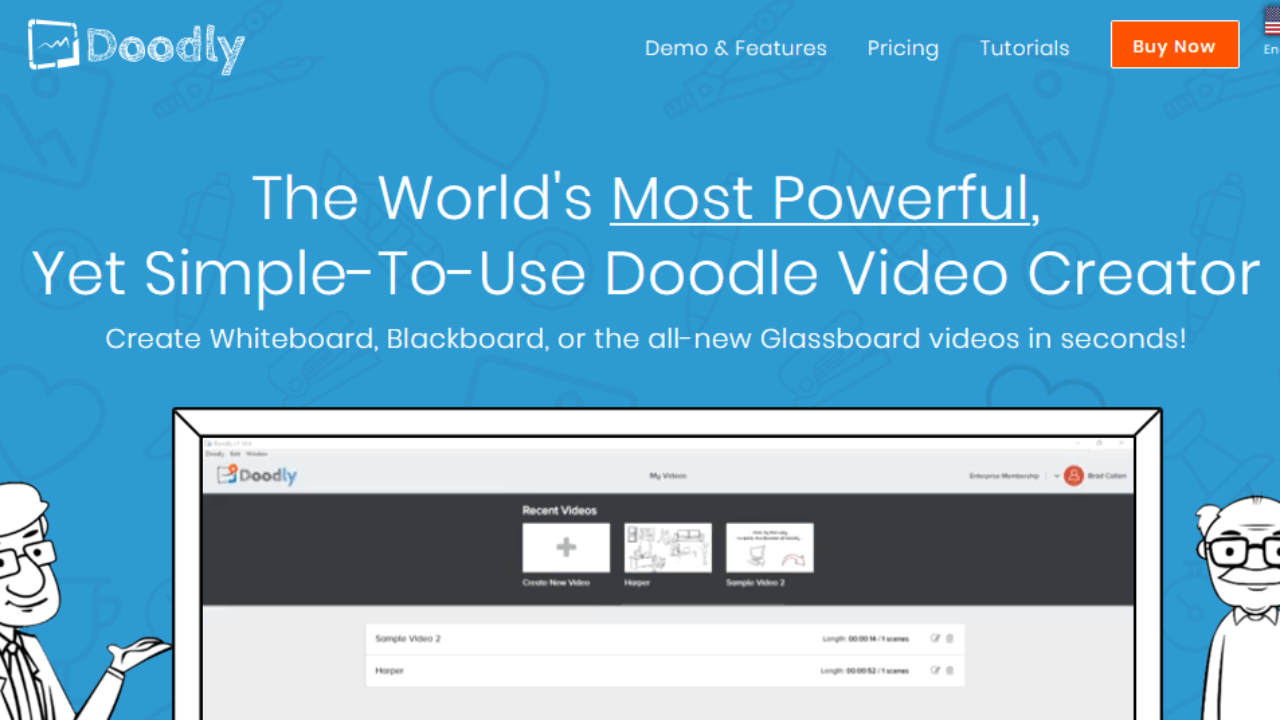 If you're looking to make a doodle video for any of your services within a very short time then consider using Doodly. It allows you to make animated doodle videos within a very short period.
The end quality of the content is of a professional level. The interface is easy to use. On top of the huge collection in their custom library, you will get to upload and use your drawings and doodle characters to give the content your style.
You have probably seen different versions of doodle videos online. They are those quirky videos where a hand draws various characters and scenes and a voice narrates over it. They are very useful for educational and conceptual videos.
While watching the video the idea of making such content might have crossed your head. Now, with Doodly it won't be as difficult as you thought initially. Most of the features are already there. You just need to get used to the interface. 
Pricing:
Doodly follows a monthly and an annual subscription system. Within the subscription system, there are two packages available.
Standard Package:

The standard monthly package costs $39 per month and if you pick the annual package you save 49% by paying $20 per month. You won't have access to the Doodly Club for this package. 

Enterprise Package:

Enterprise package comes with additional features and as a result, it costs more. The monthly subscription costs $69 per month and the annual subscription costs $40 per month which is billed annually. The Enterprise package gives you access to more royalty-free music, characters, stories, and the Doodly Club as well.
Key Features:
Doodly is a relatively newer platform and it has modern technologies that you will find very useful. 
Multiple Board Styles:

Doodly has five different board styles that include a whiteboard, a blackboard, a green board, a glass board, and a custom board. The custom board allows you to pick your preferable background. You can even create a background of your choice using stock doodle images.
Different Doodle Hands:

You can even change up the hand that draws all the doodles to match your skin-tone and orientation. There are 15 real hands and 13 cartoon hands included in both the subscription packages. If you are left-handed, there's an option for you as well. 
The Doodly Library:

Both the plans include an ample amount of doodle characters and scene equipment. With the standard plan, you get over 800 characters. As the Enterprise plan allows access to the Doodle Club you get to use over 6000 doodles. Now that's more than enough doodle for your entire business.

Voice-over Recording:

Doodly lets you record your narration directly on the platform. You can voice over the video while watching the preview and then cut, fade or edit the recording as you deem fit.
Uses of Doodly:
You can use it to make educational or conceptual content

Doodles have become an important tool for social media marketing in recent times

As it supports custom images, Doodly is ideal for website intros and general content
Third Best Alternative: Toonly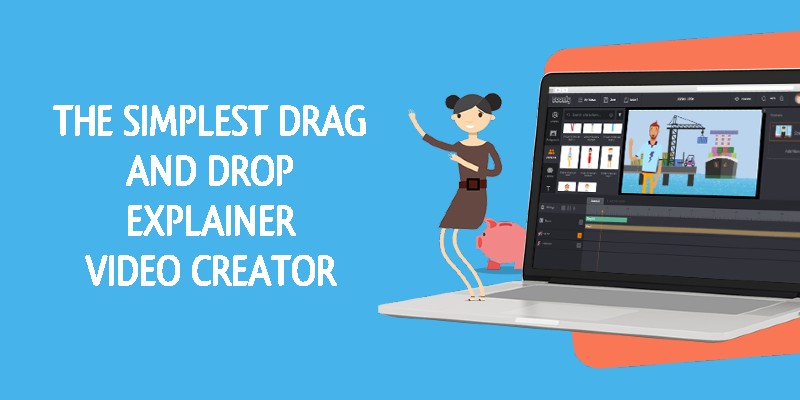 Toonly is a sister concern of Doodly. It was created by the same developers so you will get a similar feel to it. It is explainer video software that helps you to create quality videos using animated characters and their actions. 
Unlike Doodly, Toonly doesn't have a hand drawing doodles on the board. Toonly is more focused on animation and cartoons. The characters do certain tasks that you assign them to portray a message. Plus you can add voiceover to your content. These sort of videos are impactful on audiences that have a short concentration span.
It's simple to use. All you need to do is drag and drop. But being imaginative and creative is crucial if you want to make quality content.
Pricing
Toonly follows a similar pricing pattern as Doodly. There are mainly two subscription packages. 
Standard Package:

The standard monthly package costs $39 per month and the annual package costs $20 per month. So you save 49% if you pick the annual package which is billed annually.  

Enterprise Package:

The monthly subscription costs $69 per month and the annual subscription costs $40 per month (billed annually). Enterprise package gives you access to additional features like more animations, characters, and so on.
For people that want to use Toonly for a short span, the monthly paying system would suit you better as you can cancel the subscription at any time. 
Key Features
The following features of Toonly truly stand out and make it a worthy alternative to Animoto.
Diverse Characters:

Toonly has characters belonging to different regions, ethnicities, sexes, and age groups. You will even find occupation-based characters in this platform.  But you can't add any of your characters. So, you will have to work with what they have.  
Different Backgrounds:

No matter where you want your characters to play out their roles, Toonly will deliver. Each of the backgrounds is a static image. You can add your preferred background in png or jpg format as well.  
Animations:

This is one of the highlights of this software. The characters can do various activities like walking, talking, and exercising. Right-clicking on the cartoons will display the animations that it can do.

Voice Over and Lip-sync:

As with Doodly you can add voiceover to your video animation. The characters can lip-sync to any of the sounds you prefer which is a cool touch.
Uses of Toonly
If the idea of using animated explainers inspires you but you're not sure how you can use them then here are the major uses of Toonly: 
Eye-catching website intros and outros

Social media marketing 

Sales pitches and crowdfunding videos
You'll find more similar uses of Toonly once you start using it.
Final Thoughts
If you feel Animoto isn't enough for you anymore then these alternatives will surely open up new avenues for you. When it comes to video content making, a lot of things depend on personal style and preference because each content maker has a distinct creative outlook.
Nonetheless, you should try out the mentioned software and see which one fits your style.