Fiverr is amongst the best freelancing platforms. The interface is more than just user-friendly. They offer the best time management tools. Their messaging system ranks as one of the best. Fiverr provides flexible payout options.
Fiverr's gig format is what appealed to the masses straight away. You have complete control over your gig listing. Where you really have to work is on promoting the gig. Traffic doesn't come straight away, especially with the astronomical competition amongst Fiverr sellers.
In this article, I'll be sharing some of the best ways on how to promote Fiverr Gigs in 2020 and beyond.
How To Promote Fiverr Gigs in 2020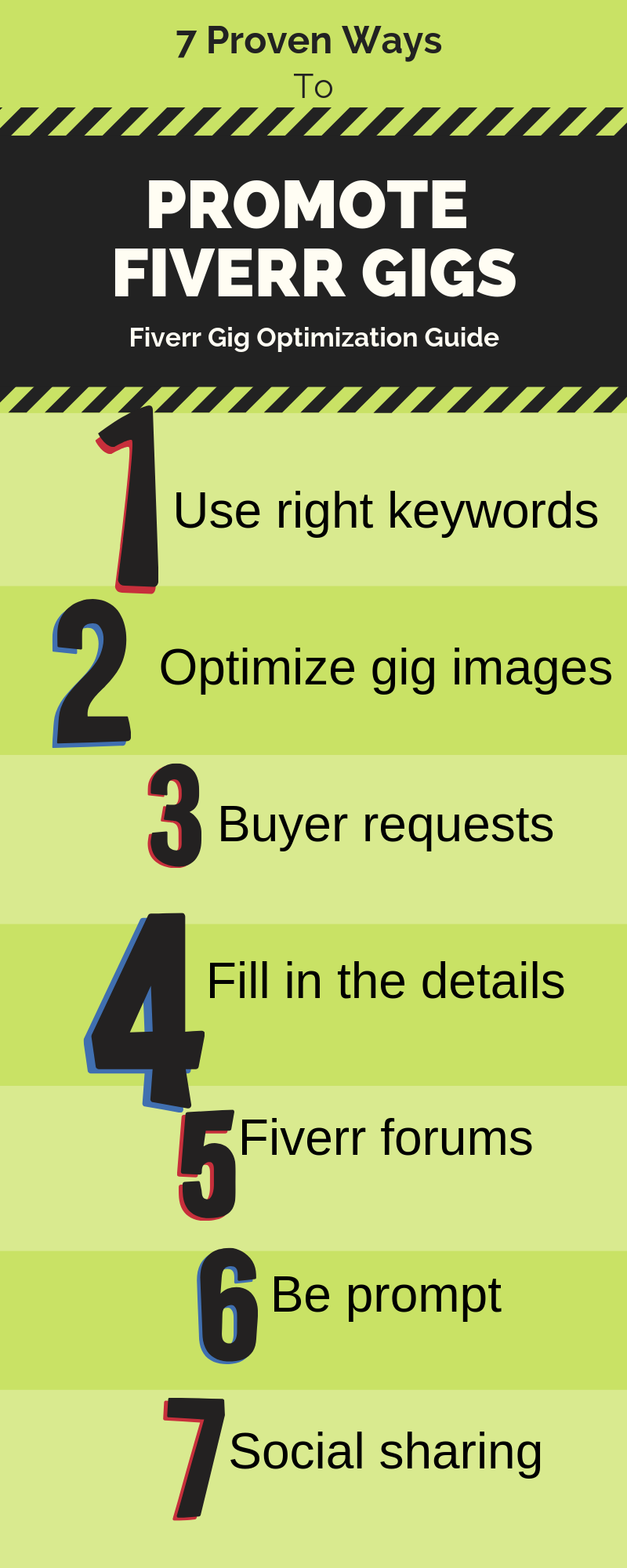 Let's get started, shall we?
1. Use The Right Keywords
We cannot emphasize more about the usage of the right keywords in the gig. It directly influences the gig ranking and revenue. Keyword usage in the title is pretty easy to manage. Fiverr allows you to edit titles as many times as you want. But the URL is fixed once you created the gig.
The only way to change the gig URL is by removing an existing gig and creating a new one. But it nulls out all the traffic and age advantage of the gig. Your gig URL takes the exact phrase from your gig title.
For instance, if your gig title is I will create 10 backlinks for your website, then the gig URL will be –
http://www.fiverr.com/username/create-10-backlinks-for-your-website
Use keyword phrases that buyers will search to find your gig.

Here is a live example of how a top selling Fiverr user has optimized for relevant keywords on a Micro Niche Website gig.
2. Optimize Gig Images
Freelancers don't care about the names they give to gig images, but Fiverr algorithm does. Ideally, you need to rename images with gig related keywords. Using a randomly generated file name like "aaa….wax.jpeg" is such a blunder. You are losing out on at least 10 impressions and 1 click per day.
Use a keyword in every image you attach for that particular gig. You can use all of your keywords in just one image too. It will prove as a positive factor for gig rankings. The same applies to clips, documents, PDF, and other file formats as well. By default, using a video proves more beneficial than just images in the long run.
3. Buyer Requests
You need some orders to induce a rolling snowball effect. Orders bring orders and until you bring a few, you can't rest. You can start applying for Buyer Requests, upon completing your first order with a 5-star rating. These are requests placed by potential buyers to all eligible sellers in the platform.
For instance, they can request for 30 banners for their website. You can go ahead and make your quote, mentioning the estimated budget and deadline. Always leave a special message to the anonymous requester.
Sellers can make only 10 offers per day. Thus, choose your picks wisely. Choose requests which are as detailed as possible. You can check out these requests on Selling > Buyer Requests, once you are logged in.
4. Fill In The Details
When you don't provide enough information, buyers are less likely to order your gig. Fiverr algorithm understands it too. Your gig is not going to be promoted natively. Filling in the details alone can improve the situation.
Adding a video is a great way to promote your gig. Nicely done videos come with a lot of promotional value. The clips need to be crisp and clear. Fiverr doesn't allow you to mention links.
Besides the clip, fill in all the tags that define your gig. Fill in the categories and subcategories correctly. Clearly mention pricing slabs and deadlines. Request for every detail you need from the buyer. Use a gallery to showcase samples before publishing the gig.
5. Fiverr Forum
Even the seasoned Fiverr freelancers miss out on this one. The forum is such a handy way to boost your gig. Find an excuse to either mention your gig or lure people into your profile. If you are new, post that you are new.
Inform the forum members about how you'd like to build your profile. Ask for tips and improvements on your gigs. This way, you will attract some traffic to the gig. It reflects in the gig rankings too.
You can also pick up some potential customers doing that. The forum moderators are stricter than ever before. Just do not promote your gigs so openly. Develop a twist that will work in your space.
6. Be Prompt
Maintain real good response times. Being quick to queries is so important. The average response time is shown on your profile. Good response times account for better gig rankings too. It increases your chances of bagging orders.
The average response time should be under 2 hours. We are factoring in multiple queries answered within an hour or two.
As a rule of thumb, people don't buy from a seller who doesn't reply inside 24 hours. There are tons and tons of service providers on Fiverr. The seller, who responds early to requests, wins the deal.
Similarly, delivering work late doesn't go well with ranking for your gig. Always deliver work before the clock runs out. It doesn't just help your gig rankings but results in returning customers for your gig as well.
If you're a new seller, check out this amazing share on the Fiverr forum.
7. Social Sharing
The social sharing of gigs is hyped so much. Sharing your gig URL all across social media websites just doesn't work.
In fact, it can backfire massively. Fiverr doesn't count views, coming from non-members. Such views have no impact on gig rankings. Even worse, it will be counted as spamming. Fiverr algorithm doesn't rank such gigs highly.
You should essentially have a twist to social sharing methods. Encourage people to search for keywords and find your gig. Do screen recordings and make gifs to explain the process.
Alternatively, you can purchase traffic from Fiverr to even out random views. Try posting in Fiverr related groups on Facebook or Twitter. For the aesthetics use effective gig tag and gig image.
Read More: Best Affiliate Programs for Beginners To Start Making Money Online
Further Steps
Once you promoted the gig effectively, it's time to work on levels. It doesn't take a long time to become a level 2 seller. Though it offers credibility, it doesn't really add promotional value. It's the Top Rated Seller badge, which brings serious traffic.
Fiverr revenue is no passive income. When you see a drop in incoming orders, consider improving gig details. Your gig should be descriptive and appealing to potential clients.
We hope with these proven ways on how to promote Fiverr gigs, you'd be able to rack in decent income by selling your services.
Read more: 10 Legit Online Jobs That Pay Every Week